written by Monty DiPietro
SAITAMA, December 31, 2008 -- On a fight night full of spectacular KOs and deft submissions, it was the stunning upsets that really stood out. MMA fighters Alistair Overeem and Gegard Mousasi shocked K-1 stars Badr Hari and Musashi in K-1 bouts; while in another big surprise, diminutive MMA-fighter-turned-K-1-sensation Melvin Manhoef become the first man to KO big Mark Hunt with punches.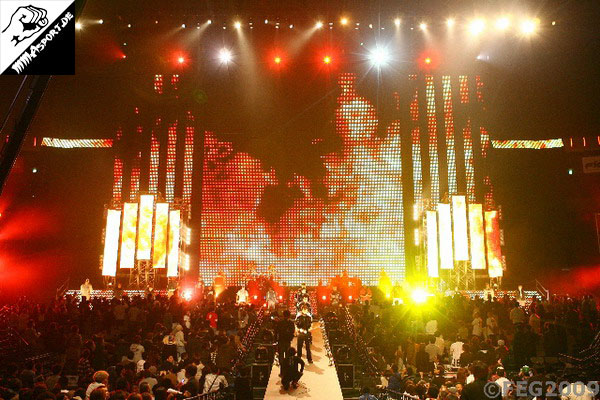 Opening Ceremony
The latest installment in Japanese New Year's tradition, FieLDS DYNAMITE!! 2008 featured eleven DREAM MMA Rules bouts in a variety of weight classes; a quartet of K-1 Rules contests; and the culmination of the inaugural K-1 Koshien high school tournament. The fightsport extravaganza was held before a sellout crowd at the Saitama Super Arena.
DREAM MMA Rules Bouts
Dutch dynamo Melvin Manhoef wasn't even supposed to be in the ring tonight, but when Jerome LeBanner's influenza knocked him out of the event, New Zealand slugger Mark Hunt needed an opponent for his Heavyweight bout. On less than 24 hours notice, Manhoef -- who weighs some 40kg/88lbs less than Hunt -- accepted the fight.
The bell rang, and after sizing up his opponent for a moment, Hunt barreled in with his fists flying. Manhoef however met the attack soundly with a left and then a right to send Hunt to the mat. In a flash, Manhoef stepped over the downed Kiwi and began pounding down the punches. With Hunt neither defending nor attacking, the referee dove in to stop it. The crowd went wild.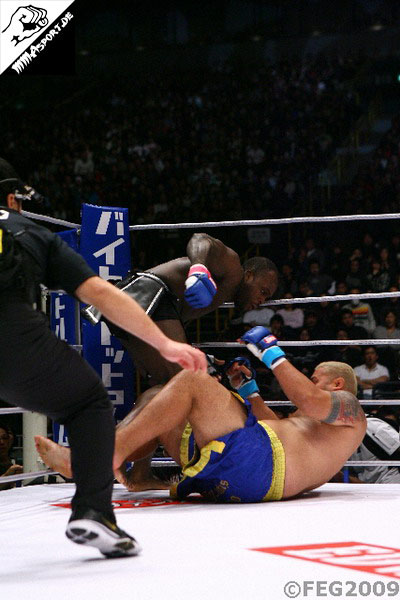 Melvin Manhoef vs. Mark Hunt
"I'm a small guy, only 88 kilos [194lbs], but I can fight!" shouted Manhoef from center ring. "So now I want to fight Hong-Man… No! I'm joking!"
Three-time K-1 World GP Champion Semmy Schilt of Holland met Samoan-American slugger Mighty Mo in a Heavyweight (93.1kg/205lbs+) test of the standup fighters' MMA skills.
From the start the pair closed to the clinch, where Mo's attempts to grab Schilt's legs were answered by knees. When they did go to the mat, Mo was on top, where he hoped to use Schilt's size against him, but Schilt's long legs from the guard kept Mo at bay. The Samoan stood and passed promisingly with the right, before being drawn into a triangle choke from which he could not escape. Schilt won with the submission victory.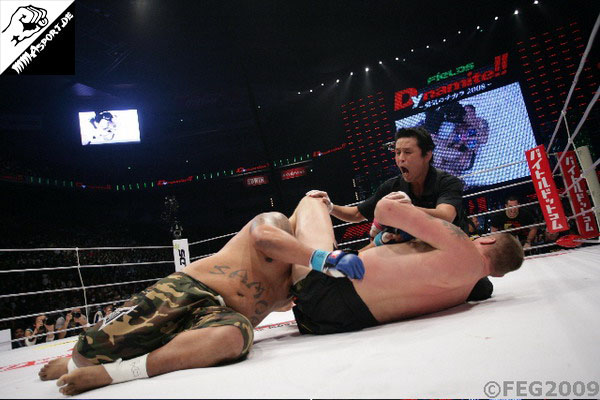 Mighty Mo vs. Semmy Schilt
Innovative grappler Shinya Aoki, a Japanese Judoka, took on American wrestler Eddie Alvarez in a Lightweight (70kg/154lbs) bout. This is the fight that didn't happen at the DREAM Lightweight Grand Prix 2008, when injury kept semifinal winner Alvarez from advancing to the final.
After both fighters had tested the distance, Aoki dove in for the leg takedown. The pair tumbled to the mat but Alvarez escaped. Aoki elected to stay down, comically attempting to chase down his opponent with a crab-walk. Alvarez smiled, and the referee told Aoki to stand. Alvarez now threw a kick, which Aoki grabbed to precipitate another visit to the mat. The fighters went north-south, and it wasn't long before Aoki had the American fighter's heel in his hands and started to twist. Alvarez also grabbed a handy heel, but could do nothing with it. A desperate flip by Alvarez only got him in more trouble, and the tapout and cry of pain came soon afterward.
Eddie Alvarez vs. Shinya Aoki
A commanding performance by Aoki, who screamed from center ring, "America! Listen to me! Don't think Japan's weak, we're strong! And we're coming to challenge you!" Alvarez, meanwhile, was taken to a local hospital.
The Main Event, a Middleweight (80kg/176lbs) contest, featured a couple of Japanese living legends -- submission specialist Kazushi Sakuraba, nicknamed "The Gracie Hunter" for his success against MMA's most celebrated family; and pro-wrestler Kiyoshi Tamura, a contemporary of Sakuraba's who has also enjoyed an illustrious career.
The fighters, who will both turn 40 in 2009, lacked some of the vigor of their earlier years, but nonetheless made a fair go of it. After a Tamura low kick, Sakuraba dove in with a single leg takedown and the pair went to the mat, Sakuraba's position spoiled by a reversal that landed Tamura on top. The two would remain in that position for most of the 10-minute first round. Tamura did some damage here, passing Sakuraba's guard with hammers and punches; while Sakuraba kept his legs high in an apparent attempt at a triangle choke. Tamura stayed clear of the trap, picking his spots to fire in punches, many of which made decent contact.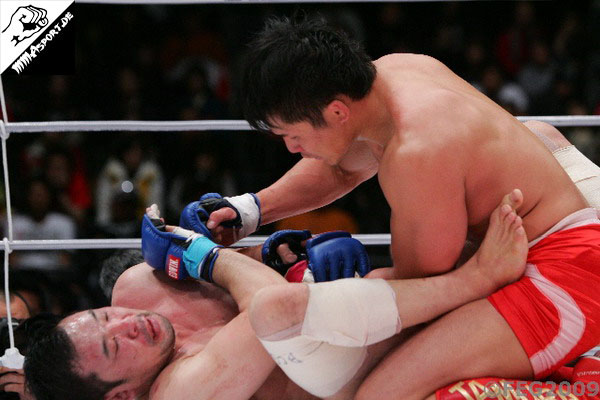 Kazushi Sakuraba vs. Kiyoshi Tamura
The second saw an increasingly fatigued Sakuraba fighting increasingly defensively. Tamura also pulled back here, and both fighters were re-stood and cautioned for lack of action. Tamura stung Sakuraba with a couple of low kicks before executing a single-leg takedown, and although Sakuraba got top position in the next trip to the mat, it was still Tamura putting the strikes through. Some late maneuvers by Sakuraba failed to get anywhere, and Tamura took the win by unanimous decision.
At Welterweight (75kg/165lbs), it was Japanese fighters Hayato "Mach" Sakurai and Katsuyori Shibata. Shibata bolted in from the bell to a violent collision with his opponent, but when they went to the mat it was Sakurai who took full mount to pound in hard punches to Shibata's face. Sakurai then switched to a stifling side mount to punish his opponent with hammer fists and knees. The hapless Shibata just couldn't get out from under the barrage. The ground and pound may lack in finesse but here it was effective, as the referee finally stepped in to call it for Sakurai.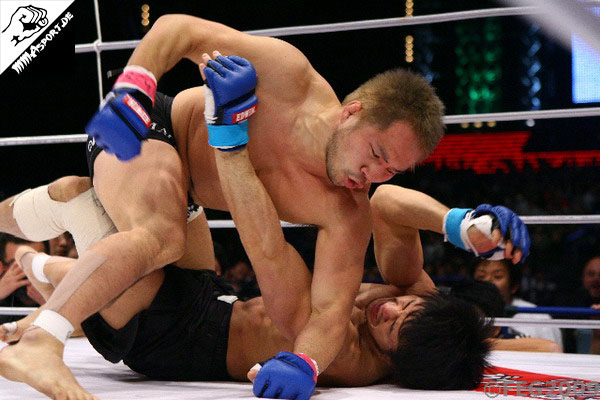 Hayato Sakurai vs. Katsuyori Shibata
Croatian MMA star Mirko CroCop stepped in against Hong-Man Choi of South Korea. In a Heavyweight bout. CroCop is known for his dangerous high kicks, but could he get them up on the 218cm/7'2" Choi?
Circling clockwise, CroCop started with a hit-and-retreat strategy, darting in kicks to Choi's legs and body and just missing with a high kick before getting locked up in a bear hug that went to stalemate. A lack of engagement earned both fighters yellow cards midway through the 10-minute first round, before a CroCop kick landed below the belt, resulting in a time stoppage and recovery period for Choi. After resumption, a CroCop left kick caught the inside of Choi's left knee. The big Korean took one awkward step forward, then collapsed to the mat in a heap of pain.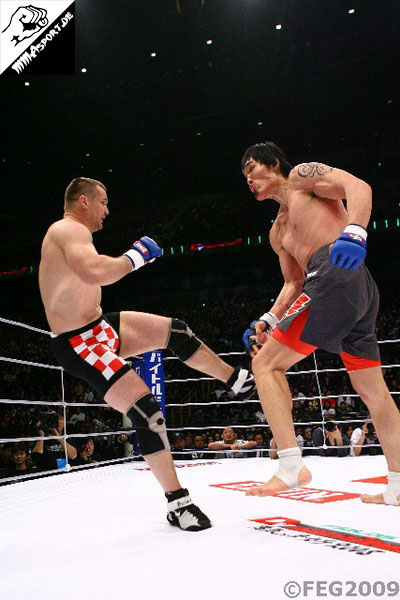 Mirko CroCop vs. Hong-Man Choi
"I know it wasn't the most exciting fight, but to fight a giant I had to do what I did, I had to be smart," said CroCop, who then announced that upcoming reconstructive surgery on a lingering knee injury is expected to keep him out of the ring for at least six months.
A couple of Japanese Lightweights, Hideo Tokoro and Daisuke Nakamura, stepped in at 70kg/154lbs.
A spirited start as the boys went straight to the mat, where Nakamura twice positioned for the armbar, and twice the wily Tokoro broke away. After things settled some, the persistent Nakamura extracted and hyperextended the arm a third time, and now made it work to pick up the submission win and remain undefeated in his four HERO'S and DREAM bouts.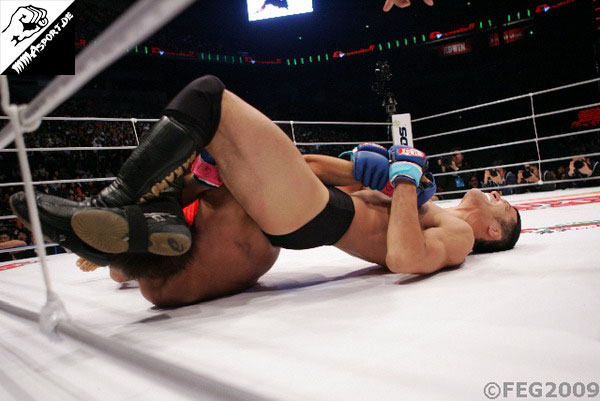 Hideo Tokoro vs. Daisuke Nakamura
Japanese judoka Yukio Sakaguchi met Andy Ologun of Nigeria in a Welterweight contest. Sakaguchi got promising ground position early, but Ologun twisted and turned to stymie his opponent. A series of reversals before the pair were re-stood, whereupon an Ologun right uppercut rattled Sakaguchi, who stumbled back and to the mat. Ologun leapt atop to rain punches on the unresponsive Japanese fighter, prompting the referee to step in and stop it. Ologun by KO.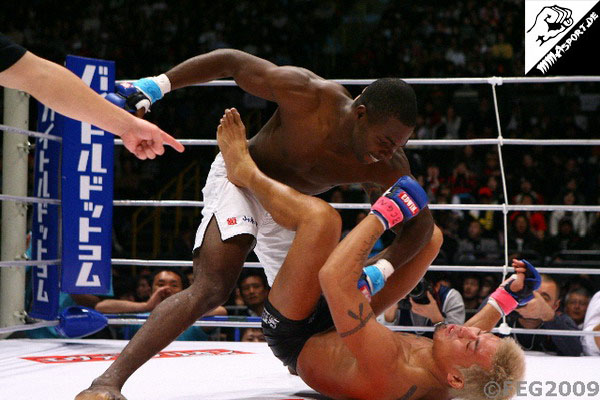 Andy Ologun vs. Yukio Sakaguchi
Commensurate with Dynamite's wide appeal is the wide variety of bouts on the card. One of the more bizarre happenings tonight was bling DJ Ozma's production of a Heavyweight (93.1kg/205lbs+) getdown between American Bob "The Beast" Sapp and a flesh-and-blood anime character -- "Kinniku Mantaro," from Parts Unknown. After a pageant of an introduction featuring dozens of resplendent flamingo gals, the masked Mantaro took to the ring. The Beast followed with his trademark Also sprach Zarathustra entrance, which, for perhaps the first time ever, seemed almost subdued.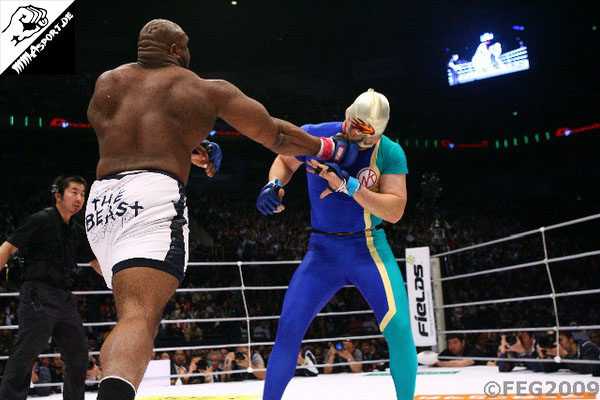 Bob Sapp vs. Kinniku Mantaro
Mantaro got a takedown and top position early, striking his listless opponent from side and north-south mounts. Sapp soon reversed to a rear mount, but did little with it. When the pair got to their feet, Sapp laid in with the haymakers, landing a couple to Mantaro's head to earn a referee stop and the win.
Japanese pro-wrestler Minowaman fought the night's first DREAM MMA Rules contest -- an Openweight bout against Dutch K-1 fighter Errol "The Bonecrusher" Zimmerman. Minowaman turned an early takedown into a heel hook, which a defiant Zimmerman attempted to punch his way out of, before finally tapping at 1:01.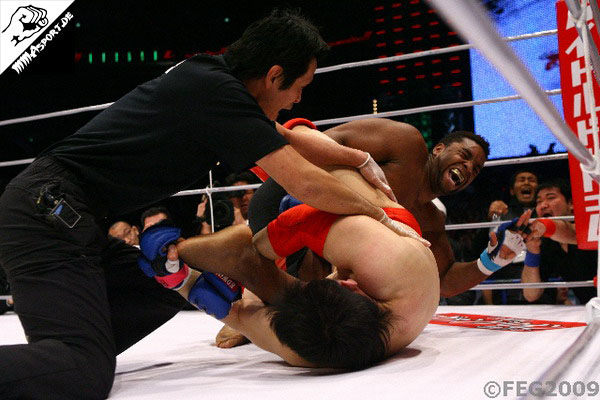 Minowaman vs. Errol Zimmerman
It was announced before the Dynamite event that DREAM Lightweight GP 2008 Champion Joachim Hansen did not clear his pre-event medical checkup due ill effects from a previously-suffered concussion. Scheduled opponent JZ Calvan appeared in the ring to wish Hansen a fast and full recovery and apologize to fans for the fight's cancellation.
K-1 Rules Bouts
Moroccan bad boy Badr Hari has generated no shortage of controversy in his K-1 career, most recently by stomping on Remy Bonjasky at the K-1 World GP Final. That foul earned Hari the most severe penalties in K-1 history, but did not keep him out of this event, where his Openweight opponent was Dutch MMA specialist Alistair Overeem.
In an interview earlier in the week, Overeem had promised to "teach Hari a lesson" in the ring. When informed of this, Hari burst out laughing. The old adage, 'He who laughs last, laughs best', was apt tonight.
Punches from both fighters to start, Hari twice sailing high kicks past their target and checking his low kicks. For an MMA fighter, Overeem looked plenty confident on his feet, getting through with a hurtful left straight punch and closing to work the body, all the while staying smart with his evasions. An Overeem knee caught Hari hard on the chin, and a quick left straight follow-up deposited him on the canvas. Hari beat the count, but Overeem stepped in again to show the down was no fluke, planting a powerful left hook to drop Hari. Referee Nobuaki Kakuda took one look at the felled fighter and immediately started waving his arms.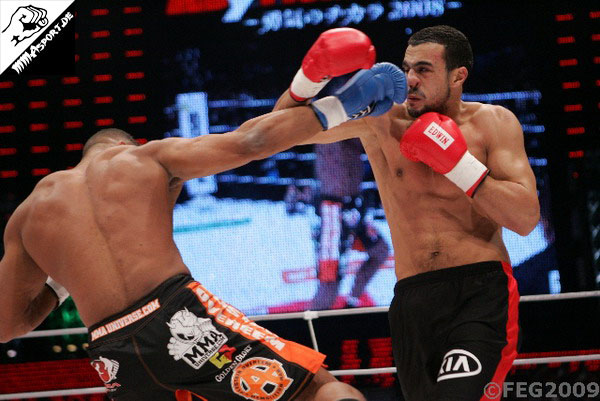 Alistair Overeem vs. Badr Hari
"For all MMA fighters," bellowed an elated Overeem from center ring, "and for all those who think respect is important, there you go!"
In a 71kg/157lbs contest, two-time World Max Japan Champion Yoshihiro Sato took on 22 year-old Ukrainian muay thai fighter Artur Kyshenko, runner-up in this year's World Max Final.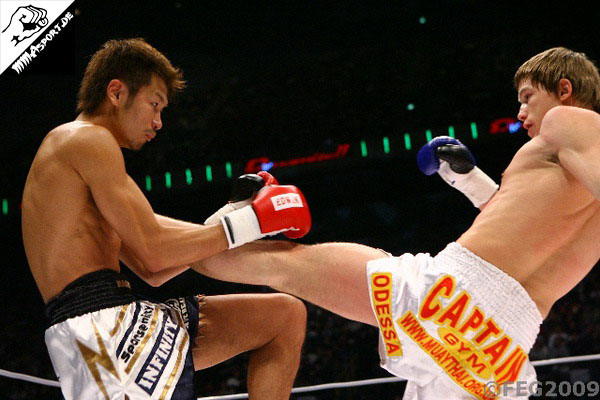 Yoshihiro Sato vs. Artur Kyshenko
Kyshenko got his fists going in the first, landing a decent spinning back punch; while Sato worked the kicks to stay even on the judges' cards. In the second Sato stayed with the hard low kicks but Kyshenko again closed well with punches, tagging the Japanese fighter repeatedly with the right. Midway through the round Sato also began to punch, but Kyshenko had now taken the edge on two cards. Kyshenko again led with and landed the right in the third, but appeared fatigued as Sato exploited a relaxed guard to plant a kick to the chin. Kyshenko by the narrowest of majority decisions.
In a thrilling contest at 70kg/154lbs, it was Japanese fighters Kozo Takeda and Tatsuya Kawajiri. An explosive left-right combination earned Kawajiri a fast down and left Takeda's nose badly bloodied. The focused Kawajiri split his opponent's the guard adeptly before leaping in with a devastating knee to score another down. Takeda was in serious trouble now, and Kawajiri, smelling blood, came in swinging after resumption to finish him off.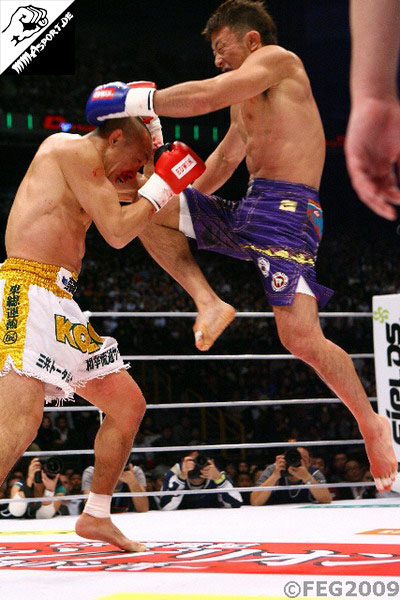 Kozo Takeda vs. Tatsuya Kawajiri
In an Openweight showdown of near-namesakes, Japanese seidokaikan fighter Musashi met DREAM Middleweight GP 2008 Champion Gegard Mousasi. The Dutch MMA specialist came into the fight undefeated in his four DREAM bouts, but how would he perform in K-1?
Very well, as it happened. Mousasi, who has a boxing background, was simply relentless with his fists, and that made the difference. Musashi was off his game and although he attempted to control the distance with low kicks, Mousasi would not relinquish control. Throughout the round, the Dutchman punched to the body and head. Mousasi scored his first down with a right straight punch, earned a second with a barrage of blows, then laid in on his roped and unresponsive opponent to bring the referee in to stop, even as Musashi crumbled to the mat. A tremendous display of aggressive punching power.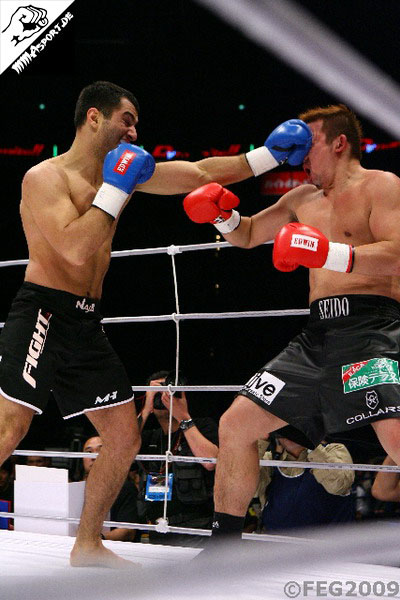 Gegard Mousasi vs. Musashi
"Thanks for coming," said Mousasi from center ring, "I think DREAM is the greatest organization, come and see our fights!"
K-1 Koshien
Introduced this year, the K-1 Koshien high school tournament aims to foster good sportsmanship and appreciation for the martial arts while developing the next generation of K-1 fighters. Participation is open to 16-18 year-olds in a weight range of 57kg/126lbs to 62kg/137lbs, and bouts are conducted under K-1 rules. At Dynamite, the K-1 Koshien 2008 top four battled to determine who would be the first to wear the Championship belt.
In the first semifinal, Kanto Region winner Koya Urabe beat Chubu Region representative Ryuya Kusakabe by third-round TKO; while in the second semi Hiroya took a unanimous decision over Shota Shimada.
Impressive technique, speed and power from Hiroya and Urabe in the rock'em sock'em final, as the boys closed and punched it out, both scoring solidly. Even after three rounds, and not a lot to set the fighters apart in the tiebreaker, except perhaps a series of low kicks by Hiroya, who got the nod from the judges and the belt from Masato.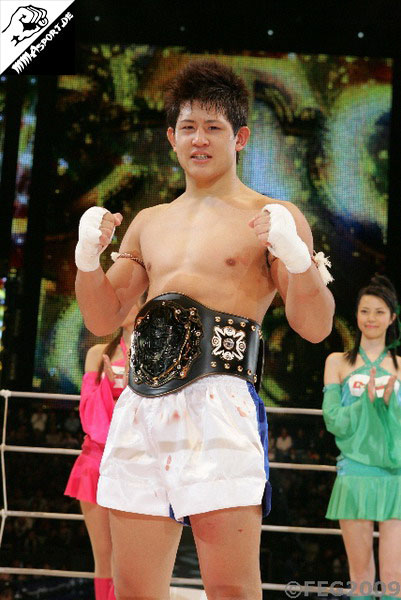 Hiroya
In the tournament reserve, Taishi Hiratsuka KO'd Daizo Sasaki.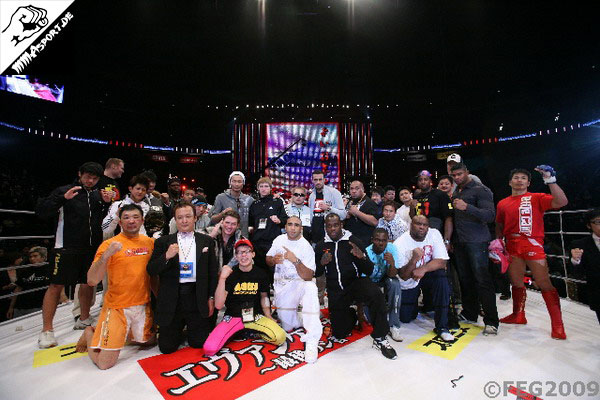 All Fighters Post Event
The complete Dynamite results, including weight classes, fight formats and rules, along with exclusive fighters' post-event interviews, are on the K-1 Official Website (www.k-1.co.jp/k-1gp).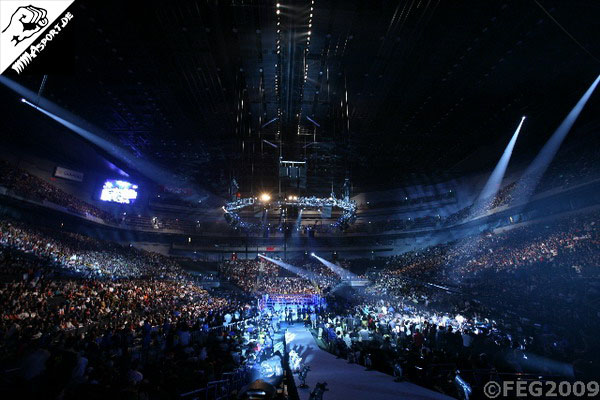 Closing Ceremony
FieLDS DYNAMITE!! 2008 attracted a sellout crowd of 25,643 to the Saitama Super arena. The event was broadcast live across Japan on the TBS Network. For scheduling information in other regions contact local broadcasters.