written by Monty DiPietro
TOKYO, December 29, 2008 -- Around the world, New Year's Eve means wild parties and midnight countdowns, the lifting of glasses and the ringing of bells. In Japan -- between kagamimochi cake and otoso rice wine -- December 31 is also occasion for the most spectacular fightsport extravaganza of the year.
Tens of thousands will fill the Saitama Super Arena, and tens of millions will watch on nationwide television, as 36 fighters go head-to-head in FieLDS DYNAMITE!! 2008.
The event features a dozen DREAM MMA bouts in a variety of weight classes; a quartet of K-1 Rules contests; and the culmination of the K-1 Koshien high school tournament. With the opening bell just 48 hours away, participating fighters met the media today at Tokyo's East 21 Hotel.
DREAM MMA Rules
CroCop vs Choi
Croatian mixed martial arts master Mirko CroCop will step in against Hong-Man Choi of South Korea in a Heavyweight (93.1kg/205lbs+) match. Choi is a former ssirium grand champion, who, at 218cm/7'2" will bring a 30 cm/12" height advantage to the ring. At 167kg/355lbs, Choi is also some 65 kg/125lbs heavier than CroCop.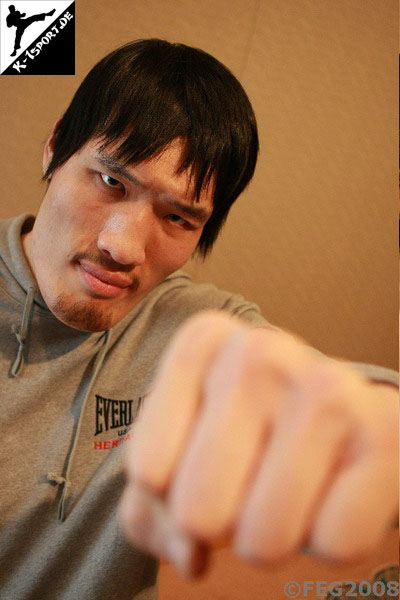 Hong-Man Choi
While Choi has size on his side, CroCop has much more experience -- since his MMA debut in 2001, CroCop has established himself as one of the world's best all-round fighters. Choi, meanwhile has competed just twice under MMA rules.
Choi usually trains in Japan prior to fighting, but changed his tact this time: "I stayed in Korea, where I trained very hard, and actually I just arrived in Japan. I haven't seen Mirko's fight videos, and I'm not interested in seeing them. I know he's a southpaw but I trained as I would for any other fighter. Because 2008 has not been a good year for me, I want to finish this fight quickly and get a good start for next year."
Mirko CroCop did not appear for interviews.
Sakuraba vs Tamura
Living legend Kazushi Sakuraba of Japan will fight compatriot Kiyoshi Tamura at Middleweight (84kg/185lbs). These two attended the same dojo a long time back, and, before Sakuraba went pro, Tamura thrice beat him in wrestling matches.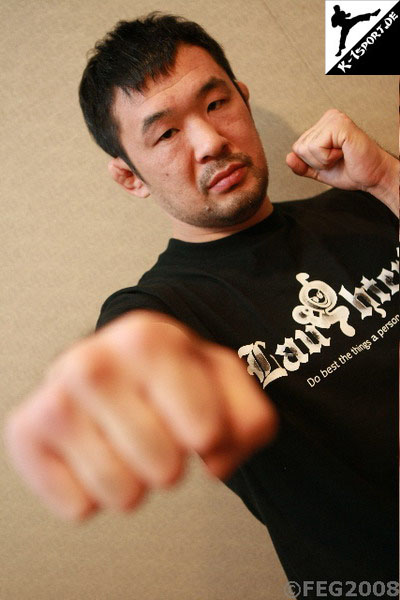 Kazushi Sakuraba
Sakuraba didn't appear worried about confronting his old nemesis: "I trained the same way as I always do. I know Tamura is a good fighter, but he hasn't had nearly as many fights as me, so I don't have any particular impression of him. I think that for Tamura and for the media, this might be a big deal, but for me it's only one more fight…"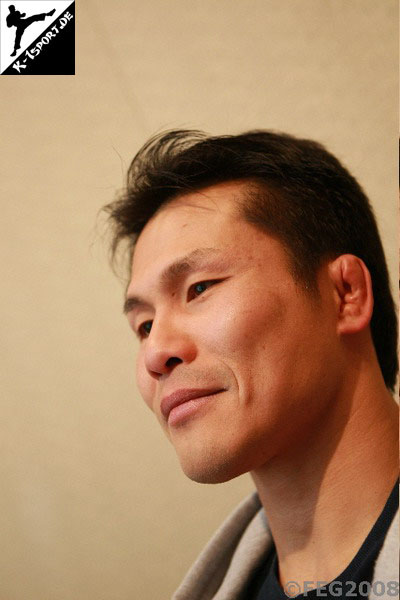 Kiyoshi Tamura
Said Tamura: "It's also a regular fight for me. I know there has been a lot of fan and media interest, but that does not affect me. Of course I have personal feelings but I know we both have changed since the old days, so I just want to make a good fight on Wednesday."
Hansen vs Calvin
This year's DREAM Lightweight (70kg/154lbs) Grand Prix Champion, Joachim Hansen of Norway, will meet the man who previously held HERO'S highest Middleweight honors, Brazilian jujitsu fighter JZ Calvan Brazil.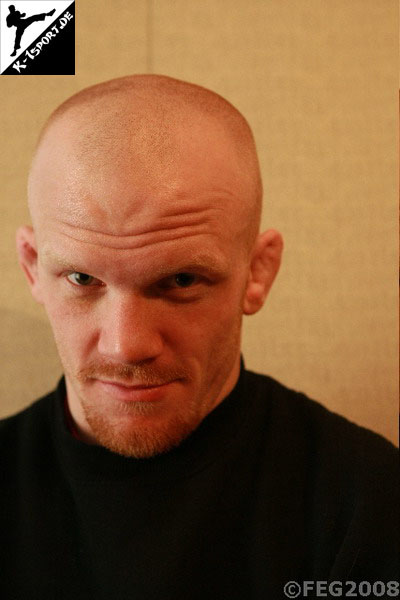 Joachim Hansen
Asked how he felt fighting as the Champion on New Year's Eve, Hansen was humble: "I haven't changed my training or let it affect my emotions, and I've prepared for this fight as for any other fight. JZ is an all-round fighter like me, and we can both stay on our feet or go to the ground. I plan to keep my guard tight, I think that's key for me, then I will make a dynamite show for Dynamite!"
Said Calvan: "I'm in very good shape, I'm always in very good shape. I had time to prepare for this and I'm very excited. I love to fight in Japan, the fan are so respectful, and I want to give their energy back inside the ring, so I'll do my best."
Calvan laughed when asked if he'd changed his style: "If you're born a banana, you're going to die a banana -- you just get more mature. I think attitude is the difference between me and Joachim -- the positive things I do in life, to get better and better every minute, every day, every fight!"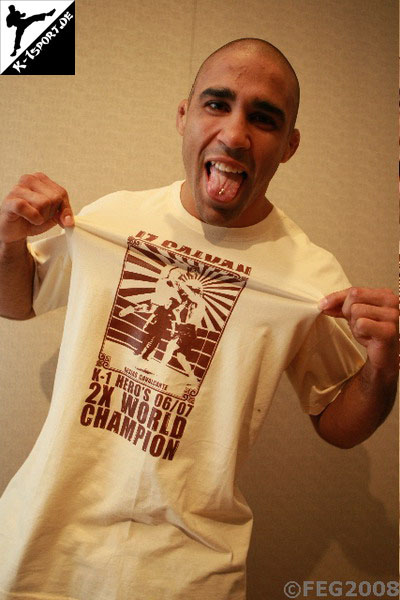 JZ Calvan
Aoki vs Alvarez
Shinya Aoki of Japan will meet Eddie Alvarez of the USA, in a fight that didn't happen at the DREAM Lightweight Grand Prix 2008, when semifinal winner Alvarez was not cleared by doctors to continue to the final.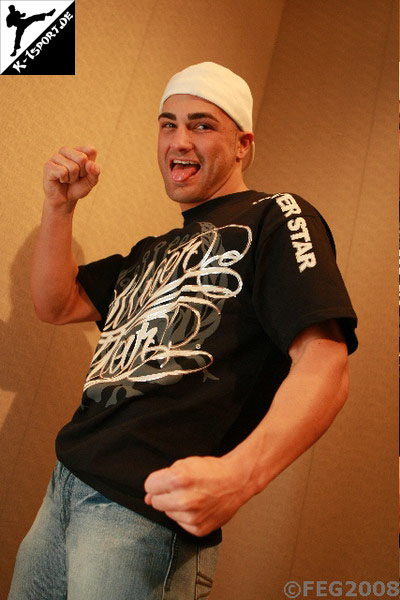 Eddie Alvarez
Said Alvarez: "This fight was supposed to happen before, and I think on that night I would've had the advantage because I'd fought fewer minutes than Aoki in the tournament. But in any case this will be a good fight to determine who is the number one fighter in DREAM. As for my strategy, I always believe it's important to impose my will on any fighter, regardless of his fighting style, and to control the fight every moment. I want to fight with all my spirit and put on the best show that I can for my fans."
Informed that Aoki had joked that being married with children might give Alvarez an advantage, the American responded, "The fact that Aoki doesn't have a wife and kids may allow him more time to focus on training, but I believe fighting is an occupation, and my wife and kids are my biggest inspiration to succeed in my job. It's more important for me to be well-rounded as a person, and I'm a very happy man to have this balance.
Aoki laughed when asked how he felt going into his last fight of the year: "It may not be my last fight of the year, you never know what might happen before midnight! Anyway, I want to enjoy myself in the ring, as always. I'm happy and proud that I've been able to fight great fighters this year, like JZ Calvan, Caol Uno and Joachim Hanson. And now, on New Year's Eve, it's great to meet Eddie Alvarez in the fight we couldn't have earlier in the year. If I weren't fighting in the ring, I would want to watch this fight from the audience! I think this will be a great contest, the best on the Dynamite card. Other fighters have gimmicks and so on to finish 2008, but this will be a real MMA fight that will entertain the crowd purely with technique and skills!"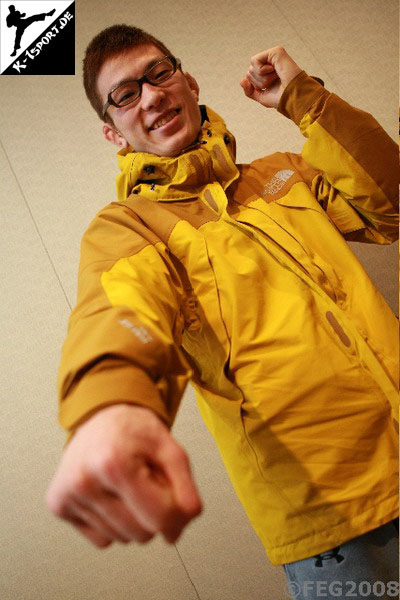 Shinya Aoki
LeBanner vs Hunt
In a showdown of Heavyweight sluggers, French K-1 veteran Jerome LeBanner will meet Mark Hunt of New Zealand, who fought frequently in MMA after winning the K-1 World GP in 2001, but has been less active recently.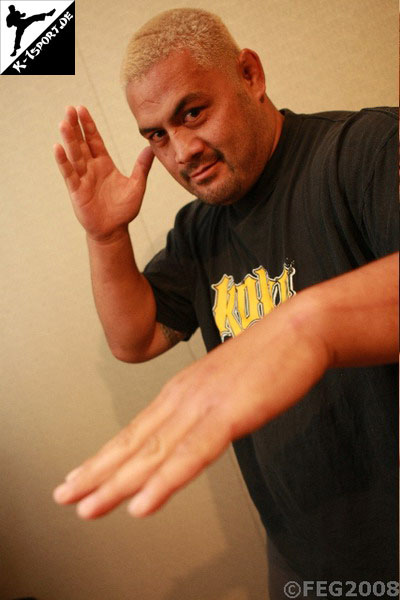 Mark Hunt
Hunt was nonetheless confident: "I've been training for MMA and striking both, as always. Of course Jerome is a great fighter but I've never seen him fight in MMA so I don't know, we'll see how it goes. I don't think he's going to be a strong challenge to me in MMA because I have much more experience. I want to put him away with a submission but sometimes you want a fight to go one way then it goes the opposite way, so I'll try to finish him with anything I can get. I'm ready to fight and win, I want to make some money! Wish me luck!"
LeBanner did not appear for interviews.
Schilt vs Mo
Also in the Heavyweight class, three-time K-1 World GP Champion Semmy Schilt of Holland will meet scrappy Samoan-American Mighty Mo.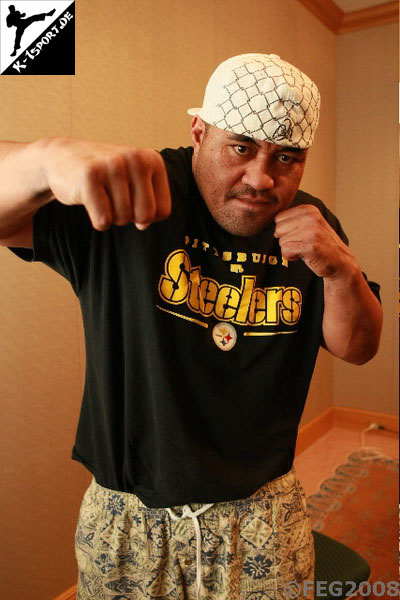 Mighty Mo
Mo's last K-1 fight was almost five months ago, and he was asked what he'd been up to since: "I've been spending a lot of tie with my kids, and I've been training to learn MMA rules and techniques, working with Josh Barnett on takedowns and knee and arm bar submission holds. I know groundwork, because I wrestled in college, and I think I'm very strong on the ground, where my hook is probably even stronger. Of course, fighting Schilt, it's a whole different game, but that's to my advantage because I have strength when we get inside, on the ground, where he'll be weak because of his build. I'm not saying it's impossible to knock Schilt out standing up, but if I'm smart and get inside, I have the advantage."
Said Schilt: "I'm very excited to be fighting in MMA again, it's been a long time but I am confident, I think. I did some MMA training, but really I want to show the fans a standup K-1 fight, worthy of a K-1 Champion, because I'm good at that.
Told of Mo's preference for ground fighting, Schilt replied, "I'm not afraid of groundwork, I can do more than a triangle choke, so we'll see where the fight goes. If the fight goes to the ground I have the skills to win there as well, my groundwork is capable of neutralizing his attacks. However, I want to knock him out, because that's Semmy Schilt!"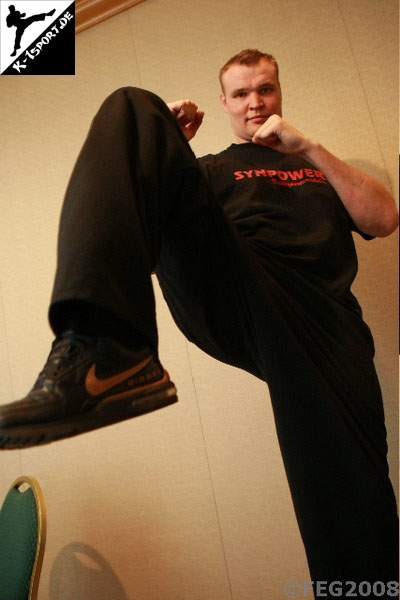 Semmy Schilt
Sapp vs Mantaro
Commensurate with Dynamite's wide appeal is the wide range of bouts on the card, and one of the more bizarre is American Bob "The Beast" Sapp's matchup with a flesh-and-blood anime character, "Kinniku Mantaro", from Parts Unknown, in a Heavyweight bout.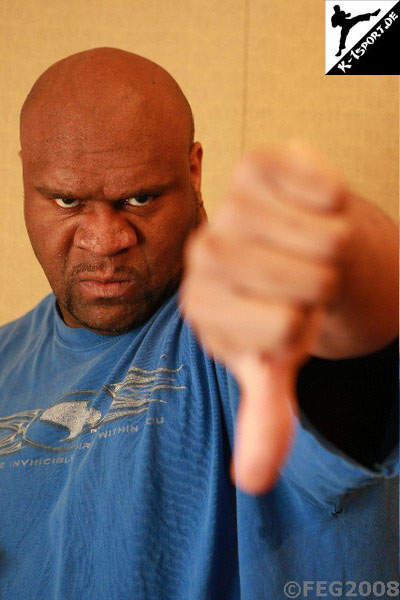 Bob Sapp
"I've focused on muscular endurance and speed training, I've lost weight and I'm in great shape," said Sapp, who rejected the suggestion he was slumping. "If you check my win-loss record I only have three losses over a nine-year span, I fail to see losing three fights as a slump. In fact, I think with the world economy in a slump, it's MMA itself that's also in a slump, so that's why I'm here! I enjoy this role, and I welcome all pressure, I will be victorious and I will show everyone why I fight, why Japan is number one, and why The Beast is number one!"
The costumed Kinniku Mantaro briefly materialized in the interview space, but said nothing.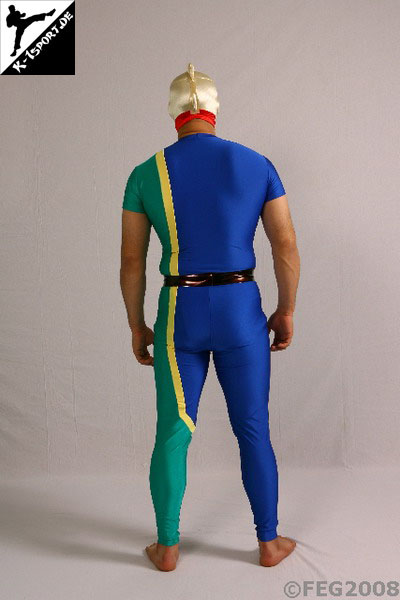 Kinniku Mantaro
Zimmerman vs Minowaman
Errol Zimmerman, a rising Dutch K-1 fighter, will test his MMA skills against Japanese pro wrestler Minowaman.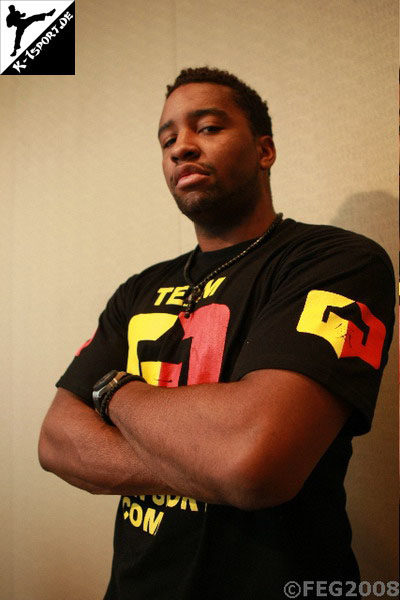 Errol Zimmerman
Zimmerman was asked if he was nervous fighting under MMA rules: "If I felt nervous or frightened, or felt that I couldn't beat him, I wouldn't have taken the fight. I have no impression of Minowaman, I'm just confident I'm going to win. There's nothing different about this fight, I got the call two weeks ago, so I started training, that's all. I may use strikes, I will use what is necessary -- maybe like Badr Hari, I'll stomp him on the head!" Informed that stomps are also illegal under DREAM MMA Rules, Zimmerman feigned surprise: "Oh shit! There goes my plan…"
Said Minowaman: "I just want to show my own style of fighting, beyond pro-wresting. Zimmerman is a total fighter, but I want to do my best, do what I can do in this fight to please my fans.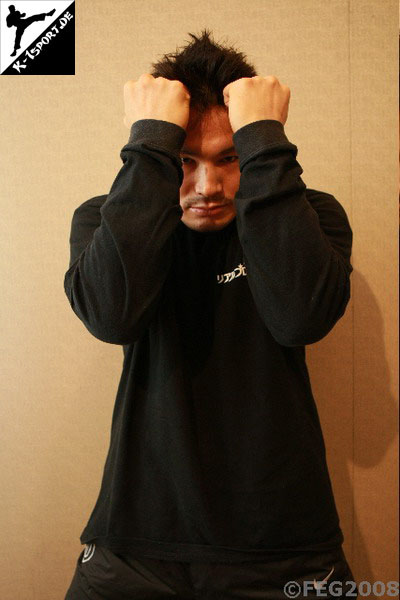 Minowaman
In other DREAM MMA Rules fights, it will be Japanese Welterweights Hayato "Mach" Sakurai and Katsuyori Shibata; Lightweight Hideo Tokoro and Daisuke Nakamura; and Yukio Sakaguchi versus Andy Ologun of Nigeria at Welterweight.
K-1 Rules
Hari vs Overeem
After accepting penalties imposed by governing body FEG for the foul he committed against Remy Bonjasky at this year's K-1 World GP, Moroccan bad boy Badr Hari was invited to a Dynamite dance with Dutch MMA fighter Alistair Overeem.
Badr Hari
Hari's thoughts on the Bonjasky-stomping were the first question asked: "I think 2008 was a very good year and I had a lot of great fights, but I messed it up a little bit in the final. What can I say, I could say a lot but I'll just say I got my punishment and I accept it. I don't look backward, I just look forward." Although Hari had no conciliatory words for Bonjasky, he did reach out to his fans, "I will try to do my best to show the fans that I'm a sportsman. I regret what happened and apologize to my fans and all the people who supported me, I learned my lesson and will do my best to make sure these things don't happen again."
Hari said the incident didn't affect his preparation for the fight: "At first, I didn't know if I would be suspended or not, so I wasn't sure I'd fight at Dynamite. But I stayed in shape, so I'm ready. Overeem's a good MMA fighter but he doesn't know K-1. Maybe he thinks he does when he trains in the gym, but I'm on different level -- I've knocked out the best, why not him?"
Hari laughed loudly when told that Overeem had pledged to teach him a lesson: "What kind of lesson? I don't care what he says, actually I think if he says that in public, they'll take him to a mental hospital for saying strange things…He'll never beat me!"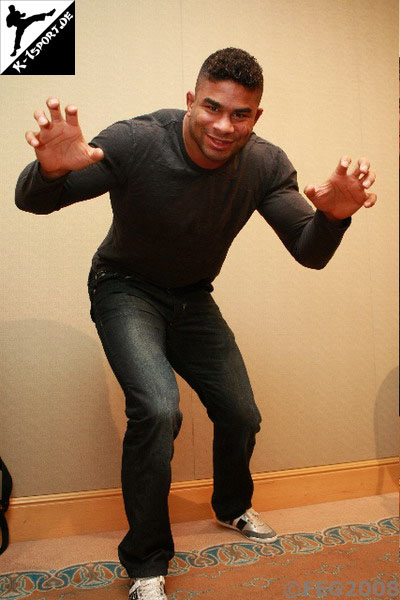 Alistair Overeem
Said Overeem, who will be fighting under K-1 Rules for the first time since 2005: "I've seen Badr Hari fight, he's one of the best K-1 fighters right now, he's very fast and very explosive, and he has a very big mouth! I was a bit surprised, like everyone, by his unsportsmanlike behavior in the K-1 finals, but also excited that he wants to fight me. I feel strong, I've trained at Golden Glory with fighters like Errol Zimmerman and Gokhan Saki, and it's also part of my normal training to train in K-1 rules. So I'm very confident. Hari and I are going to have two fights, this New Year's Eve in K-1 rules then later in the year in DREAM rules. I can't wait to get my hands on him. He knocked out [fellow Golden Glory fighter] Zimmerman, so this is a little bit of a revenge match for me!"
Musashi vs Mousasi
Also under standup rules, Japanese K-1 veteran Musashi will fight Dutchman Gegard Mousasi in a battle of near namesakes.
Gegard Mousasi
Mousasi is another MMA fighter new to K-1 Rules: "Yes, this is new for me, so I don't know how I'm going to perform, but it's exciting. Because of my weight at 84kg, I was more focused on my ground game in the past, but I've been sparring with Jerrel Venetiaan, and training with the pads with Ernesto Hoost and my kyokushin karate friends. I have to read the K-1 rules again (laughs), but it's kicking kneeing and punching, so I think I'll be alright. I'm now going for a 93kg fighting weight, and once I get over 100kg I'll want to fight more in K-1 rules. I've watched Musashi's K-1 fights, and I know he's a good fighter and has experience that I don't, so I'll make up for that with speed and explosiveness."
Musashi arrived at the interview space merrily singing a song: "I'm in top condition and two days away from the fight, so I feel great," said the seidokaikan stylist. "I had injuries this year, maybe I wasn't treating them early with massage and so on so they got worse. I think I have to be more cautious now because I'm getting older, this year I learned to take better care of myself. Dynamite is my last fight of the year, so I want it to be a good one. Because Mousasi is lighter than me he can move faster, so the key will be keeping up with him, so I trained mainly for speed. I've seen videos of Mousasi's fights, they are mostly MMA fights, but I've also heard he has good striking techniques. Still, I think if I can fight my style of fight with speed, then I'll be ok."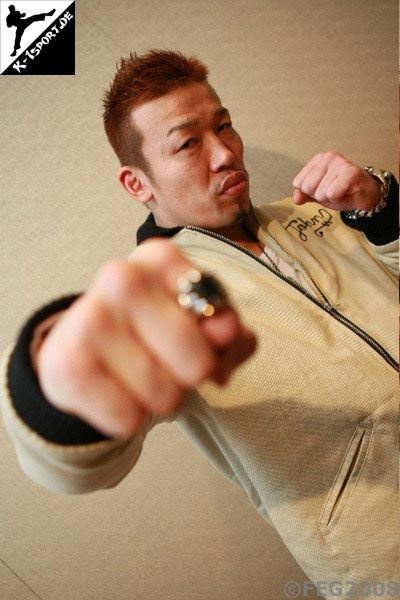 Musashi
Also in K-1 Rules it will be Japanese fighters Kozo Takeda and Tatsuya Kawajiri, while two-time K-1 Max Japan Champion Yoshihiro Sato will meet 22 year-old Ukrainian Artur Kyshenko in a 71 kg/157lbs contest.
K-1 Koshien
An added bonus on the Dynamite is the conclusion of the inaugural K-1 Koshien high school tournament -- for fighters aged 18 and under, with a 60kg/132lbs weight limit. It will be Hiroya vs Shota Shimada and Ryuya Kusakabe vs Koya Urabe in the semis, the best two boys then battling for the K-1 Koshien trophy. The Koshien reserve match pits Daizo Sasaki against Taishi Hiratsuka.
FieLDS DYNAMITE!! 2008 kicks off at 3 p.m. on Wednesday December 31 at the Saitama Super arena. The event will be broadcast live across Japan on the TBS Network. For scheduling information in other regions contact local broadcasters. For complete coverage of this and all DREAM and K-1 events visit the K-1 Official Website (www.k-1.co.jp/k-1gp).