written by Monty DiPietro
The fighters talk about their bout, their upcoming fight in MMA rules and future opponents like Remy Bonjasky.
Badr Hari
The K-1 fighters haven't done well tonight. What do you think about that?
Badr Hari: A fighter is a fighter. I don't see it as MMA vs. K-1, I just see it as one fighter against another fighter. Today was their lucky day and I don't think it says that MMA is stronger than K-1.
Why do you think you lost today?
I was in a big tournament just a few weeks ago so it is very difficult to stay focused. I took this fight because I like fighting, but it was too difficult to stay focused in such a short period of time. That's why I don't think I'll be fighting in the Dynamite show any more [because I plan to be in the K-1 tournament final again next year].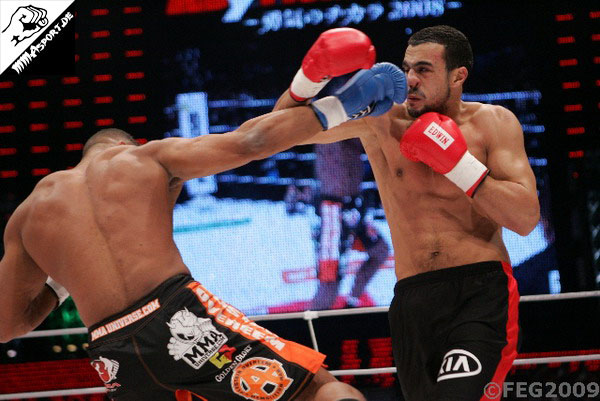 Alistair Overeem vs. Badr Hari, Dynamite 2008
Overeem talked about the MMA rules fight that you two are supposed to have eventually.
There won't be an MMA fight in the near future. I'm a stand-up fighter and that's what I do. I'll be focusing on stand-up.
Alistair Overeem (Winner)
Your thoughts about the fight?
Badr Hari challenged me and we agreed to two fights: one with K-1 rules and one with MMA. This was the K-1 fight.
Your thoughts about your opponent?
He's a great athlete, but he has no respect. No respect for fighters, for other people, and especially for DREAM fighters. I think that's not good. That's why I don't like him.
You were fighting in the less-familiar K-1 ring and you won. Is it even worth it to fight Badr Hari in DREAM rules?
My management and FEG both agreed on it, and he challenged me. A deal is deal.
Do you have a message for Badr Hari?
Let's just see if he shows up for the DREAM fight.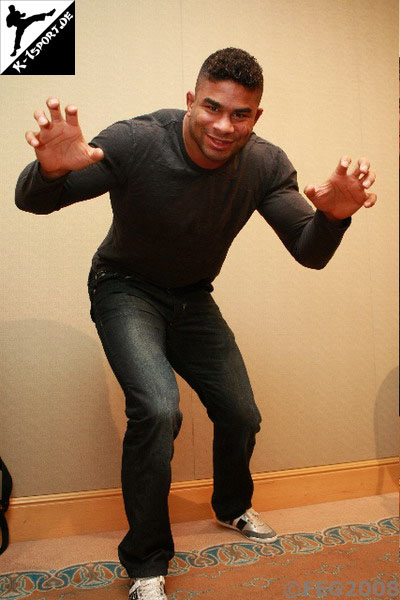 Alistair Overeem
Any comment on Mirko 's 6-month leave of absence for recovery from his upcoming surgery?
I wish him the best of luck in his recovery. It's unfortunate that I won't be able to fight him, but it's not a priority. I wan't to fight the current K-1 champion, Remy Bonjasky.
In K-1 or MMA rules?
Of course, K-1 rules. When I challenge someone I fight their rules. It's meaningless to do otherwise.
Anyone you want to fight in MMA?
Fedor Emelianenko.