written by Monty DiPietro
K-1 Event Producer Sadaharu Tanikawa and DREAM Event Producer Keiichi Sasahara talk about the New Year's Eve event and their plans for 2009.
Sadaharu Tanikawa (K-1 Event Producer)
It's been a tough year for fighting sports. But we've had some really good fights in the DREAM, MAX, K-1, and Dynamite events. We've taken a big step toward bringing the seat of martial arts events back to Japan. With K-1 and PRIDE together, we can build the best martial arts event in the world.
What are you going to do about UFC, which is doing very well in the U.S.?
We still feel that our events are the best in the world. We want to continue to create the best events and continue to raise the best fighters. We're also going to get more fans into the arenas and use the money to buy UFC (laughing).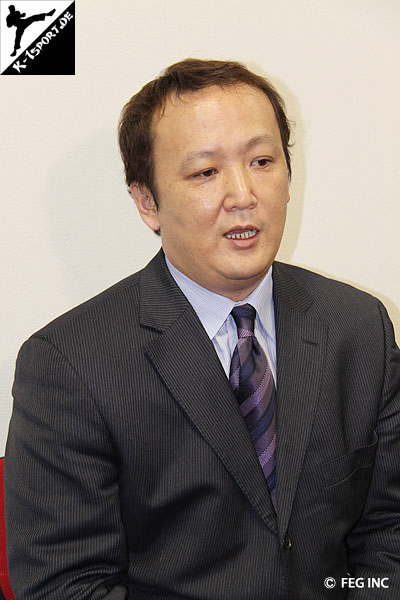 Sadaharu Tanikawa
What do you think about the K-1 fighters' losses tonight?
Well I expected that Kawajiri and Mousasi had good chances to win, but Badr Hari's loss was a surprise. But surprises are what makes an event exciting. I think you'll find that the fighters that showed the most bravery and strength are the ones who won.
There were rumors of a joint event with Sengoku.
We did plan something, but our objectives were different so nothing came of it.
What was the best bout of the night in your opinion?
The whole event was pretty good including the K-1 Koshien as well. If I had to pick one, I'd say the Aoki vs. Alvarez fight. I thought Aoki would have a much tougher time. I didn't realize he was such a strong fighter.
Keiichi Sasahara (DREAM Event Producer)
2008 is coming to a close, and DREAM's first year has been a tough one. But all the hard work that everyone's put into DREAM has come to fruition in some excellent bouts tonight. Even there were some last-minute changes, the fighters did a bang-up job and I'm thankful for that. I'm sure that the fans who came tonight will be back next year. We'll have tournaments for both the feather and welter weights along with heavy and light-heavy weight title matches.
What's Joachim Hansen's condition?
We'll have to see tomorrow. If he's okay to fly home tomorrow, I want to get him there as soon as possible. He was in no position to fight according to the doctor and our fighter's safety is our prime concern.
Women's MMA is getting popular in the States. Would you consider having women in DREAM?
Not thinking about in DREAM right now. There are events for women fighters and I'd like to leave that to them.
Any word on Alvarez' condition?
No problem with broken bones, but there might be some internal injuries.
You mentioned in the press conference that you wanted to reestablish Japan as the center of the martial arts universe.
Yes, and I think we are on the way to doing that. Tonight's event was just one step, but building a succesful series is not by just having one good event but by having increasingly good events. That's what we'll be focusing on next year.