written by Monty DiPietro
TOKYO, December 30, 2008 -- As dusk descended on the eve of New Year's Eve, Japanese fightsport fans braved falling temperatures to crowd Shinjuku Station Square for a glimpse of the warriors will do battle in tomorrow's FieLDS DYNAMITE!! 2008.
Thirty-six fighters, from age 15 to 40, will step into the ring for the extravaganza, which has become a New Year's tradition in the land of the rising sun. Tens of thousands will fill the Saitama Super Arena, and tens of millions will watch on nationwide television.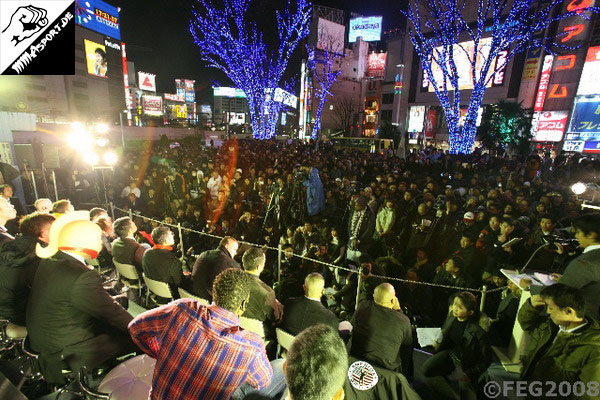 Shinjuku Square
Most of the fighters did their final media interviews yesterday, and today the mood was festive, with hundreds of shrieking fans stretching cameras and mobile phones high above their heads, shooting photos and videos of their favorite fighters. The veterans, accustomed to Japanese fan adoration, wore appreciative smiles on their face; while some the younger fighters, particularly those from overseas, appeared in awe of it all.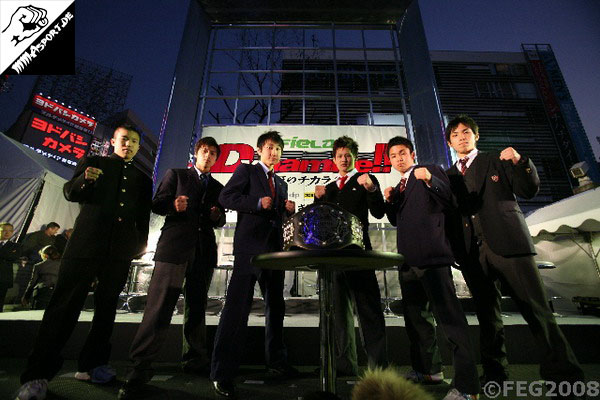 The K-1 Koshien Participants
Dynamite 2008 features a dozen DREAM MMA bouts in a variety of weight classes; a quartet of K-1 Rules contests; and the culmination of the K-1 Koshien high school tournament.
FEG Event Producer Sadaharu Tanikawa first took to the stage to deliver some unfortunate news -- French fighter Jerome LeBanner -- stricken with influenza and running a fever -- will not be able to compete in his bout against Mark Hunt. It's expected that a replacement fighter will be announced in the coming hours.
After welcoming remarks by DREAM Producer Keichi Sasahara, the fighters were introduced.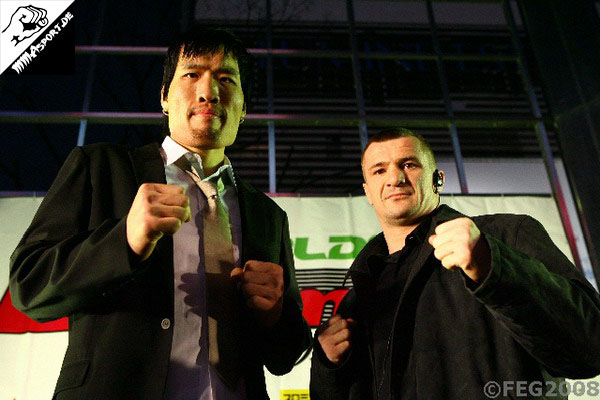 Hong-Man Choi and Mirko CroCop
A big cheer greeted American Bob "The Beast" Sapp, who enjoyed tremendous popularity in Japan a half-dozen years ago. Hong-Man Choi, the Korean behemoth, elicited appreciative applause when he made his brief remarks in Japanese.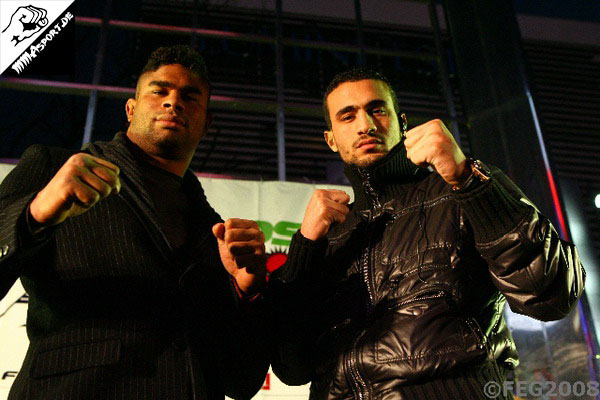 Alistair Overeem and Badr Hari
Not surprisingly, bad boy Badr Hari's appearance drew a robust response, and a shout went up for Mirko CroCop. Japanese fighters Sakuraba and Shinya Aoki were also very well-received.
Most of the fighters used their microphone time to thank their fans, and pledged to do their best in the ring on New Year's Eve. A few waxed poetic:
"Tomorrow, my opponent will face his worst nightmare -- reality!" growled Sapp, who will meet anime character Kinniku Mantaro in a surreal dance. The masked Mantaro, who remained silent through interviews this week, did not respond to the provocation.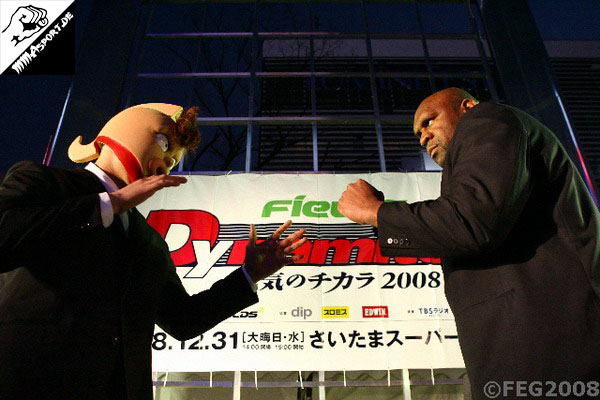 Kinniku Mantaro and Bob Sapp
Mirko CroCop revealed that he prepared for his bout with the 218cm/7'2" Choi by sparring with a Croatian Olympic basketball player: "He's not a fighter, but he's the same size as Choi!"
Samoan-American slugger Mighty Mo, meanwhile, pledged to become the first fighter to KO three-time K-1 World Grand Prix Champion Semmy Schilt. As always, Schilt was restrained with his comments, saying only that he would "show a good fight."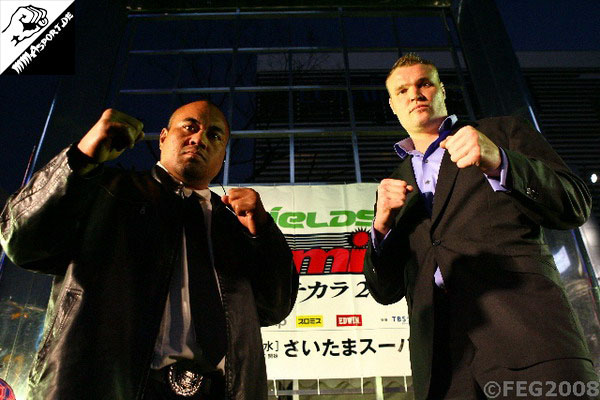 Mighty Mo and Semmy Schilt
Alistair Overeem mocked opponent Badr Hari's foul at the K-1 World Grand Prix Final, to which an almost meditative Hari simply responded, "I will hurt him, I will KO him, I will bring him a lot of pain."
Dutchman Gegard Mousasi, who will mix it up with Japanese K-1 veteran Musashi, told the crowd, "I have nothing to lose, so I'll do everything to win."
Sakuraba complained about the cold, while JZ Calvin thanked the fans for their love and pledged to pay them back in kind from the ring.
Said Eddie Alvarez: "I'm from Philadelphia, but I love it so much here in Japan that I brought my family with me this time. Tomorrow you won't be disappointed!"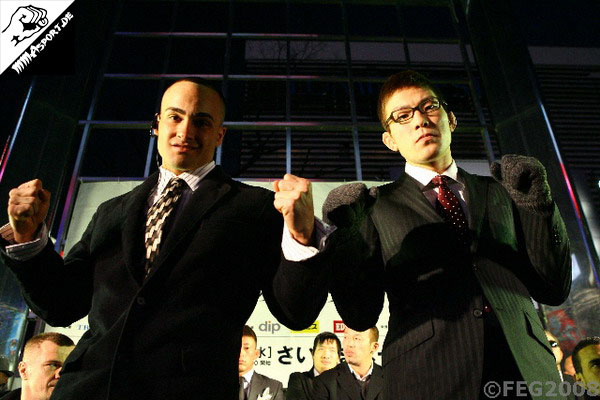 Eddie Alvarez and Shinya Aoki
Alvarez's opponent, Shinya Aoki, whose faux-geek image has endeared him with fans, reached out to the patriots in the crowd: "People say America is the center of the world today, and even the center of martial arts is in America. I'm honored to have a fight here in Japan that is gathering world attention. Tomorrow, I hope to bring the center of martial arts back to Japan!"
FieLDS DYNAMITE!! 2008 kicks off at 3 p.m. on Wednesday December 31 at the Saitama Super arena. The event will be broadcast live across Japan on the TBS Network. For scheduling information in other regions contact local broadcasters. For complete coverage of this and all DREAM and K-1 events visit the K-1 Official Website (www.k-1.co.jp/k-1gp).