written by Monty DiPietro
Bob Sapp speaks about his fight with Kinniku Mantaro and his plans for 2009.
Bob Sapp: I'd first like to say that today's match was about endurance. I wanted everyone to see the New Beast and show that I have the endurance it takes to be one of the dominant fighters in 2009.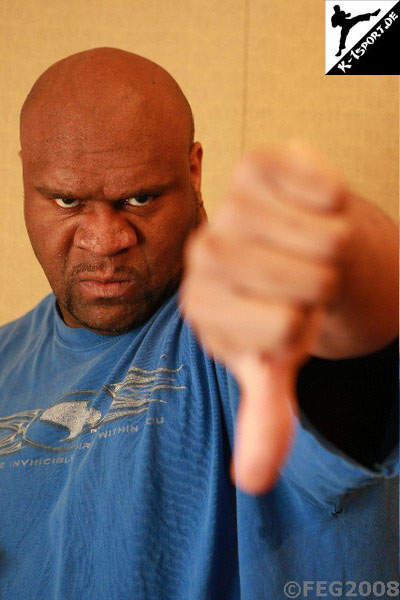 Bob Sapp
You've been active in wrestling recently. Does tonight's fight show a new commitment to fighting?
Well, as you can tell I've lost 15-20 kilos. I think that shows that I'm very serious about fighting. I've just turned 34 and you never know when a fighting career will suddenly end. I'm still the Beast with the laugh and everything but I'm backing up 'the talk' with 'the punch.'.
Thoughts on your opponent, who has an extensive wrestling background?
For a wrestler, he did well but he made a few mistakes coming out. Just being able to bring your opponent to the canvas doesn't give you the win. You've got to finish it or it means nothing. I took a different tack and played it cool. I concentrated on watching where the punches were coming from.
What was it like facing a cartoon character?
Well, today my opponent had to face reality which is every cartoon's worst nightmare!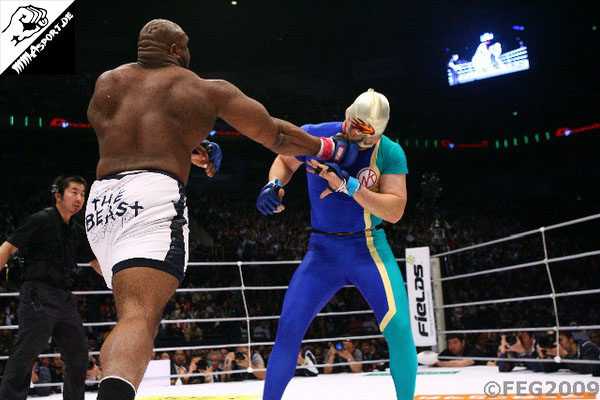 Bob Sapp vs. Kinniku Mantaro, Dynamite 2008
What was it like working with DJ Ozma [musician and producer of this match]?
I think the ratings will show that together we put together a really good match. I'm sure we beat out all the other top entertainments on TV tonight.