written by Jens Habermann
Both fighters talk about their bout, hurting knees and an upcoming surgery.
Mirko CroCop (Winner)
Your thoughts about the fight?
I was hoping to catch him with a high kick if I could, but the main idea was to confuse him so he wouldn't know when to expect a low kick.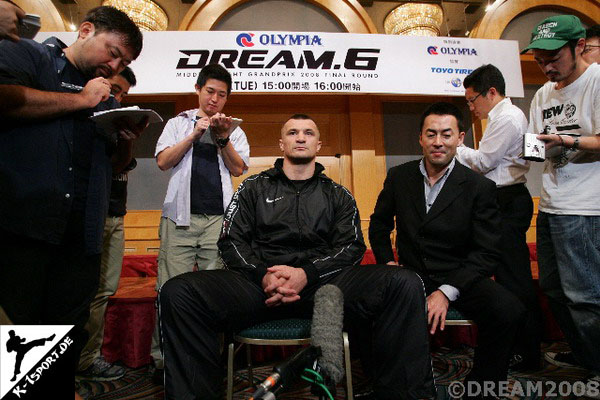 Mirko CroCop
How's your condition?
Mirko CroCop: I feel good. Without injury. Except for the injury that I brought into the fight. The doctor said that I'll have to have surgery on my leg, but I wanted to fight in September and tonight at any cost so I postponed it. It was tough. I had to go right to physical therapy after the last fight, but this is my job. I don't want to disappoint the fans.

Cornerman: He was in bad shape, walking around with a cane. But he knew what a big fight this was, so he really wanted to be in the New Year's show. His doctor is a famous doctor who has taken care of many famous athletes and the doctor has said that he has 100% chance of a full recovery.
When do you think you'll be back?
I want to come back completely recovered where I'm not worried about my legs. (CroCop returned to the locker room to ice his legs)

Cornerman: The doctor said that CroCop is in good shape and that has allowed him to come this far. The doctor expects recovery to take from six to nine months. CroCop wants to fight as early as July, but I think it's too early. It will probably be next New Year's that he has his next fight. He's upset about all the K-1 fighters losing their fights tonight and feels that he'd like to fight against DREAM fighters as a K-1 fighter.
Which leg is it that will be operated on?
Cornerman: The doctor told us not to reveal that. Even though he expects a full recovery, he knows that other fighters will focus on that particular leg if it is revealed.
Hong-Man Choi
Your thoughts about the fight?
Hong-Man Choi: Recently my condition hasn't been very good so I don't really have much to say about my performance tonight except that I will do better next year.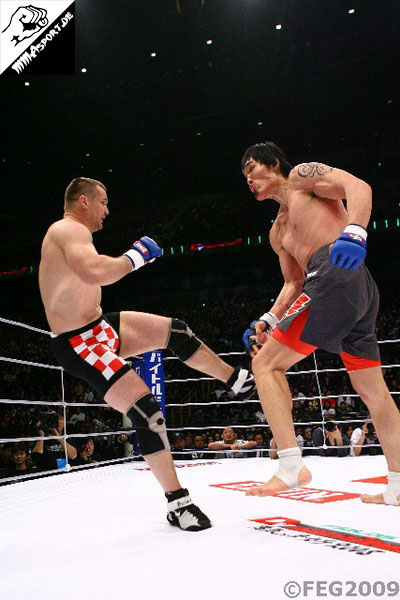 Mirko CroCop vs. Hong-Man Choi, Dynamite 2008
How's your condition? You took a pretty heavy low kick.
At the moment of impact it did hurt quite a bit and that's why I buckled. It hurt for a little while, but not so much right now.