written by Monty DiPietro
TOKYO, December 18, 2008 -- It was announced today that Hong-Man Choi will fight Mirko CroCop at FieLDS Dynamite!! 2008. Set for New Year's Eve at the Saitama Super Arena, Dynamite!! is one of the most widely-viewed mixed martial arts event in the world.
"Mirko's kick won't reach me," predicted Choi, a former ssirium grand champion, who, at 218cm/7'2" will bring a 30 cm/12" height advantage to the ring. At 167kg/355lbs, Choi is also some 65 kg/125lbs heavier than CroCop.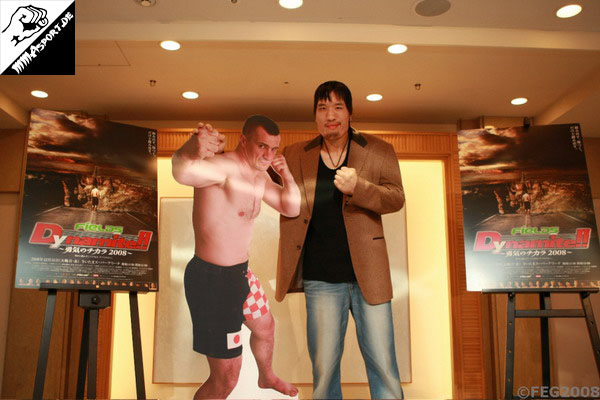 Cardboard CroCop and Choi
Although Choi has size on his side, CroCop is far more experienced -- since his MMA debut in 2001, the Croatian has established himself as one of the world's best all-round fighters. Choi, meanwhile has competed just twice under MMA rules.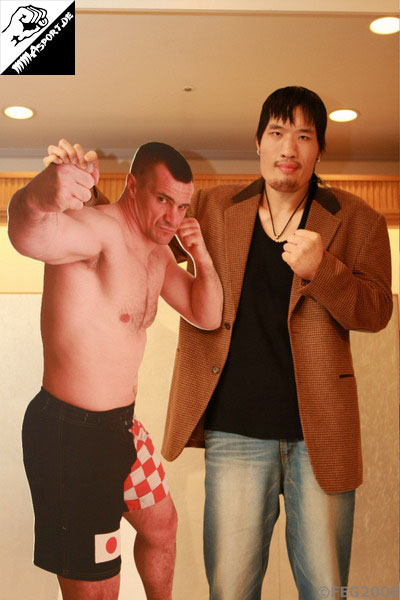 Cardboard CroCop and Choi
The Korean behemoth has however shown potential -- he fought aggressively last New Year's Eve, at "Yarennoka!", downing the elite Fedor Emelianenko and pummeling him about the face.
K-1 Event Producer Sadaharu Tanikawa said Choi's build and fighting style give him "high potential" in MMA and will help him against CroCop.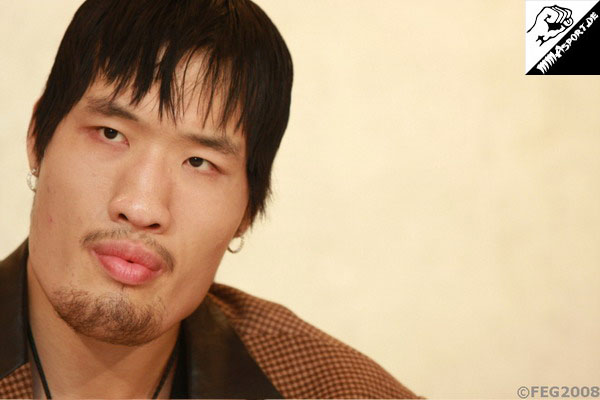 Hong-Man Choi
A smiling Hong-Man Choi told the media that although CroCop is one of his favorite fighters, he was confident of a win. "Mirko seems to be in a slump recently," said Choi, "and I have no problem fighting with him on the ground." Choi also illustrated, using a life-size cardboard CroCop, how he hoped to bring the knees up on his opponent.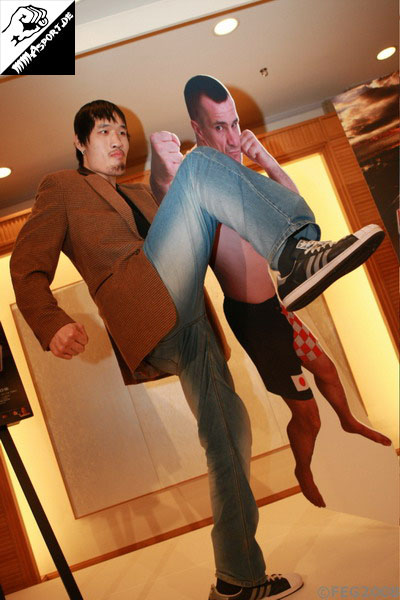 Choi kneeing the Cardboard CroCop
On New Year's Eve however, Choi will face a flesh-and-blood CroCop. The Croatian fighter sent his comments to today's press conference: "I am happy that I was able to fight for the first DREAM event, and will finish this year fighting on New Years Eve. I heard that the theme of the event is 'brave heart', and I know there were a few times that I needed to challenge how brave I was. However, my fans always supported me and backed me up. I promise to show a great fight for my fans!"