written by Monty DiPietro
The two talk about their Dynamite fight, a future rematch and Mousasi's K-1 plans.
Musashi
Your thoughts about the fight?
Musashi: I tensed up and I was caught by surprise. By the time I realized the fight was getting into dangerous territory and it was too late. I started taking some really heavy punches and I knew I was in trouble.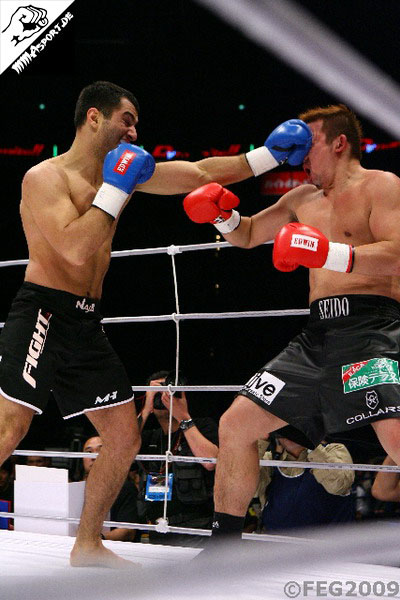 Gegard Mousasi vs. Musashi, Dynamite 2008
What will you do to improve for 2009?
Yes. Well, the fact that I stiffened up really bothers me. As a professional I feel that it was unexcusable.
Did you feel that you had to get a win for all the other K-1 fighters who lost tonight?
I didn't feel any special pressure about representing K-1. Each fight is a man-to-man affair. Tanikawa did visit my dressing room and told me that all the other fighters are losing and that I need to win one for K-1. I do wish I could have. But it wasn't pressure to represent K-1 that caused me to stiffen up. I can't blame anyone but myself for my loss.
Does your opponent have a future in K-1?
He's quick and tough. I think he's got a future. But first I'd like to face him myself.
There is a rumor about you changing your name.
NO. I've fought as Musashi for a long time. I'll continue to fight as Musashi. I wouldn't know what to change my name to anyway. You won't see another fight like the one tonight. I shouldn't have taken such punches and I won't make such a mistake again. It was the first Dynamite fight that I've lost. I hope to face my opponent again next year.
Gegard Mousasi (Winner)
Your thoughts about the fight?
Mousasi: I gained a little weight for the fight so I wasn't sure about my condition, but everything went well and I was happy with my punching power.
Gegard Mousasi
Musashi said he would like to meet you again in the K-1 ring. Your thoughts?
This was a one time thing for me. I want to concentrate on boxing and MMA. But if DREAM wants me to fight Musashi then that's what I'll do.
When you won the champion belt at the DREAM event, you mentioned you might fight in K-1.
Well, I just wanted to show that I could fight in K-1, but most fighters are a lot heavier than I am and it would take a while before I felt comfortable with a heavier weight. Maybe later in my career, I would consider fighting in K-1 again.