書かれた Monty DiPietro
TOKYO, December 4, 2008 -- With just 48 hours remaining before the K-1 World Grand Prix 2008 Final, this year's eight finalists took a break from training to sit down and chat with Japanese and international media at the Keio Plaza Hotel in central Shinjuku.
"I'm going to knock out Badr Hari" -- Peter Aerts
How are you feeling Peter?
"I feel very good, I'm relaxed and ready. I feel confident"
What's your strategy for the tournament?
"The first fight is the most important, so I look to the first fight then I go from there. And, in the first fight I'm going to knock out Badr Hari!"
Any guess on who you might fight in the second bout?
"I don't know, maybe I'll knock out Errol Zimmerman? (laughs) It's going to be exciting on my side!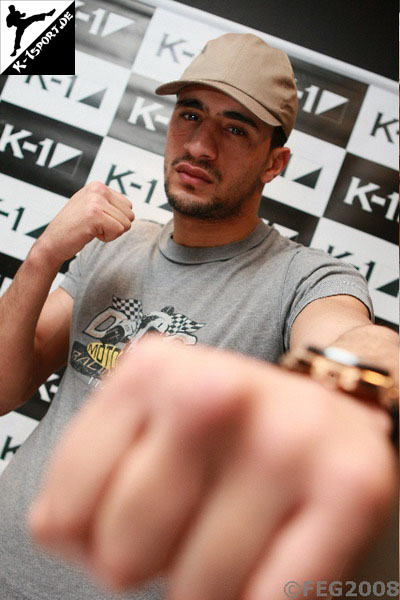 Badr Hari
"I'm going to knock out Peter Aerts!" -- Badr Hari
You represent the new generation of K-1 fighters.
"Yes, K-1 fans have been waiting a long time for a change, and I'm the change. I feel very good, I trained very hard and I feel very sharp, 100% fit and 100% focused.
How are you approaching Saturday?
"My mind is focused on Peter Aerts, he will be the first step in the changing of the guard."
Aerts said he's confident he'll beat you.
"I don't give a shit what Peter says, I'm going to knock him out!"
We heard you are being honored by your native Morocco next year?
"Yes, the King of Morocco is going to give me an award for what I do, it's an honor and also a motivation to bring the World GP Belt with me."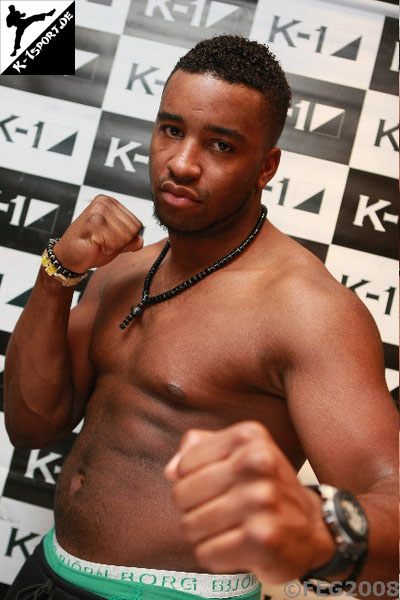 Errol Zimmerman
"Fighting is my life" -- Errol Zimmerman
You look relaxed, Errol.
"I'm always relaxed, I'm never tense before a fight because fighting is my life, and nobody is going to beat me at my game."
Did you do any special training for the tournament?
"I have never trained so hard in my whole life as I have for this, but I did not focus on any one thing, I did everything -- especially hard sparring."
How much do you know about your opponent?
"I saw Teixeira fight Musashi, and my trainer has studied him. I'm confident but I don't underestimate him."
Are you confident of going on to win the championship?
"I am always confident, and Saturday I am going to knock everyone out, I trust in my own power."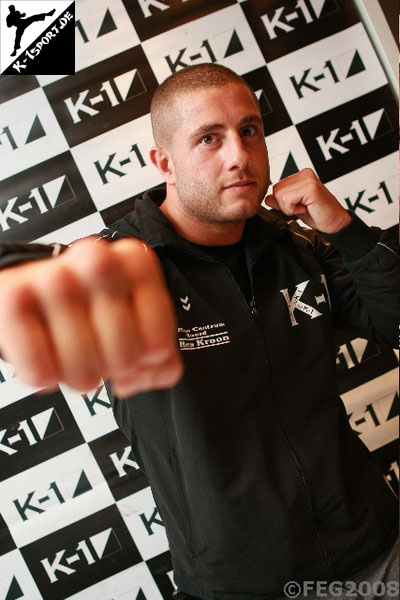 Gokhan Saki
"I'm a big star in Turkey" -- Gokhan Saki
This is your first K-1 World GP.
"Yes and I feel really good for Saturday, I'm ready to fight."
Tell us about your training.
"After beating Ray Sefo [in September], I took about two weeks off. Since then I've been training twice a day, six days a week. Mostly weightlifting, jogging and sparring."
Your first opponent, Karaev, says he's too fast for you.
Yes, he's fast but before he gets to me I am going to knock him out. I also have a few things I can do fast, and that's good enough."
If you win in your first fight, whom do you think you'll meet next?
Of LeBanner and Remy [Bonjasky], I am ready to fight either one. But I think it will be Remy, I think he'll beat LeBanner."
You are from Turkey, is K-1 known there?
"K-1 is big news in Turkey, and now I'm a big star there. I know Turkish fans are happy to have me here, it's the first time there has been a Turk in the final eight."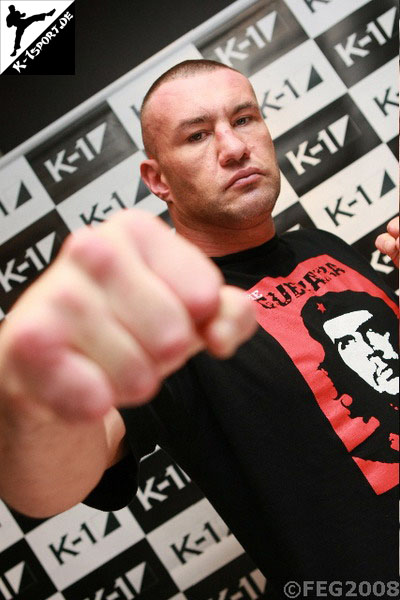 Jerome Le Banner
"KO!" -- Jerome LeBanner
You're wearing a Che Guevara t-shirt?
"Because it's war."
Have you done any special training to prepare for the tournament?
"Training for speed, power and endurance."
What kind of fight do you want to make with Bonjasky? "KO!"
Which of your weapons do you think will knock him out?
"If I knew the future that well, I would play the lottery."
Whom would you want to fight in the semifinals?
"I don't give a shit, anyone!"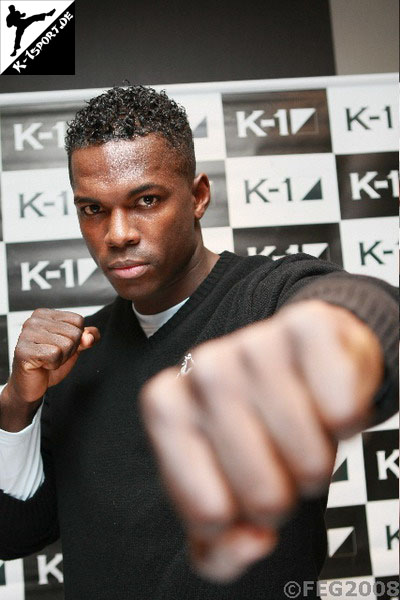 Remy Bonjasky
"Saturday we'll see who's best" Remy Bonjasky
How are you feeling before the tournament?
"I feel great, my condition is good, we trained real hard for this."
What is your strategy for Saturday?
"My first fight is against LeBanner, and he's a strong veteran and an experienced fighter so it will be tough. But if I win against him, it will be easier in the second or the third fight."
Last time you fought LeBanner, in Holland, there was a disputed result and he won on appeal.
"I was disappointed about that, I think to make a protest as LeBanner did was strange. For me if you lose the fight you have to take it as a loss, not try to change the decision. What happened in Amsterdam was during a bad period for me, but now I feel stronger than ever, and Saturday we'll see who's best!"
Will you be going for a KO?
"Yes of course because the last time the jury made the decision, so it would be better to knock him out so nobody can change the decision later!"
Whom do you think you may meet in the semis or final?
"I think Saki will be in my second fight and I would hope to see Peter [Aerts] in the final."
Why Aerts?
"Well I lost to Peter in the tournament last year, so it would be great to have my revenge against him this time."
Ruslan Karaev chatted only briefly with reporters, predicting that he "absolutely will not lose." Asked if that meant three KOs, Karaev laughed and replied. "Maybe two."
Ewerton Teixeira went directly from his photo session to the training room.
In the card's reserve fights: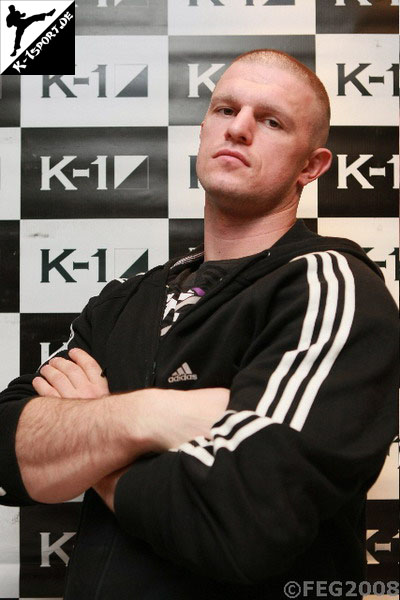 Paul Slowinski
Paul Slowinski said he was prepared for opponent Melvin Manhoef. "He's an explosive fighter, strong and not so tall, so that can make it difficult. I'll have to use distance, stay outside and use my reach."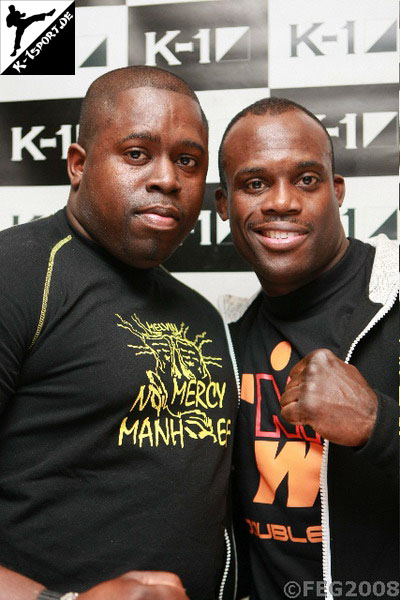 Melvin Manhoef and brother
"Yeah I'm like a midget," replied Manhoef. "But I train with Badr Hari, who's taller than Slowinski. I don't care, Paul is a good fighter but if he tries to keep his distance I will just fight into his range, I will go and get him, no problem."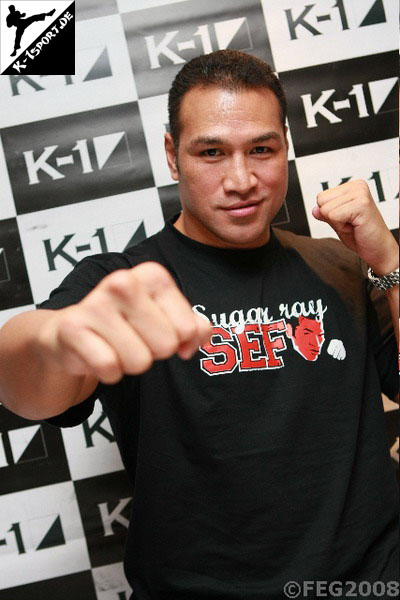 Ray Sefo
Ray Sefo said he was ready to take on big Hong-Man Choi. "I feel good and I'm confident. Nothing is easy but my team and I have been working hard, Jan [Nortje] has been my main sparring partner and he's pretty big. I'm not going in looking for a KO though, I want to do what I do best, which is be aggressive and win the fight, and then maybe we get into the tournament."
Choi also said he was also ready. "Usually I train in Japan, but this time I stayed in Korea and trained harder, changing my sparring partners and changing all aspects of my fighting style. I'm ready for Sefo, he's a good fighter, he's fast and has a good right, but he's going down."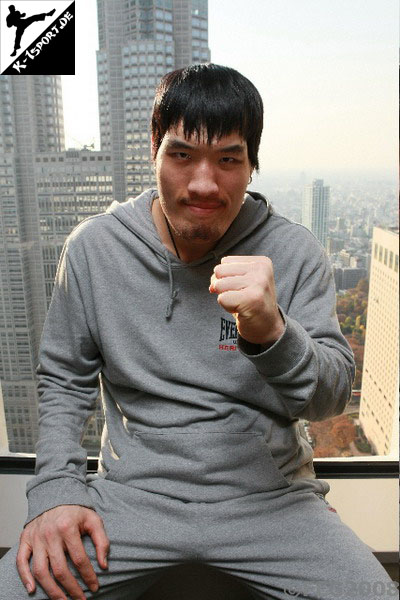 Hong-Man Choi
The K-1 World Grand Prix 2008 Final kicks off at 5 p.m. on December 6 At the Yokohama Arena. It will be broadcast live in Japan on Fuji TV; across Europe on Eurosport; in the USA on HDNet; in Australia on Main Event; and in New Zealand on SKY Network. Visit the K-1 Official Website (www.k-1.co.jp/k-1gp) for comprehensive coverage and official results.