書かれた Monty DiPietro
Errol Zimmerman upset veteran Glaube Feitosa at the K-1 World GP 2008 Final 16 to establish himself as one of K-1's rising stars. The 22 year-old young boy, nicknamed "Bone Crusher" will face Ewerton Teixeira at the K-1 WGP 2008 Final.
You made quite an impact with your ring entrance at the WGP Final 16!
Zimmerman: I wanted to excite the crowd, I wanted people in Korea and Japan to remember me as the "Bone Crusher". They know my aggressive fighting style. And I wanted to also create a strong personal image.
Not many people would wear a skeleton body suit and mask...
Zimmerman: I thought about it with my teammates and we came up with the idea of a "bone crusher" body suit.
And a live rapper! However, the music finished before you reached the ring.
Zimmerman: The rapper was told he had only two minutes, then the music suddenly stopped, I feel sorry for him. But no problem, I'll reconsider the length of the music for next time.
You were pretty sweaty when you got out of the suit.
Zimmerman: Not a problem but I am also thinking of maybe changing to a different suit with more ventilation...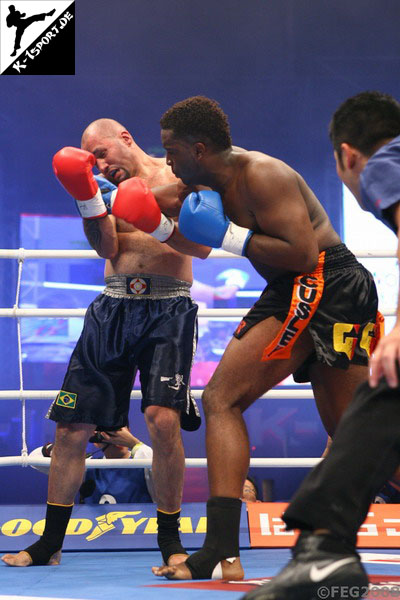 Glaube Feitosa vs. Errol Zimmerman (Final Elimination 2008)
How do you feel about your win against Feitosa?
Zimmerman: I'm satisfied I kept beating him up through the entire three rounds. It was only in the last 30 seconds that he gave me some punches and kicks. Yet, I felt nothing. To prove that, you see how my face was still pretty, yet his face was badly swollen! I think after the fight he couldn't sleep, because he regretted fighting on for three rounds, when he should have just stopped in the first round.
In the draw for the Final, you avoided Remy Bonjasky and Ruslan Karaev. Any reason for that?
Zimmerman: I talked to Gokhan Saki at the drawing and he said he wanted to fight Ruslan or LeBanner. So I went to the other side to let someone pick me, and it was Teixeira.
What is your impression of him?
Zimmerman: He's aggressive and has power. I'm glad I'm going to fight him.
Maybe he chose you to revenge Glaube, because they are in the same team?
Zimmerman: It doesn't matter to me why he chose me. I'm only waiting for the moment to knock him out! My fight at the Final will be the most interesting fight of all. If you want to see a KO, just wait for the "Bone Crusher"!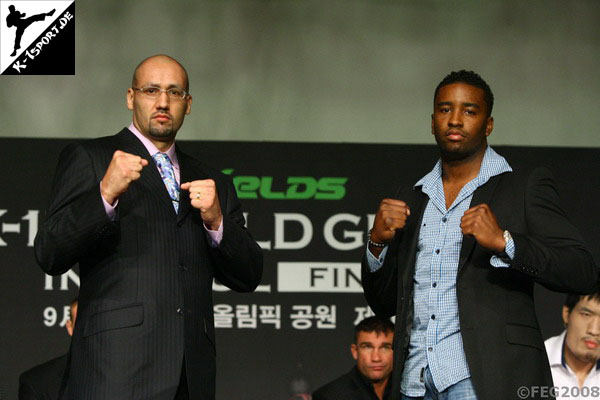 Glaube Feitosa und Errol Zimmerman
Whom would you choose if you could fight anybody among the seven finalists?
Zimmerman: It would be Jerome LeBanner. He has good experience in K-1, so I could prove how tough I am by winning. Since his fight style is very aggressive, we could make a very exiting match. I believe I would rise to the next level after beating him up.
Out with the old, and in with the new?
Zimmerman: For sure! That's my duty -- I would love to beat the old guys. I'll warn them not to choose me because I'll hurt them! I am a dangerous fighter (laughs).
By the way, Saki boasted he is the prettiest among the best-eight fighters, and said you are the ugliest. Anything to say about that?
Zimmerman: No way, I am the coolest! Well, I will beat up Saki on my way to the Championship.
You are confident of winning the Final?
Zimmerman: Of course it will be me. I'm going for the WGP Championship as well as the Heavyweight Title Belt. I am not going to let Badr [Hari] take the two championships before I do!