書かれた FEG
The Fight and Entertainemnt Group released an official statement with comments from Sadaharu Tanikawa and Badr Hari.
During the Final Match of the "K-1 World GP 2008 Final" at the Yokohama Arena on Saturday, December 6, fighter Badr Hari twice punched opponent Remy Bonjasky, who was lying on the mat. After referee Nobuaki Kakuda intervened between the two fighters, Hari kicked Bonjasky. Hari was shown a red card (three point deduction) and thus disqualified because as a result of the foul.
The K-1 Rules Committee took this incident very seriously and held discussions with event promoter FEG. On Wednesday, December 17, 2008, K-1 Event Producer Sadaharu Tanikawa announced penalties that will be imposed on Badr Hari effective immediately.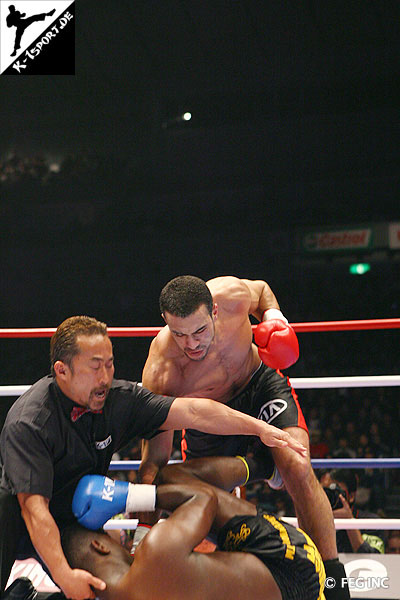 Hari punches the grounded opponent
Penalties:
The confiscation of the full amount (100%) of Hari's fight money.
The confiscation of Hari's event prize money and the stripping of his title as K-1 World GP runner-up for the year 2008. (there will be no runner-up this year)
The stripping of Hari's K-1 Heavyweight Title and Belt.
Said Mr. Tanikawa: "K-1 is now broadcast in about 150 countries worldwide. Such foul behavior should not be happened in the K-1 ring. In this regard, Badr Hari could be given an even more severe punishment, such as the suspension of his right to fight. However, after consulting with our attorney and judges, it was decided to penalize him in accordance with the K-1 Official Rules."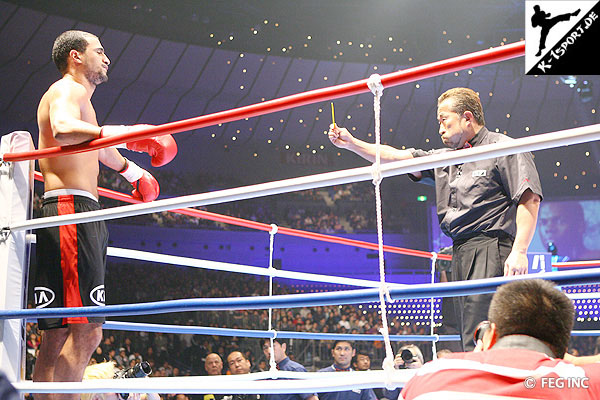 Hari receives the red card
According to K-1 Official Rules, a fighter loses the full amount of his fight money when he receives a red card and is disqualified. In addition, the fighter is deprived of any event title and prize money when disqualified.
Regarding the deprivation of Hari's title as K-1 Heavyweight Champion: "upon receiving the title belt, a fighter signs an agreement stating he will behave in a dignified manner befitting a champion. What Badr Hari did violated this agreement, and thus his title has been revoked."
"Under the current K-1 Official Rules, there is no provision for the suspension of fighters. After consideration in light of this incident, we have decided to add to the rules new provisions for fighters' suspensions of three months to one year. These measures can be implemented when a fighter receives a red card/disqualification, in order to punish the fighter more strictly."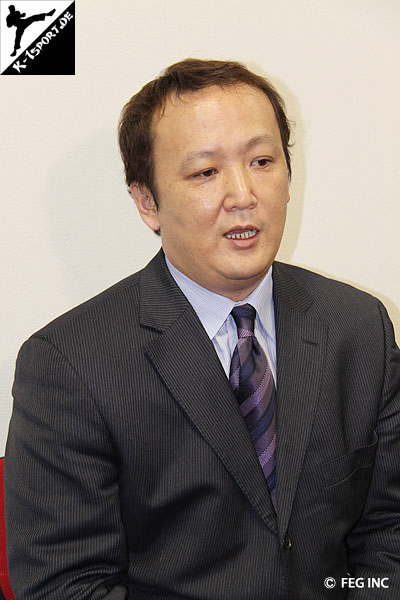 Sadaharu Tanikawa
In the past, there have been fighters, such as Bob Sapp and Francois Botha, who have received penalties. However, Badr Hari has received the most severe penalties in K-1's history. As Badr Hari has been deprived of the title of Heavyweight Champion, the championship is now vacant. FEG is planning to hold a title match, excluding Hari. We hope Badr Hari will sincerely accept the punishment. I also hope he will perform voluntary social service, and show us that he regrets his behavior and has changed his attitude so that he can come back to K-1 soon.
Statement from Badr Hari
Badr Hari: "I apologize for using foul techniques at the K-1 World GP Final, and disappointing K-1 staff and all the fans of the world's most recognized fight event. I am upset at losing the title and the second-place prize money, as well as my fight money. It was only my hope to be the K-1 Champion.
I really regret what I did now and will fully accept the penalties FEG decided to give me. However, the only way that I can express my regret and apology is to fight and prove that I can show great fights under K-1 Rules. In addition, I would like to finish the fight against Remy Bonjasky cleanly and clearly in the ring.
I apologize to my fans who always lift my spirits. Please give me an opportunity to fight in front of them as soon as possible.