written by Monty DiPietro
TOKYO, September 21, 2008 -- With the climax of DREAM's first year now just a day away, local and international media are looking hard at the 22 fighters in Tuesday's Olympia DREAM.6 Middleweight Grand Prix 2008 Final. Nowhere is the focus sharper than on the chiseled visage of Croatian mixed martial arts star Mirko "CroCop" Filipovic.
CroCop first fought in Japan in 1996, beating Jerome LeBanner in a K-1 bout. A steely demeanor and lethal fighting style quickly established the former Croatian special forces officer as a Japanese fight fan favorite. Over the next decade CroCop's popularity rocketed internationally, and earlier this year he returned to Japan to fight in FEG's DREAM mixed martial arts series.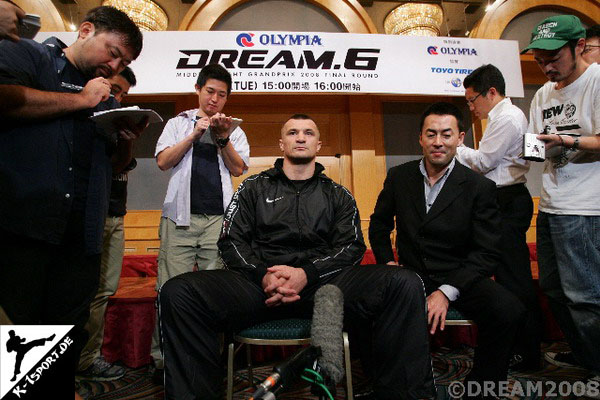 Mirko Cro Cop
No one was surprised when CroCop handily won his March DREAM debut by first-round KO, as he clearly is the man to beat in DREAM. Meanwhile, Alistair Overeem has spent the summer telling anyone who would listen that he's the man to do it. Tomorrow, the 195cm/6'4"; 109kg/214lbs Dutchman will get his chance, squaring off with CroCop in a one-match Heavyweight contest. Fighting out of the prestigious Golden Glory Gym, Overeem has proven his worth by winning both his DREAM bouts in the first round.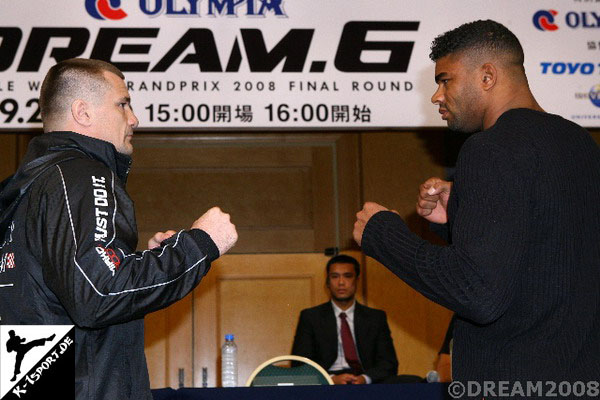 Mirko Cro Cop and Alistair Overeem
"I'm very happy to be here," Overeem told a packed press conference at Tokyo's East 21 Hotel. "I am 100% ready, and will show an exciting and great fight!"
Replied a cool CroCop: "To tell the truth, I think the press conference is one of the hardest parts of this sport, repeating the same thing over and over. Of course I trained hard and of course he did too, and I'm ready and he's ready too. But Alistair challenged me, and I like fighters with guts, so it will be a great fight!"
So confident was CroCop that he volunteered to fill in for an injured fighter and compete in a second bout tomorrow.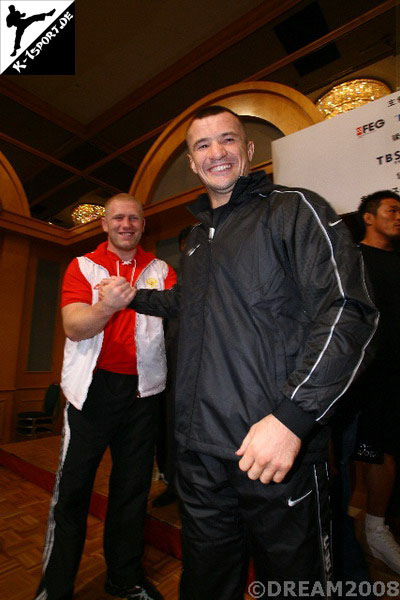 Sergey Kharitonov and Mirko Cro Cop
Set for the Saitama Super Arena, the September 27 event is DREAM's biggest-ever. One-match contests in every DREAM weight class will complement the evening' showcase -- the 84kg/185lbs DREAM.6 Middleweight 2008 GP Final Round.
Appearing early on the card are a couple of semifinal bouts, with winners there fighting for the Middleweight GP belt in the Main Event.
The first semi pits Dutch kickboxer Melvin Manhoef against compatriot Gegard Mousasi, a boxer who has made a terrific transition to MMA.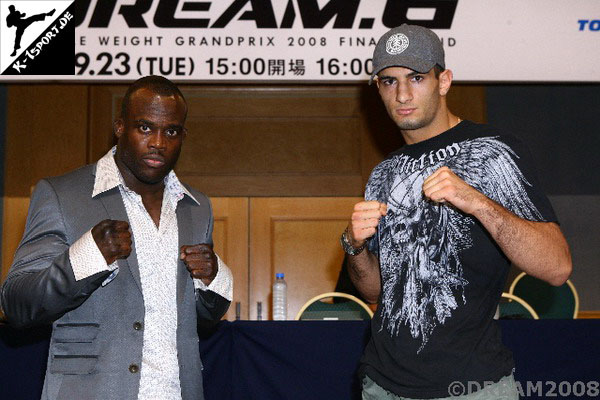 Melvin Manhoef and Gegard Mousasi
Said Mousasi, "I'm in top shape and my condition is excellent. I will do everything I can to win this tournament!"
Replied Manhoef, "I came to fight hard and hit hard. I will do what I do in the ring, and I will be the champion!"
The second semifinal sees Brazilian jiu-jitsu fighter Ronaldo Jacare taking on multidisciplinarian Zelg "Benkei" Galesic of Croatia.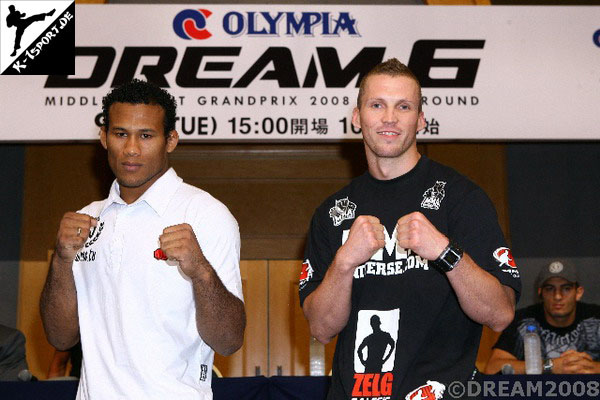 Ronaldo Jacare and Zelg Galesic
Galesic told reporters he was not intimidated by his opponent's formidable grappling skills, "I know Jacare is tough, so that motivates me even more, to put on the best show of my life!"
Said Jacare, "I been waiting for this fight a long time, and actually right now it feels even farther away than it did months ago. I'm very ready, and Tuesday I will put all my heart and spirit into the ring!"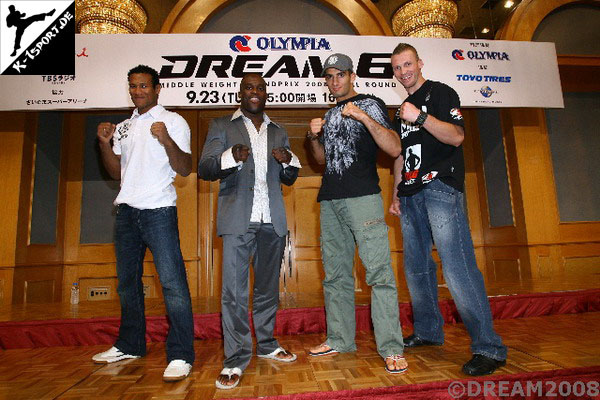 All Tournament Fighters
In the Middleweight GP tournament reserve match, it will be submission specialist Dong Sik Yoon of South Korea and Brazilian kyokushin fighter Andrews Nakahara. Both fighters pledged to put on "a great show."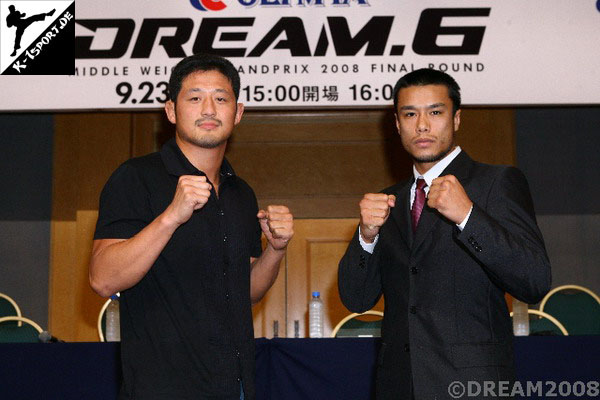 Dong Sik Yoon and Andrews Nakahara
In a one-match contest, DREAM Lightweight GP 2008 finalist Shinya Aoki of Japan will fight American Todd Moore, who paraded into the press conference waving a couple of state of Texas flags.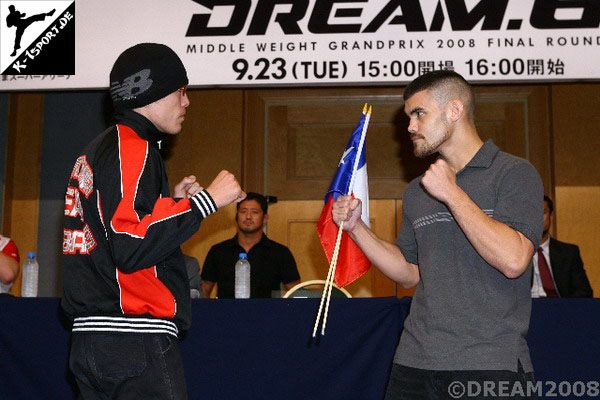 Shinya Aoki and Todd Moore
"Being here is a dream come true," clichéd Moore, who is making his DREAM debut. "I have never been more ready in my life. I will show you what the pride of Texas is all about!"
Replied an unfazed Aoki, "I love Japanese MMA, and will show everyone that I have more love than he does!"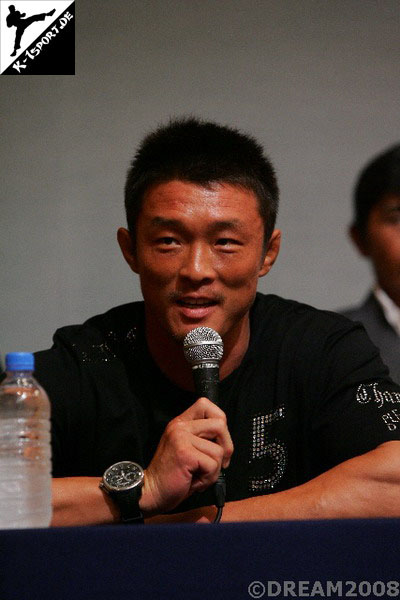 Yoshihiro Akiyama
In a Middleweight bout between a couple of Japanese veterans, judoka Yoshihiro Akiyama of Japan will meet seidokaikan karate fighter Masanori Tonooka.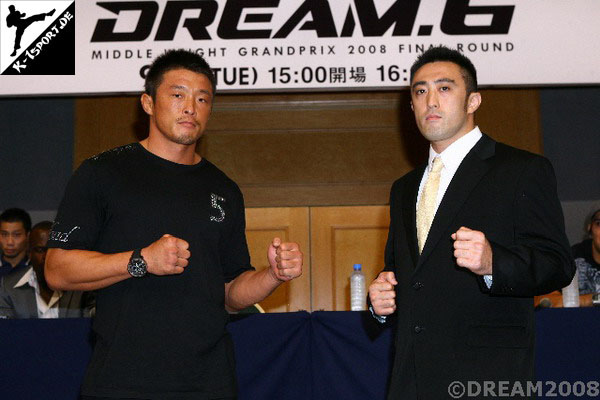 Yoshihiro Akiyama and Masanori Tonooka
Tonooka pledged to draw on his seidokaikan experience and fan support to win, while Akiyama said his strategy was simply to "have fun."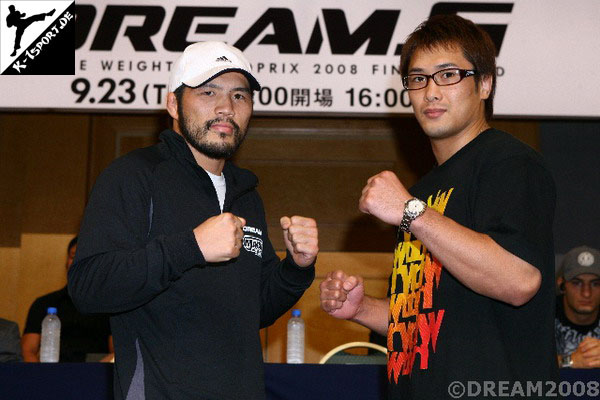 Hayato Sakurai and Kuniyoshi Hironaka
In the Welterweight class, Japanese fighters Hayato "Mach" Sakurai and Kuniyoshi Hironaka will go at it. Both men told the media have they been waiting a long time for the chance and will do their best. Two more Japanese fighters will meet in the card's first one-match Middleweight bout. Masakatsu Funaki and Minowaman promised to show their full fighting spirit.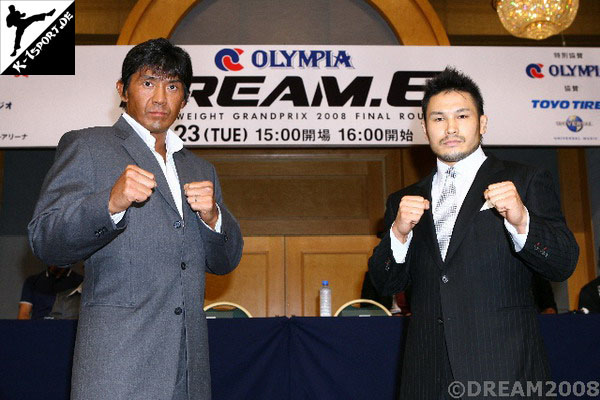 Masakatsu Funaki and Minowaman
Some drama in the Featherweight class, as the speedy Japanese fighter Hideo Tokoro will take on countryman Atsushi Yamamoto. Tokoro has expressed his desire to fight Norifumi "Kid" Yamamoto, and tomorrow's bout against the Kid's Krazy Bee teammate is regarded as a qualifier for that eventuality.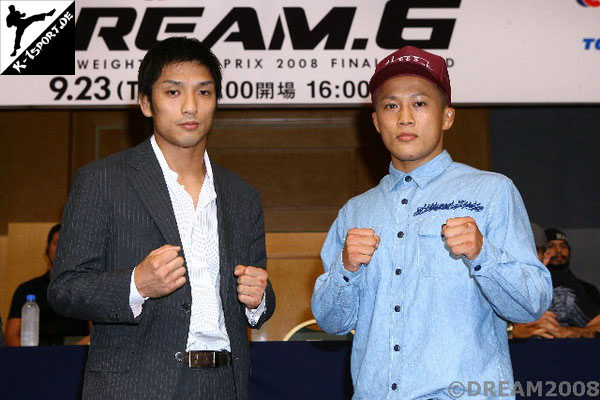 Hideo Tokoro and Atsushi Yamamoto
Tokoro, encouraged by the prospect, predicted he would "finish the fight with an ippon [KO or submission], and go get better belts after that!" Yamamoto replied that he would do his best for Krazy Bee.
Another Team Krazy Bee fighter, Brazilian Adriano Martins, will step in at Lightweight for a one-match bout with Japanese MMA fighter K-Taro Nakamura.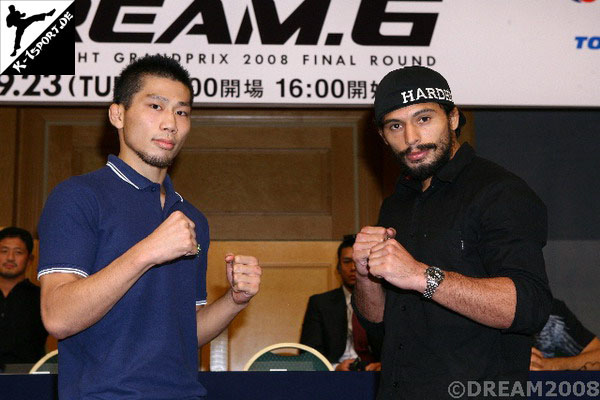 Keita Nakamura and Adriano Martins
Joked Martins, whose name was misspelled "Martinski" in the some of the event's press materials, "I am not well known yet, but I want to make my name known with this fight!"
The 24 year-old Nakamura also means to establish himself tomorrow: "I want to win and then go on to fight with the best!"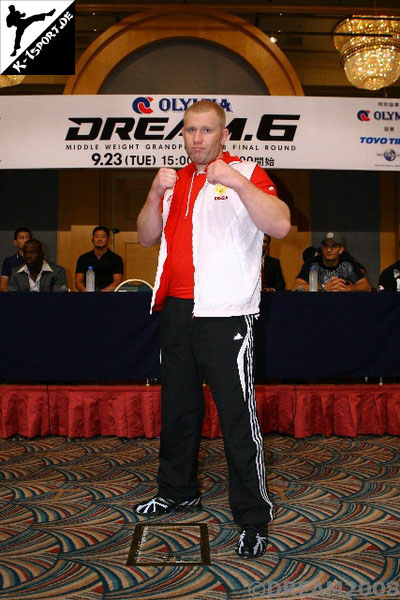 Sergey Kharitonov
Russian Sambo fighter Sergey Kharitonov Russia was supposed to fight Mighty Mo in a Heavyweight one-match, but the American slugger was forced to drop with a back injury. Taking his place will be Jimmy Ambriz, an American grappler who lost to Jerome LeBanner in a 2006 HERO's bout.
All Fighters
The DREAM.6 Lightweight Grand Prix 2008 Final kicks off at 4 p.m. on Tuesday, September 23 at the Saitama Super Arena. The event will be broadcast live in Japan on the TBS network and SkyPerfect; and live in the United States on HDNet Fights. For broadcast-schedule information in other countries, contact local providers. Visit the K-1 Official Website (www.k-1.co.jp/k-1gp) for comprehensive coverage of this and all FEG productions.