written by Monty DiPietro
TOKYO, June 30, 2006 -- Just weeks after his 24th birthday, Thai fighter Buakaw Por Pramuk dispatched three challengers -- and emerged unscathed himself -- en route to victory at the World Max 2006 Final.
Held before a full house at the Yokohama Arena, the championship tournament was the fifth in the history of K-1's World Max -- a series fought under regular K-1 rules but with a 70 kg/154lbs weight limit.
This year's tournament tree was arguably the toughest in the sport's history. The four previous champions were here, along with a quartet of hungry newcomers eager to make their mark. All participating fighters had excelled in preliminary tournaments to get this far, and so every last man on the card stepped in as a potential champion.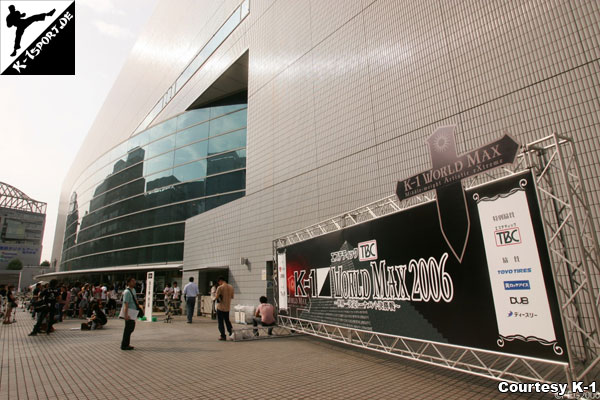 Yokohama Arena
The evening started at full throttle -- in the first quarterfinal it was 2003 World Max Champion Masato of Japan taking on compatriot and long-time rival Takayuki Kohiruimaki. Masato boasted a record of 41 wins in 47 bouts, while Kohiruimaki had notched 33 victories with the same number of attempts. But Kohiruimaki, who won the World Max Japan in both 2004 and 2005, has a knack for coming up big when it counts -- and the lanky kickboxer was keen to score an upset here.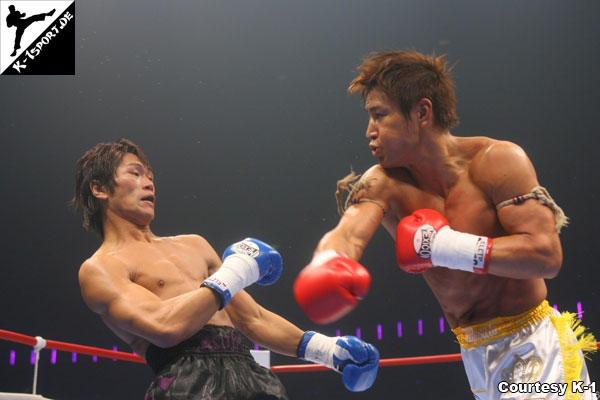 Takayuki Kohiruimaki vs. Masato
Kohiruimaki laid in with the low kicks from the bell, while Masato repeatedly stepped forward to tag his opponent with straight punches, making good with both a right and a left in the first round. At the start of the second, Masato made partial contact with a high kick, and kept the pressure up throughout to finish strongly. Kohiruimaki was driven to defense here, and mostly missed when he did try to put the fists into play.
The third saw Masato working the distance well, light on his feet, tagging his opponent at will before threading a brilliant left punch up and in to score a down. Kohiruimaki beat the count, but could only eat leather through the balance of the contest, which was scored for Masato by a comfortable unanimous decision.
The second bout featured defending World Max Champion Andy Souwer of Holland and the spunky Virgil Kalakoda of South Africa. A 26 year-old shoot boxer, Souwer made it clear at the pre-event press conference that he felt no pressure and intended to become the first two-time Max Champion. But Kalakoda, whose training involved the taunting of sharks, boldly predicted he would claim the World Max belt for Africa.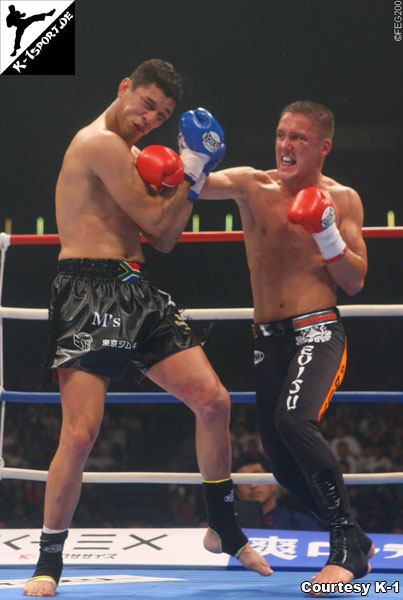 Virgil Kalakoda vs. Andy Souwer
Kalakoda kept his guard high here, countering Souwer's low kicks by closing to work body blows and hooks. Kalakoda shocked Souwer late in the first with a right straight that both put the Dutch fighter down and opened a nasty gash on his cheek. Souwer got his punches flying and snapped in the low kicks smartly in the second, and while Kalakoda did not look to be blocking these well, he remained undaunted, and continued to step forward with the fists.
The pair stayed close in the third, and during an exchange of punches Souwer's left hook earned him the down he needed to equalize. From resumption Souwer pressed, working the knees and hooks while his opponent sagged against the ropes. With Kalakoda not launching any counters, the referee stepped between the fighters to stop the fight, Souwer having survived the early scare to pick up the win.
The first ever World Max Champion, boxer Albert Kraus of Holland, met 21 year-old Armenian Muay Thai fighter Drago in the first of the second bracket matchups.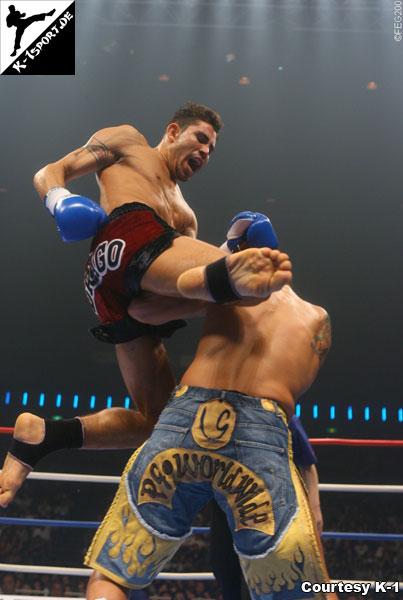 Drago vs. Albert Kraus
Drago effectively employed front kicks to control the distance from the start, and when the two got close planted a right knee on Kraus' jaw to score a down. The Armenian missed with a couple of high kicks to finish out the round, while Kraus never threatened seriously. In the second, Drago pressed again, working a skillful assortment of attacks to stymie his opponent's boxing. Kraus finally peppered Drago with punches here but few did any damage, while Drago pointed with a nice high kick.
In the third again Drago took the initiative, working high front kicks and mixing up his combinations -- even attempting a couple of flashy spinning maneuvers. Kraus meanwhile got some good punches in, but looked an unimaginative fighter by comparison, and judges returned a unanimous decision in Drago's favor.
The last of the quarterfinals saw top Buakaw Por Pramuk do battle with Yoshihiro Sato, a Japanese kickboxer who beat Mike Zambidis in his last outing to run his winning streak to four.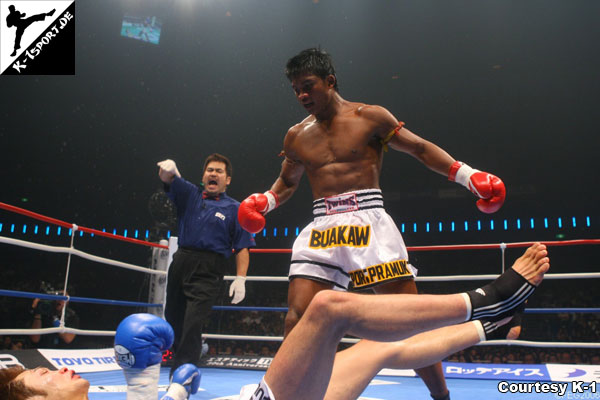 Yoshihiro Sato vs. Buakaw Por.Pramuk
Sato brought a 10cm/4" height advantage to the ring, and used his reach to lean in with the fists from the start. But Buakaw answered in kind, and got a right straight punch through to score a down midway through the round. The Muay Thai fighter looked in control here, and in the second wasted no time, grabbing hold of a weak front kick then smacking in a left hook to flatten Sato and take the victory by KO. An impressive punching display from a fighter known primarily for his legwork.
The showdown between Masato and Souwer in the first semifinal started with the pair testing with low kicks. Masato put the first combinations together, which Souwer blocked answered coolly. Neither fighter prevailed here, but in the second the action heated up considerably -- both stepping in with speedy punching attacks, pointing with low kicks and barely missing with high kicks.
Masato launched a lot of lefts in the third but could not follow with any fire. Souwer, meanwhile, was better with the studied hard low kicks on the counter, then got a corking flying kick up midway through. Souwer blasted a one-two punch combination onto his opponent's face late in the contest to score a down and that proved the difference -- winning the round for the Dutchman and putting him through to the final.
In the second semi Drago went up against Buakaw. The Thai remained tentative in the early going while Drago looked for a way in, putting a front kick up which Buakaw answered with a superior high kick. In the second Drago flailed while Buakaw snapped in with precision. Drago attempted a spinning back kick but Buakaw saw it all the way and was, as always, preternatural with his evasions. Throughout, Buakaw caught hold of his opponent's front kicks and fired in counters, and late in the round scored a down with a right hook.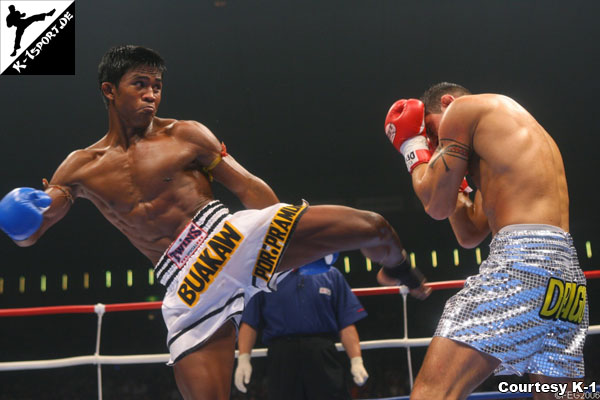 Buakaw Por.Pramuk vs. Drago
The persistent Drago came at his opponent with fists and feet in the third, but Buakaw rarely got touched, and simply put more speed and power on his counters to take the unanimous decision.
The Buakaw vs Souwer matchup made for a classic Asia versus Europe final. Souwer danced into the ring a la Genki Sudo, but it was clear that the ugly bruise on his cheek was threatening to interfere with his vision. A more modest Buakaw eschewed any showmanship -- he offered his signature pre-fight prayer, then went to work.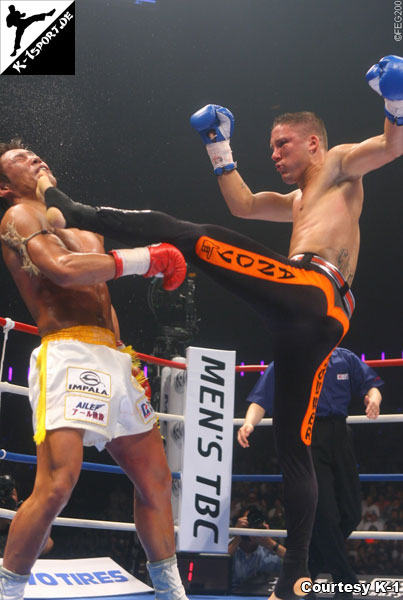 Masato vs. Andy Souwer
Buakaw put a low kick in and Souwer responded with a body blow to start the dance. The pair then dispensed with niceties and commenced to mix it up. The fighters stayed close, a Souwer punch combination clocking Buakaw's head back, the Thai ever-estimable with his fists and low kicks. Neither dominated in the first three minutes. That changed dramatically when the bell sounded to start the second.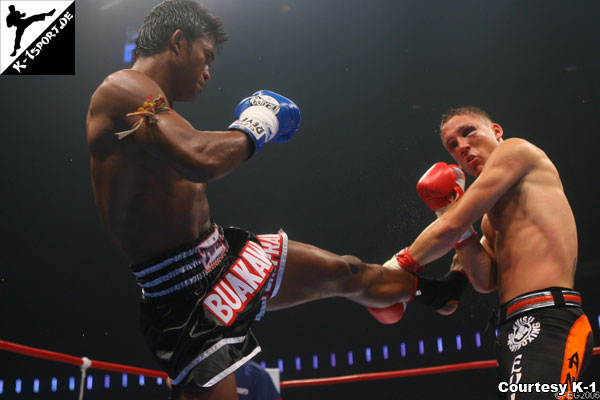 Buakaw Por.Pramuk vs. Andy Souwer
Suddenly Buakaw shifted gears and became unstoppable -- focused and engaged, he brought in a left hook that dropped Souwer to the canvas. The Dutch fighter struggled to get back in it but never got the chance. Buakaw again showed he can punch as well as he can kick -- pumping a couple of right uppercuts to put Souwer on the mat again. The round was in its final minute when Buakaw countered a Souwer low kick with the right straight punch that proved the decisive blow, felling Souwer and earning him the championship.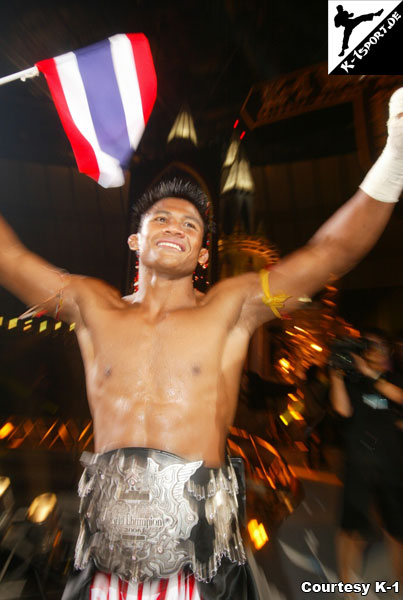 Buakaw Por.Pramuk, the winner
With his tournament victory, Buakaw takes the World Max Belt back to Thailand (giving Asia a 3-2 lead over Europe in World Max titles). The win is all the more sweet for the cool ¥20 million (€138,000; US$175,000) in prize money Buakaw picks up.
"The new K-1 rules against clinching meant that I had to adjust my style," said a beaming Buakaw in his post-event interview. "So I trained hard to improve my punching. Andy is a good fighter and he beat me in the final last year, but this year I know he had harder fights to get to the final, so he had absorbed some damage. That made a difference I think, anyway I am happy I could do what I needed to do to beat him this time!"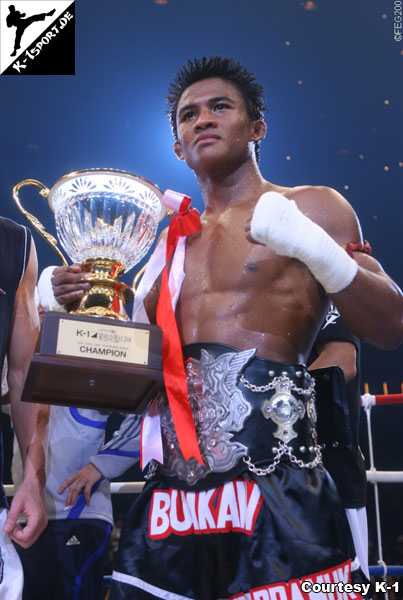 Buakaw Por.Pramuk, the winner
Asked what he planned to do with his prize money, and if that was a tear in his eye when his arm was raised, Buakaw laughed: "Well, I might have cried, but I'm happy! As for the prize money, I don't know -- I got punched in the head a few times tonight, so I really don't want to think too much about it right now!"
In the card's Superfights:
A couple of veterans, 33 year-old kickboxer Kozo Takeda of Japan and 31 year-old American kempo karate fighter Fernando Calleros, squared off in the Main Superfight.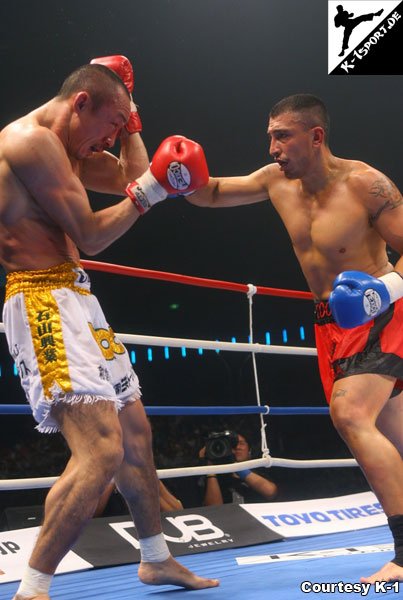 Kozo Takeda vs. Fernando Calleros
Calleros made an aggressive start to this one, charging in early with a barrage of punches to score a down. A rattled Takeda closed up and managed to ride out the round, but faced a similar Calleros attack in the second. Takeda stayed on his feet this time, and rallied somewhat midway through with low kicks and a knee, but the Japanese fighter was being out-adrenalined here. His head down and his fists flying, Calleros advanced again in the third, and although Takeda was now using his low kicks to ward off the American, the strategy came too late to salvage a draw, and Calleros came out ahead on all three judges' cards.
In a second Superfight showcasing a couple of Japanese fighters, boxer Tatsuji went up against kickboxer Yasuhito Shirasu.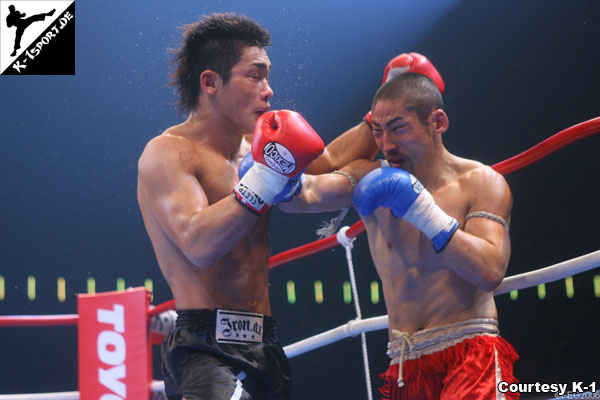 Tatsuji vs. Yasuhito Shirasu
The fellows had their chances in the first, a few good strikes getting through, but both showed good chins to stay in the fight. Tatsuji pressed in the second, leading with the left, but Shirasu's evasions and blocking were sound and he got a hearty right through on a counter. Punches dominated the third, and Tatsuji's were good enough to give him the edge and a win by decision.
In the tournament reserve fight, 19 year-old Ukrainian kickboxer Artur Kyshenko beat 34 year-old Muay Thai stylist Rayen Simson of Holland by decision. In undercard bouts, Thai fighter Yodsanklai Fairtex beat Kamal El Amrani of Germany by decision; and in an all-Japan clash, Mitsugu Noda KO'd Keiichi Nishiwaki.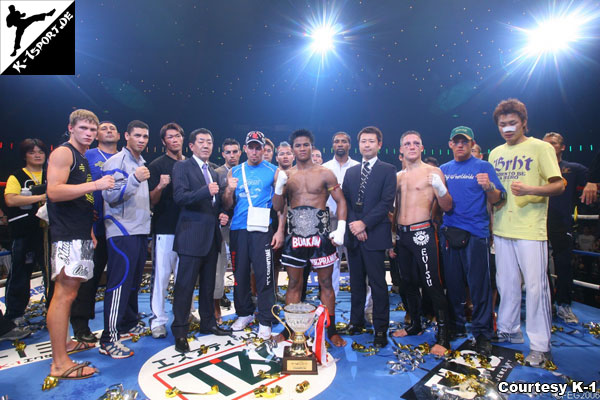 All Fighters
The K-1 World Max 2006 Tournament Final attracted a sellout crowd of 16,918 to the Yokohama Arena. The event was broadcast live across Japan on TBS and 28 affiliated networks, and on MBC and MBC/ESPN in South Korea. It will be time-delay broadcast on EuroSport across Europe, ProTV in Romania, inDemand in the United States, Viewers' Choice in Canada and GroboSat in Brazil -- check with local providers for scheduling details. As always, visit the K-1 official web site (www.k-1.co.jp) for full coverage soon after the final bell.
Mirai Yamashita fundraising
Note: During the event, Musashi and other K-1 personalities participated in a fundraising campaign to help send 3 month-old Mirai Yamashita to the United States for a critical surgical procedure not performed in Japan. Mirai suffers from Hirschsprung's Disease, a life-threatening congenital colon disorder marked by a deficiency of nerve cells. For more information, in Japanese only at present but with English support coming soon, visit http://homepage2.nifty.com/miraichan/.