written by Monty DiPietro
TOKYO, June 29 2006 -- Fought under regular K-1 rules but with a 70 kg/154lbs weight class, K-1 World Max delivers nonstop fast action that fightsport fans around the world have come to love. The series is now in its fifth year -- and tomorrow the 2006 Champion will be crowned.
The K-1 World Max 2006 tournament final is set for the Yokohama Arena. In Tokyo this afternoon, the eight finalists met the media at an outdoor press conference. Despite temperatures of more than 32°C/90°F, hundreds of fans packed the area around Shinjuku station's east exit to catch a glimpse of their favorite fighters.
The tournament card is arguably the toughest in the sport's history. The four previous champions will be there, along with a quartet of hungry newcomers eager to make their mark. All participating fighters had to excel in preliminary tournaments to get this far, and so every last man on the card steps in as a possible champion.
The event will start at full throttle, when in the first tournament bout 2003 World Max Champion Masato of Japan takes on countryman Takayuki Kohiruimaki.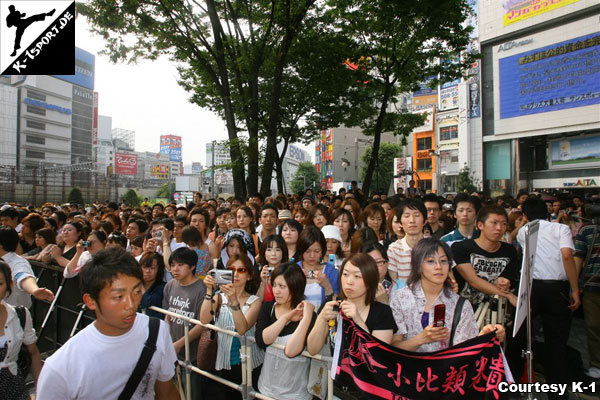 K-1 Max Fans
Amid shrieks from the very large female contingent in the crowd, Masato took a good look round at the others on the dais before making his comments to the assembled: "Well, these are all very strong fighters. But I know I will be the champion tomorrow!"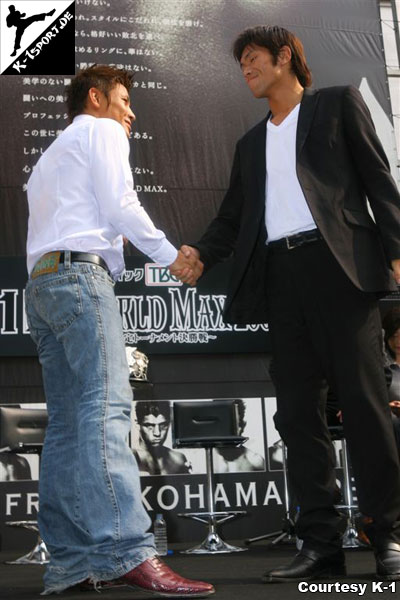 Masato and Takayuki Kohiruimaki
Kohiruimaki also acknowledged the tough field, particularly his first-fight opponent. "Tomorrow will be hard, I start off against Masato, but I promise I'll do my best. Thanks to all my fans who have come out in this heat to support me!"
The second bout will feature defending World Max Champion Andy Souwer of Holland and Virgil Kalakoda of South Africa. A 26 year-old shoot boxer, Souwer made it clear that he intends to be the first two-time Max Champion.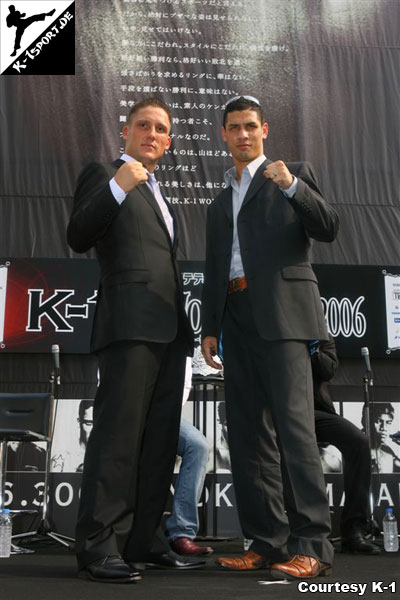 Andy Souwer and Virgil Kalakoda
"I feel no problem at all regarding pressure," said Souwer, "I trained very hard to defend my championship and I want to repeat -- that's been my focus and my goal, and I'll do my very best to achieve it!"
Kalakoda however, had other ideas: "My preparation has been very good, and let me say that there will be a new champion tomorrow, and his name will be Virgil Kalakoda!"
The first ever World Max Champion, Albert Kraus, will meet rowdy Armenian Drago in the first of the second bracket matchups.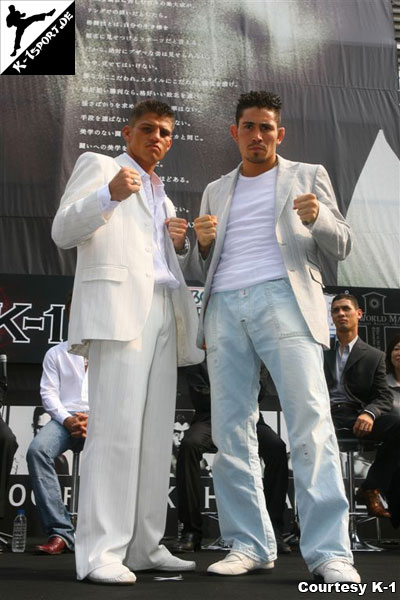 Albert Kraus and Drago
Properly dressed for the heat (in a dapper white suit), Kraus elicited a few teenaged shrieks of his own with a Japanese-language ability that has improved as much as his fashion sense. "Thank you very much, I will do my very best," was about all the handsome Dutchman said, but the gals in the front row looked ready to faint.
Drago, who also looked sharp in white, spoke confidently, and promised he would put on a great fight.
The last of the quarterfinals will feature World Max's top Thai fighter, Buakaw Por Pramuk, who will do battle with Japanese fighter Yoshihiro Sato.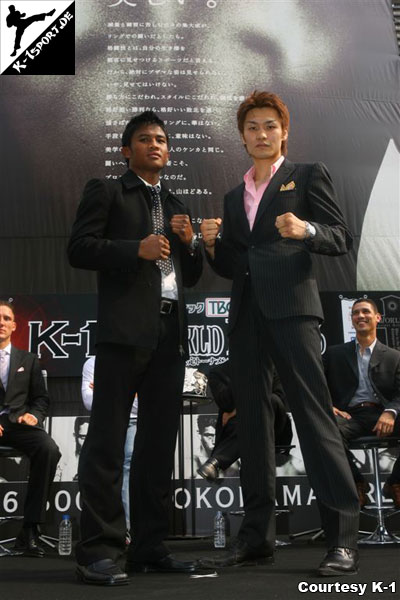 Buakaw Por.Pramuk and Yoshihiro Sato
Buakaw seemed pleased by the heat, and with a big smile on his face, waved to the crowd, thanking them and promising to give his all in the ring.
Sato, for his part, indicated that he wasn't at all intimidated by the prospect of facing the 2004 World Max Champ. "I don't intend to make this an entertaining fight," he smiled, "I want it to be a real fight -- a real hard fight!"
In a Superfight on the card, Kozo Takeda of Japan will tango with American kempo karate fighter Fernando Calleros; and competing in the reserve fight will be Peter Aerts' protégé Rayen Simson of Holland and Artur Kyshenko of the Ukraine.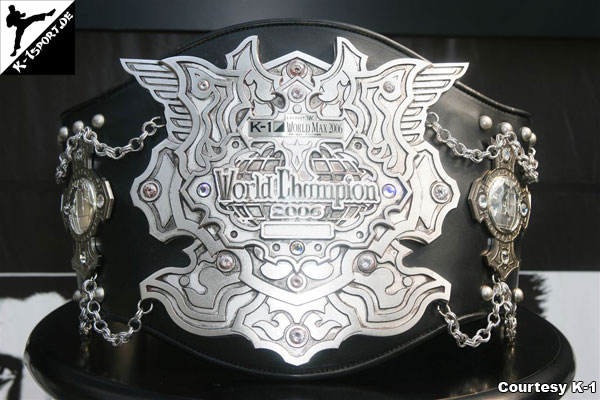 K-1 World Max Belt
The event promises to provide a thrilling conclusion to the 2006 World Max season. One thing is certain -- with prize money of ¥20 million waiting for the tournament winner, these boys won't be holding anything back tomorrow.
The K-1 World Max 2006 Tournament Final kicks off at 6:00 p.m. Friday, June 30, at the Yokohama Arena. The event will be same-day broadcast across Japan on TBS and 28 affiliated networks. It will also be delay-broadcast in scores of other countries -- check with local providers for scheduling details. As always, visit the K-1 official web site (www.k-1.co.jp) for full coverage soon after the final bell.