written by Monty DiPietro
After the big final the fighters made their post-fight comments. Beneath them an unwilling to see Badr Hari and the MMA fighter Kimbo Slice.
Paul Slowinski
Why is the reason for the outcome of the fight?
Paul Slowinski: He just caught me with a hook, and I wasn't able to recover well.
Can you remember the fight?
I remember the fight up until I got hit. I don't remember much after that.
After the fight, what did [your trainer] Ernesto Hoost have to say to you?
Nothing.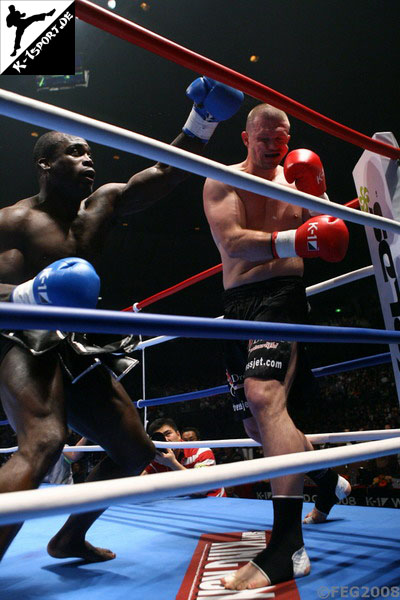 Melvin Manhoef vs. Paul Slowinski
Melvin Manhoef
What did you think of the fight?
Melvin Manhoef: If was very good. I knocked him out. I started slow, and that was my purpose for this fight, and it worked well. Last time I was a little too aggressive at the start.
Why did you want to start slow? Was it to save stamina?
Yeah. I usually go out hard with many combinations, never giving myself a rest. This time I didn't try to force a KO, so it was a different style for me. Because of the weight difference it is very difficult to continue to pressure big guys.
What did you think when you knocked him out?
I am used to this feeling as I have many knockouts. Sometimes, when I lose too! Knocking someone out feels great and I want keep this feeling.
How do you feel about winning in front of your brother?
Winning in front of him and my uncle was great. They are very proud of me. I want to dedicate this fight to them as I love them very much.
How is it going from MMA to K-1?
It is difficult doing both, but we are getting used to it. This time I had two fights in K-1 so it was a little better. From 2009 I may focus on only MMA, but we are not completely sure yet.
Hong-man Choi
What did you think about the fight?
Hong-Man Choi: I am disappointed it ended the way it did. I need more experience.
Why do you feel you didn't win?
I'm not sure. I know I need to practice more, and take some time.
What did you think about Ray Sefo?
He was as good as I expected him to be. Fighting him made me feel I need to practice more.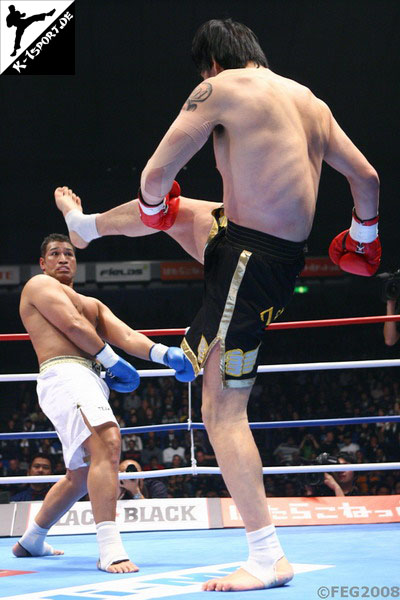 Ray Sefo vs. Hong-Man Choi
Ray Sefo
Ray Sefo: You look very happy. What did you think about the fight?
I was very happy with it. I did what I have to do to win, and I am glad I am back in the winning circle. I really want to thank Kim and Randy Couture for their help and support. And I am happy with the result.
What your impression of Choi?
Big. And big.
It seems like you fought the perfect fight tonight, so what does this mean for Ray Sefo next year?
It is the start. Next year I am coming back stronger. Like I said, never count out fighters like Peter Aerts and myself. Everyone talks about the "New Generation" but don't forget about us. I'm back
Errol Zimmerman
Although you lost, you look happy. Why is that?
Errol Zimmerman: I lost, but I fought very well. I think I fought hard and put on a good fight. I think guys like Badr Hari cannot handle the pressure guys like me can give him. So yeah, I lost, but the crowd likes fights like these.
How about the first fight?
Against Teixeira? He is a great fighter. It was difficult to fight him. He is like a tree. It is very hard to fight someone like him.
After you knocked down Badr, and then he knocked you down, how did it affect you?
I didn't feel anything particular. I just wanted to knock him down. That is what I do.
Are you satisfied with your first result in the K-1 World Grand Prix?
Well, he beat me. Next year I want to take the belt. This time I showed a good fight, and next time I want to win it all.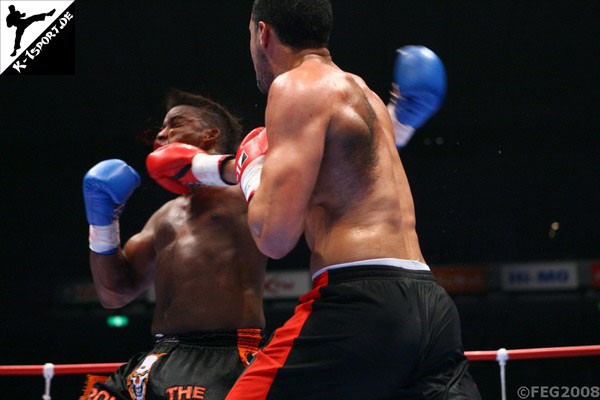 Errol Zimmerman vs. Badr Hari
Gokhan Saki
You seemed to take some major damage, so how is your rib right now?
Gokhan Saki: I'm not sure. I don't know if it is broken or not..
Has the doctor taken a look at it?
Yes, but he doesn't know as he only looked. I need to have an X-ray.
Could we ask you what you thought of the first fight?
The first fight was tough. I felt that I really must beat him because he said, well...blah, blah, blah. It was a tough fight, but every time he came in, I hit him. Every time he attacked, I beat him.
What is your goal for next year?
Next time I promise you I will go to the final. I and will win it too.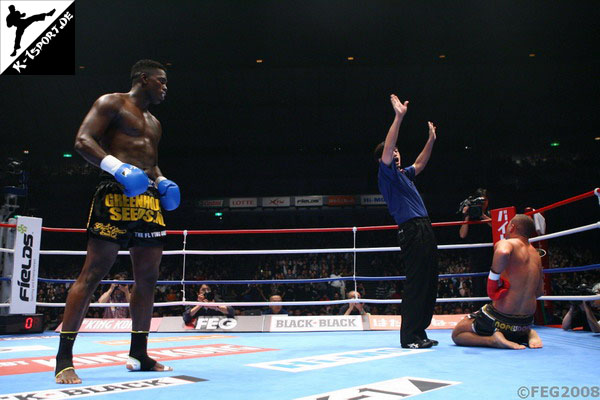 Remy Bonjasky vs. Gokhan Saki
Badr Hari
Could you explain what happened at the end of your fight with Bonjasky?
Badr Hari: You know what? I come to fight, and to destroy. I don't come here to fight with my hands held high and backing up. I am an emotional guy and I wanted to fight. He didn't. He didn't want to fight.
How do you feel about the result?
I fight for my fans so I apologize to them for this. But I put on a good show, and an aggressive show. I'm just going to apologize to my fans. The K-1 judges make the decisions. I'm just a bad boy.
Do you think Remy was truly hurt?
I think everyone saw what happened, so I don't need to answer that question. He couldn't stand up, but was quickly on his feet giving a great speech seconds later. His corner was screaming at him to stay down. I came to fight and he didn't. He is a great actor.
This tournament had the theme of new fighters and a changing of the times, but it didn't really turn out that way, did it?
How didn't it? I knocked out the three-time champion of K-1 in two rounds today and put on a great second fight. Everyone talks about changing, but I cannot fight the ghosts. There were many changes today, but if you don't see that I don't care. I just fight for my fans.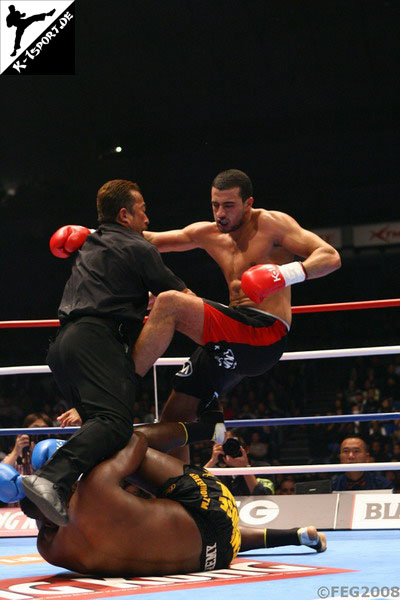 Remy Bonjasky vs. Badr Hari
(Commentator) Kimbo Slice
What is your impression of K-1?
Kimbo Slice: I want to thank everyone for being here. It is my first time in Japan. I don't understand the language. The people are very kind, and the food is good. I'm really enjoying it.
And how about K-1?
It is very interesting. It is different to how I fight, but some things are being considered.
Were there any fighters here tonight that caught your attention?
I was a little bit, well, not disappointed, but Bard Hari is a real fighter. A fighter by profession, and by nature. K-1 is a respectful organization though, so I give him a yellow card too. A bit of a slap on the hand so to speak. But you have to love him for being that true fighter. The bad guy.
Do you feel that K-1 would play towards your natural strengths more than MMA?
K-1 would be a good thing as it is stand up, which is more one-dimensional so it is good. There is no ground game to deal with, but then you add knees and some other strikes and yeah, it is interesting. I think with my natural strengths I would do well in K-1.
Would you be interested in fighting Badr Hari?
(Laughs) Whoever the opponent is would be OK. As a fighter I don't really worry about who I fight. If the match-makers made that fight, it would be good for me. I have seen how he fights now, and I just love fighting. I really love everything about fighting.