written by Monty DiPietro
TOKYO, September 16, 2007 -- JZ Calvan wowed the crowd last October en route to victory in the inaugural Hero's Middleweight World Championship. The 24 year-old Brazilian hopes to defend his belt tomorrow at the Yokohama Arena, but to do so he will have to get past a trio of challengers keen to grab the glory for themselves. Brazilians are well represented on the card -- three of the final four in the 70kg/154lb tournament hail from the mixed martial arts mecca.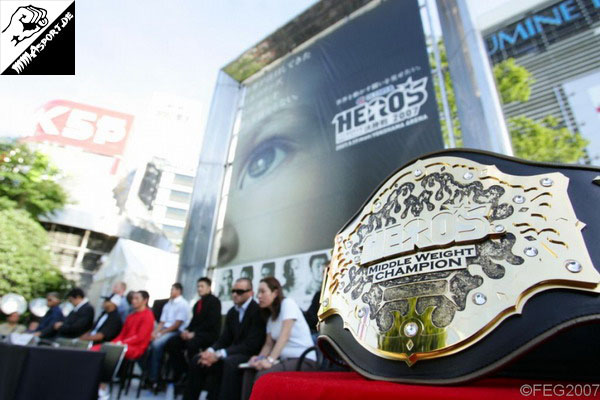 Press Conference
The combatants in tomorrow's ten-bout event got together today for an outdoor press conference at the Shinjuku Station Square. Joining local and international media were several hundred fans, many having waited more than three hours for a glimpse of their favorite fighters.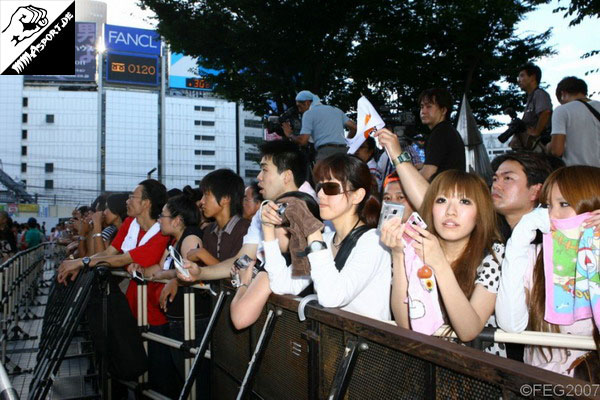 Fans
Said the likably garrulous Calvan: "I really love Japan, and there is a really good vibe here today -- I will pay it back by giving my all in the ring, I can say for sure that tomorrow will be the best tournament ever!"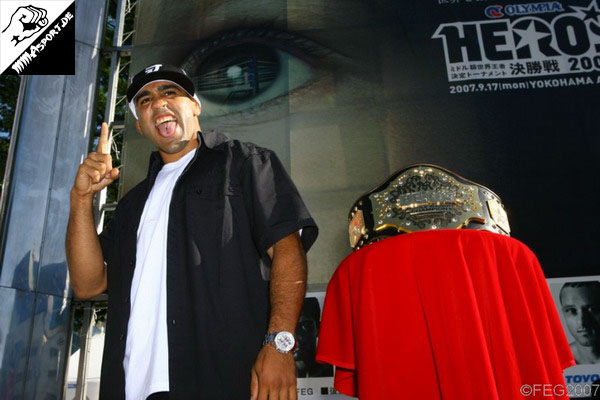 J.Z. Calvan
The semifinal and final tournament bouts will be fought under Hero's Rules, with 3 x 5min. rounds. Calvin's first opponent will be compatriot Vitor "Shaolin" Ribeiro -- who was delayed en route and could not attend the press conference. The winner of this contest will fight for the Belt in tomorrow's Main Event, meeting the victor of the second semifinal, which features Andre Dida of Brazil and fan favorite Caol Uno of Japan.
Uno: "Well, it seems that tomorrow I will be representing Japan. All the fighters are strong so I want to put together a great performance!"
Dida: "I am happy to be back in the Hero's family, Uno is a great fighter so I want to do it nice and fast, I aim to win in first round!"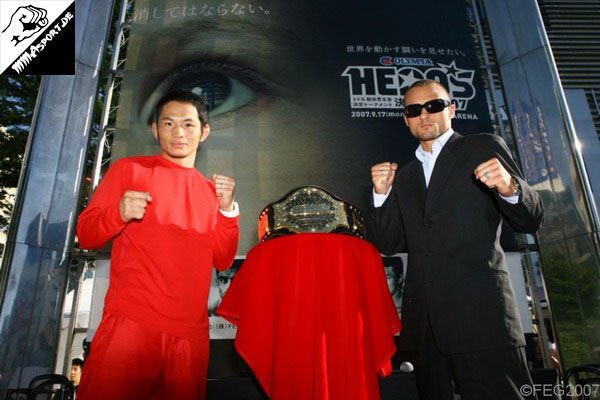 Caol Uno and Andre Dida
There will be six Superfights on the card.
Sergey Kharitonov of Russia, who has been training with mixed martial arts legend Volk Han, will take on Alistair Overeem of Holland, of the famed Dutch Golden Glory Gym.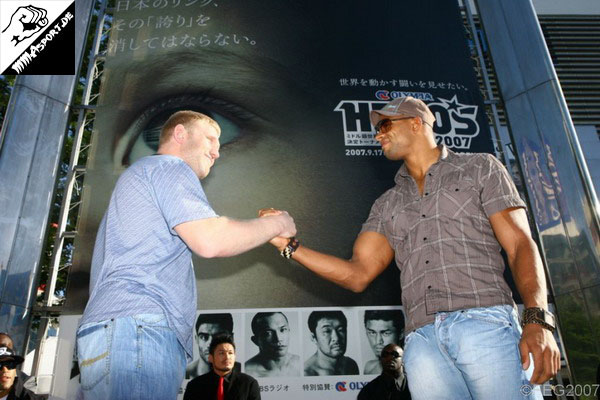 Sergey Kharitonov and Alistair Overeem
Kharitonov, speaking a bit of Japanese to the delight of the assembled fans, implored them to "please come and see me tomorrow, or watch on TV, so you can see how much technique I have!"
Said Overeem: "Good afternoon Shinjuku, I am very excited and will do my best to show an exciting fight tomorrow!"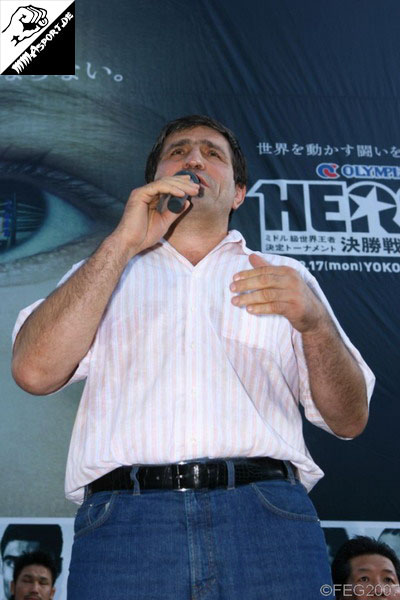 Trainer Volk Han
After a prolonged stare down, which involved a curious bit of forehead-on-forehead drama, Melvin Manhoef of Holland and Fabio Silva of Brazil finally addressed the media and fans. Manhoef: "I am here to do what I do the best, which is hit hard, kick hard, and be aggressive. My mind is clear, and I promise you there will be hitting, kicking, and aggressiion tomorrow."
Silva: "I came to win and I will win -- that's all there is to it."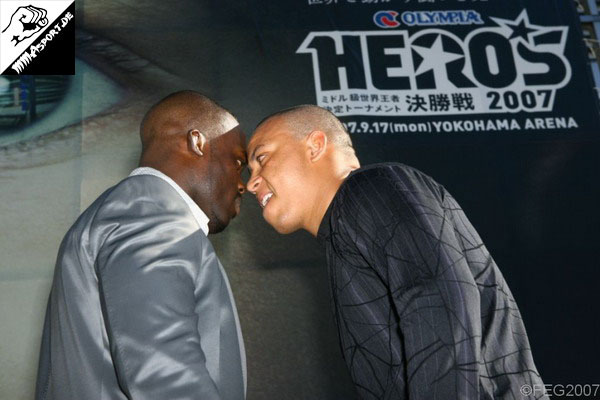 Melvin Manhoef and Fabio Silva
When Japanese fighter Norifumi "Kid" Yamamoto's name was announced, the crowd went wild. Unfortunately, Yamamoto was also delayed en route and unable to appear on stage. He will however most certainly make it to the ring tomorrow in time for his highly anticipated Superfight with Bibiano Fernandes of Brazil.
Said Fernandes: "I am well prepared, and I hope some people will cheer for me!"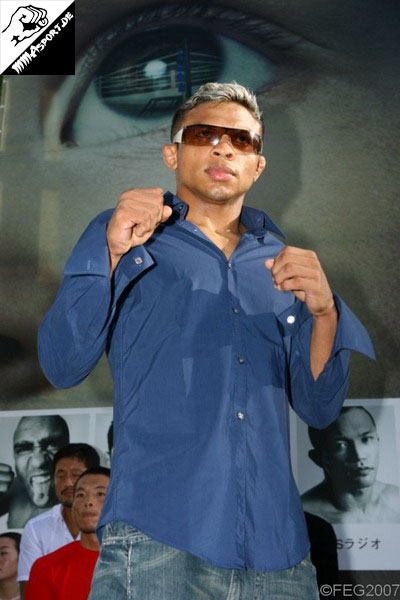 Bibiano Fernandes
The legendary Kazushi Sakuraba got a loud cheer when he took the stage. In an all-Japan Superfight, Sakuraba will meet Katsuyori Shibata.
Sakuraba: "I will do my very best, and I hope you are all rooting for me tomorrow!"
Shibata: "I just want to say that whatever is expected tomorrow won't happen -- instead, you will see history!"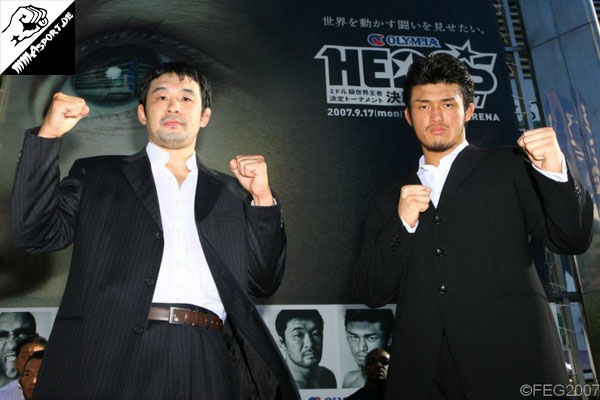 Kazushi Sakuraba and Katsuyori Shibata
Dong Sik Yoon of South Korea will meet Zelg "Benkei" Galesic of Croatia.
Yoon: "I promise to put on a great fight, and I will win!"
Galesik: "It is a pleasure to be here, I hope you will enjoy tomorrow as much as I will. You can expect me to be raising both my hands afterwards!"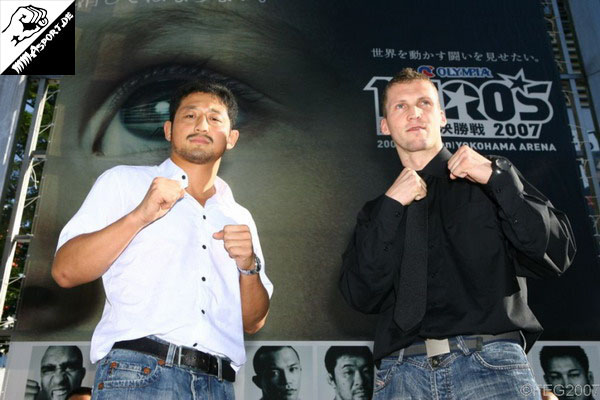 Dong Sik Yoon and Zelg Galesic
Completing the card will be a showdown between Japanese fighter Minowaman and Kevin Casey of the United States.
Said Casey: "I am honored to be here, and will represent 100%!"
Casey has been training with Brazilian Jiu-Jitsu seventh degree black belt Rickson Gracie, who added: "In my life I have taught thousands of students -- just a few have the desires and the qualities to become a warrior, and Kevin is such a student, Mr Minowaman better be prepared because Kevin is ready for battle!"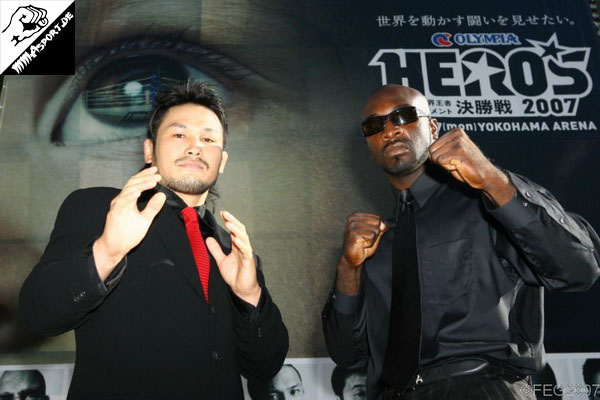 Minowaman and Kevin Casey
Minowaman refused to be intimidated: "I just want to say hello to all the Hero's fans I can see out there, and also to all the shoppers and pedestrians walking by, and let you know that tomorrow I will introduce a new theme -- 'a new wind' that will carry me to a KO victory!"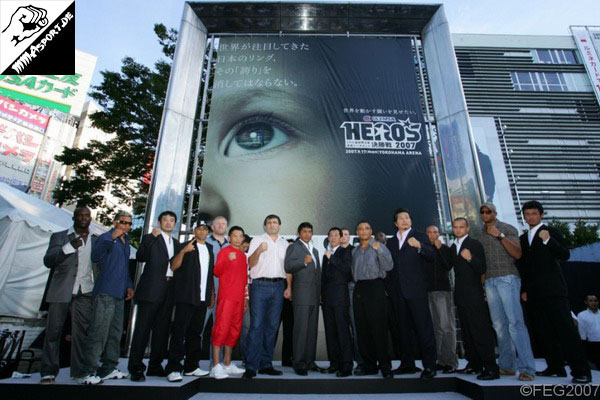 All Fighters
The Hero's Middleweight World Championship Tournament Final kicks off at 4:00 p.m. tomorrow at the Yokohama Arena and will be broadcast across Japan on the TBS network. For complete post-event coverage check the K-1 Official Website (www.k-1.co.jp/k-1gp).