書かれた Monty DiPietro
YOKOHAMA, July 16, 2007 -- Maybe Hero's should be renamed "Heróis", in Portuguese, because the boys from Brazil owned the mixed martial art fightsport tonight. Four Brazilians fought, and four Brazilians won at the Hero's Middleweight Championship World Tournament Opening Round, held before a sellout crowd at the Yokohama Arena.
The event featured five Superfights, as well as a trio of Middleweight Tournament qualification bouts -- the winners in these three contests will join Defending Champion JZ Calvan (yes, he's Brazilian too) at September's Hero's Middleweight Final. All fights were conducted under Official Hero's mixed martial arts rules.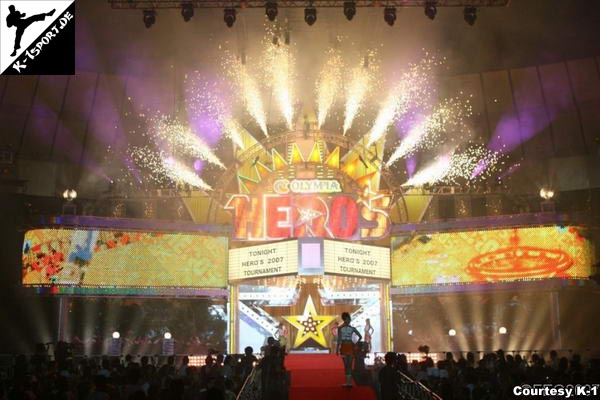 Opening Ceremony
Tonight's Main Event was an 80kg/176lbs weight class showdown between a couple of Japanese fighters -- mixed martial arts specialist Kiyoshi Tamura, and Taiei Kin, a seidokaikan karate stylist. This was formatted as a two-round bout, the first round ten minutes; the second, five. Tamura took a number of takedowns into mount early, but Kin ably tied up his opponent from the guard to force re-stands. Kin increasingly worked the low kicks as the first progressed, and also put a good right straight punch through, but was again back on the ground under Tamura when the bell sounded to end the round.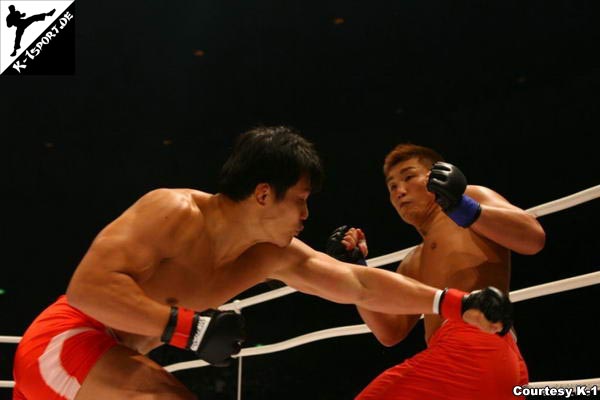 Kiyoshi Tamura vs. Taiei Kin
Kin started the second with low kicks, Tamura getting the single-leg takedown about a minute in, but Kin was again secure in his ground defense, and got some good strikes through, including a bang-up high kick, after the pair were re-stood. When the second was done one judge liked Kin but two saw a draw, so a tiebreaker round was prescribed.
Once again Kin showed strong defense when the fight went to the mat, and had the better stuff when the pair traded strikes. A high kick and a knee rattled Tamura, who could not repay the pain when he took the mount on the mat. An interesting clash of very different styles -- the judges awarding the win to Kin by unanimous decision.
The Middleweight Tournament qualification bouts were fought in the Hero's Middleweight 70kg/154lb weight class, with 3 x 5min. rounds.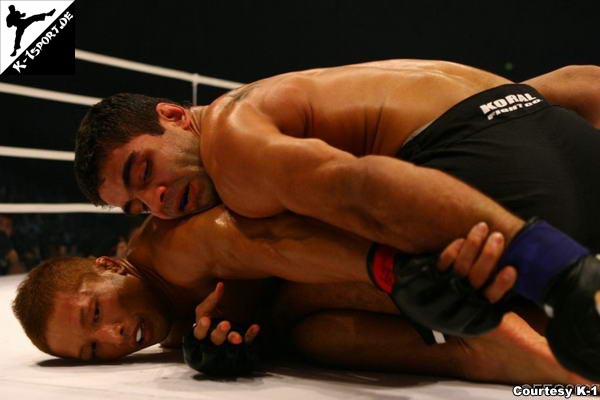 Kazuyuki Miyata vs. Vitor Ribeiro
First up were Vitor "Shaolin" Ribeiro of Brazil and Japanese fighter Kazuyuki Miyata. This was an expert display of balance and positioning by Ribeiro, who stymied Miyata's repeated takedown attempts before working an arm triangle choke in the second round to earn the tap out win and a spot at the Middleweight Final.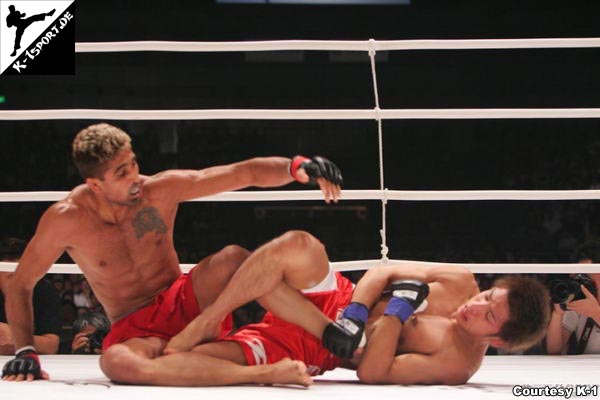 Black Mamba vs. Hideo Tokoro
The next qualification bout pitted Indian fighter Black Mamba against Hideo Tokoro of Japan. Mamba scored a shocking first round KO victory against Tokoro last year at Yoyogi Stadium, and Tokoro had vowed revenge in this match. Alas it was not to be. Mamba was the aggressor from the start, establishing and stubbornly holding a rear mount, all the while pounding in the fists, before coming round to the side of his curled-up opponent to finish with the fists. A referee stop and a trip to the Final for Mamba.
The last of the tournament bouts featured popular Japanese fighter Caol Uno, who lost by decision against Calvan in last year's Middleweight Final; and compatriot Katsuhiko Nagata, a pro-wrestler.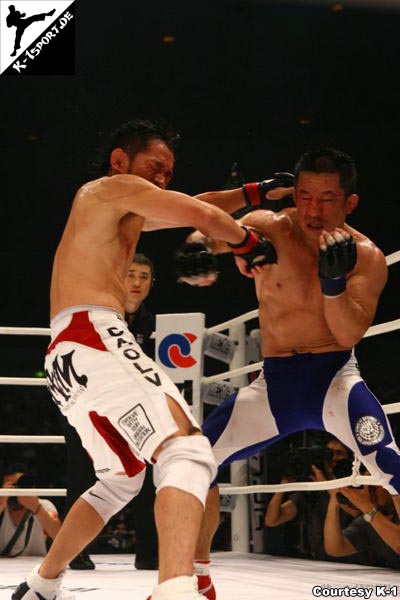 Caol Uno vs. Katsuhiko Nagata
The first was listless but for a few Nagata jabs, as the pair stayed on their feet and at distance, neither keen to close. More sparring in the second with scattered combinations, Uno getting a good right in. When the two got close they wrapped up in the clinch, working the knees, avoiding the ground. In the third the action heated up considerably, flurries of punch exchanges leaving Nagata's face badly bloodied, prompting a couple of doctor checks. The boys briefly went to the mat here, Uno in half mount, Nagata good in guard to force a stalemate. The bout ended with the pair standing and striking once again. It was Uno who had inflicted more damage, and it was Uno's arm raised when the unanimous decision was announced.
In the other Superfights, also fought with 3 x 5min. rounds: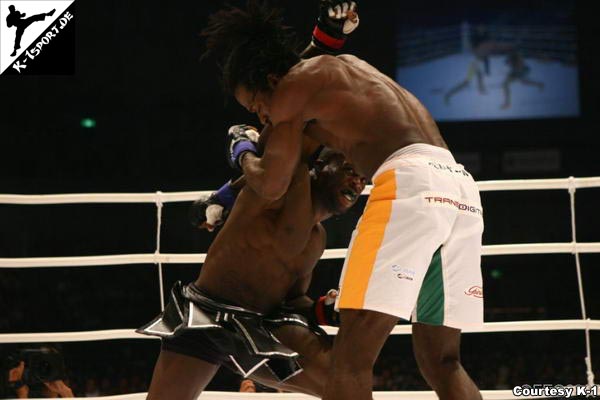 Melvin Manhoef vs. Bernard Ackah
Dutch kickboxer Melvin Manhoef manhandled Cote d'Ivoire-born, Japan-based Bernard Ackah in a 87kg/192lbs matchup. To his credit, Ackah stepped forward with attacks and showed a good jaw, absorbing a couple of solid blows in the opening moments. But the relentless Manhoef soon enough made good on his chances, thwacking a devastating left across Ackah's kisser to send him down hard and prompt a referee stop.
The evening's first Superfight, a 70kg/154 matchup, saw Brazilian Alexandre Franca Nogueira make short work of Shuichiro Katsumura of Japan.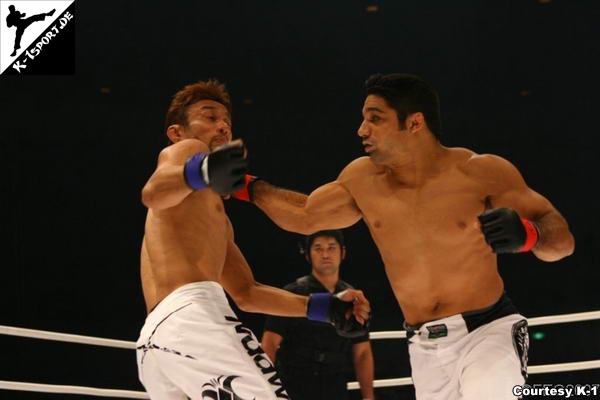 Shuichiro Katsumara vs. Alexandre Franca Nogueira
Some spirited punching exchanges in the opening round, Nogueira effective with a quick right hook before getting the takedown, Katsumura good in guard to get out of the round. In the second Nogueira again planted the right hook to send Katsumura tumbling. As Nogueira leapt atop his motionless opponent to deliver a pounding, the referee slid in to call it for the Brazilian.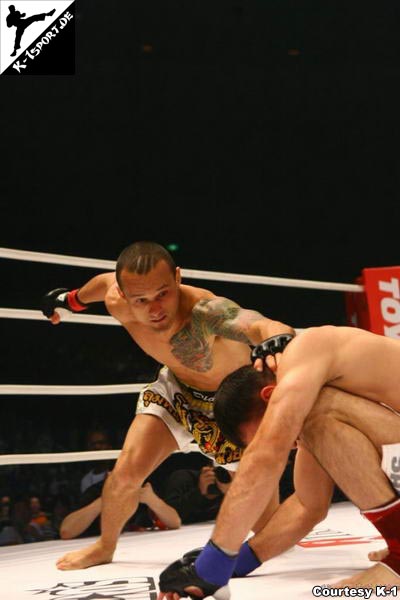 Andre Dida vs. Artur Umakhanov
The following Superfight, also at 70kg/154, saw another Brazilian, Andre Dida, fare even better against Russian Artur Umakhanov. Dida was a veritable dynamo, mercilessly pounding in big punches to fell his opponent several times in the opening seconds of the opening round. The Russian repeatedly sprung back to his feet, but was more wobbly and vulnerable each time, prompting the referee to call it for Dida at just 1:20.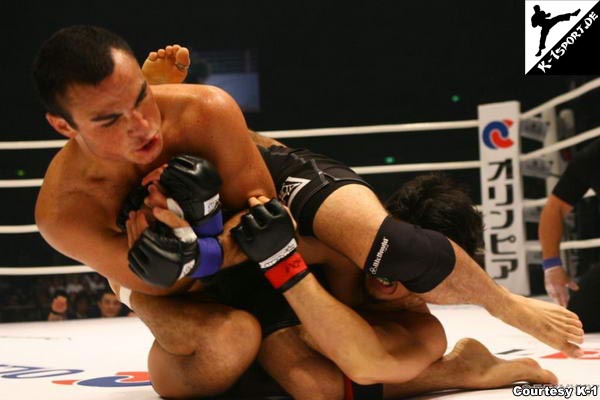 Ralek Gracie vs. Katsuyori Shibata
A 90kg/198lbs Superfight showdown between Ralek Gracie of Brazil's legendary Gracie Jiu-Jitsu family and Japanese pro-wrestler Katsuyori Shibata cemented Brazil's supremacy on the night. The poised Gracie executed a quick takedown to get into mount, and after a bit of twisting and tumbling deftly extracted Shibata's right arm and hyperextended for the submission.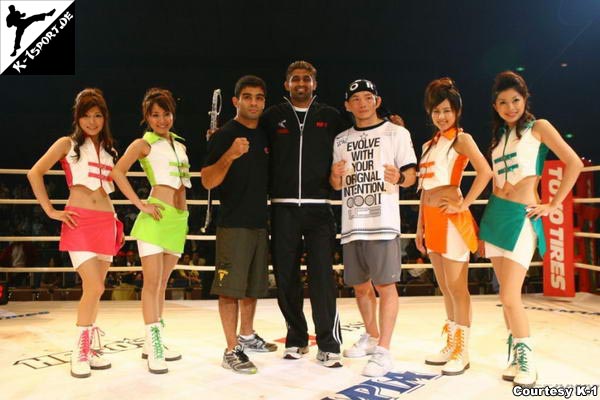 The Middleweight Tournament Finalists
In undercard action, Akihiko Mori beat Shuya Arimura and Ryo best Hiroko Ozaki, both wins coming by unanimous decision.
All Fighters Post Event
The HERO'S 2007 -Middle Weight World Championship Tournament Opening Round attracted a sellout crowd of 11,310 to the Yokohama Arena. It was broadcast live in Japan on the TBS network. For broadcast information in other areas contact local providers. As always, check the K-1 Official Website (www.k-1.co.jp/k-1gp) for official results and comprehensive coverage of this and all Hero's and K-1 events.