written by Monty DiPietro
TOKYO, September 3, 2006 -- Fighters met the media today in advance of the K-1 World Max Champions' Challenge event. Set for Monday night at the Ariake Coliseum in bayside Tokyo, the Champions' Challenge card has 10 bouts in K-1's World Max (70kg/154lbs) weight class). Now in its second year, this is a one-match format event featuring previous K-1 World Max champions and emerging talent alike.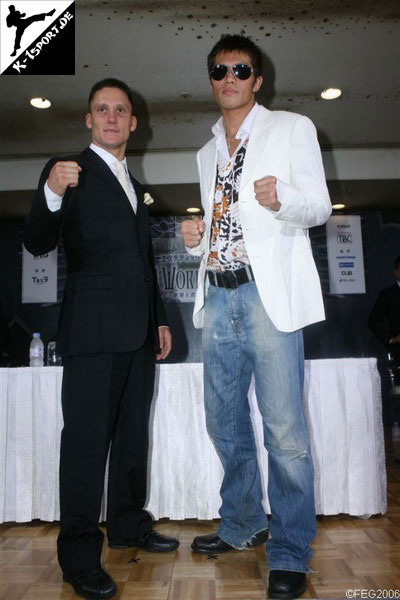 Andy Souwer and Takayuki Kohiruimaki
In the Main Event it will be Takayuki Kohiruimaki of Japan taking on the 2005 World Max champ Andy Souwer Holland.
Said Kohiruimaki: "I have gone through a lot since I started in 2000 and now I am here, even though Andy is younger than me, I respect him very much. I lost against him last time, this time we'll make a great fight!"
Souwer: "I also respect Kohiruimaki, and I am also sure it will be a great fight!"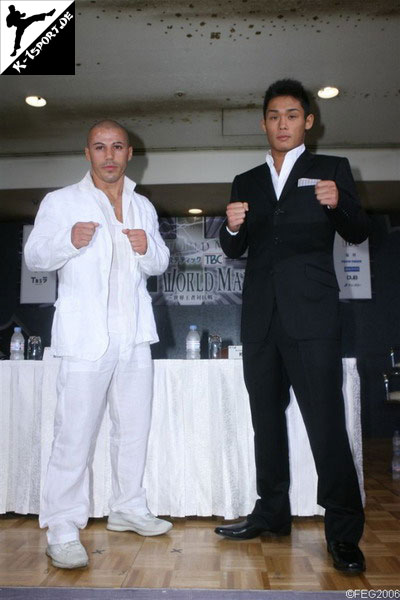 Mike Zambidis and Tatsuji
Japanese boxer Tatsuji will go against another slugger -- Mike Zambidis of Greece.
Tatsuji: "I want this to be an interesting fight, there will be plenty of punches and I will win!"
Zambidis: "I'm sorry I lost my last fight here in Japan, but this time I am ready and I will do better!"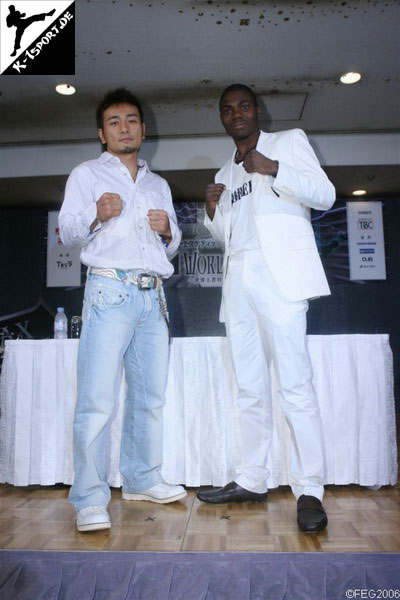 Kazuya Yasuhiro and Andy Ologun
Nigerian Andy Ologun, the younger brother of popular Japanese television performer Bobby Ologun, makes his K-1 debut against Kazuya Yasuhiro.
Ologun: "There is a Japanese saying, 'you will be a master of what you practice' and tomorrow I will show that in the ring."
Yasuhiro: "I'm happy to be here and will enjoy it!"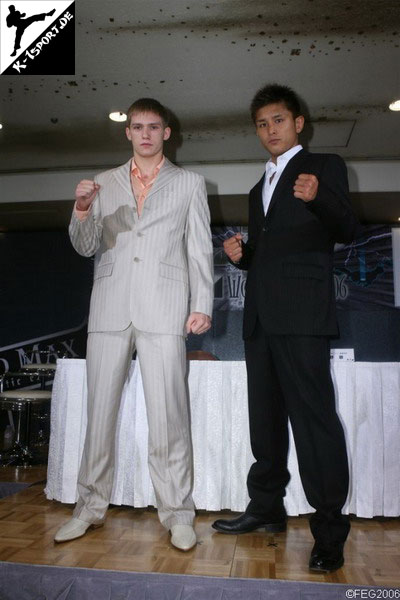 Artur Kyshenko and Hayato
Japanese kickboxer Hayato steps in against 19 year-old Artur Kyshenko of the Ukraine.
Hayato: "Aim for perfection bring it all -- that's what I have in mind!"
Kyshenko: "Best wishes to all, I will do my best!"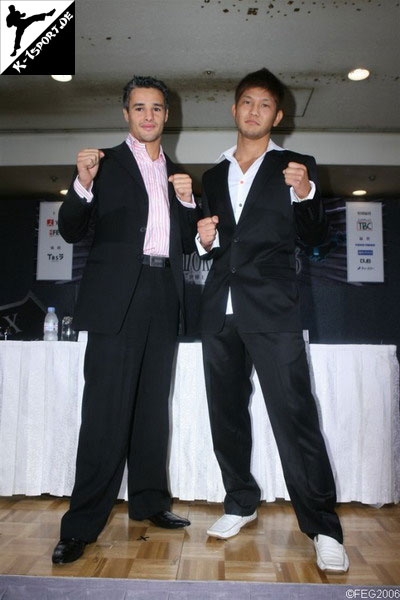 Fahrid Khider and Yuya Yamamoto
Japanese karate stylist Yuya Yamamoto will take on kickboxer Farid Khider of France.
Yamamoto: "Tomorrow will be my first fight in a while so I am a little anxious and feel fresh. I will show my presence and win!"
Khadir: "We are as they say 'the gentlemen of the ring' and so I want to put on a super show for everyone!"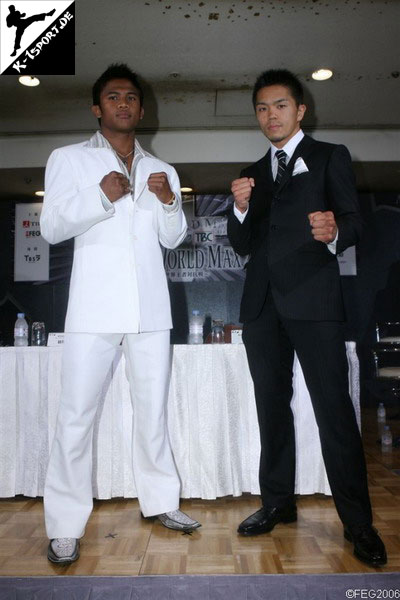 Buakaw Por.Pramuk and Hirko Shishido
Hiroki Shishido of Japan meets two-time and defending World Max Champion Buakaw Por Pramuk in the Thai's first bout since recapturing the crown..
Shishido: "I will show how strong shoot boxing can be."
Buakaw: "As Champion I want to put on an exciting fight please look forward to it!"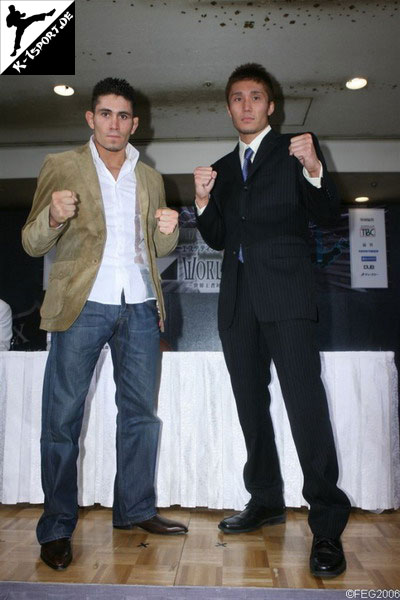 Drago and Naoki Samukawa
Kickboxer Naoki Samukawa of Japan will take on Armenian Muay Thai fighter Drago.
Samukawa: "It's my first K-1 fight, I have big bones so it was hard to lose weight -- I had no lunch today, so I have no energy to explain my plan -- tomorrow I will do my best."
Drago: "I am honored to be here will show my very best."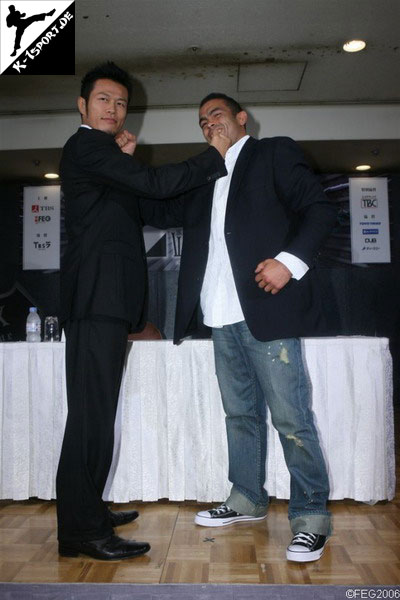 Genki Sudo and Ian Schaffa
The flashy Japanese fighter Genki Sudo will entertain Ian Schaffa of Australia.
Schaffa: "Sudo has an unusual and exciting style I have trained very hard to fight against him will put on a good fight tomorrow."
Sudo: "Happy to be back I appreciate my opponent will show courage tomorrow."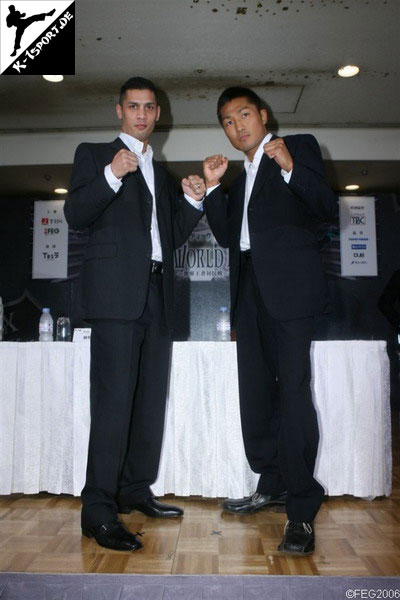 Virgil Kalakoda and Hiroyuki Maeda
Hiroyuki Maeda will step in against Virgil Kalakoda of South Africa.
Maeda: "Virgil is a world-class boxer and I would have to say he is a superior fighter but that gives me more reason to challenge! I will be a man and show my spirit and do my best."
Kalakoda: "I am in very good condition, I promise a very good fight and I will be victorious!"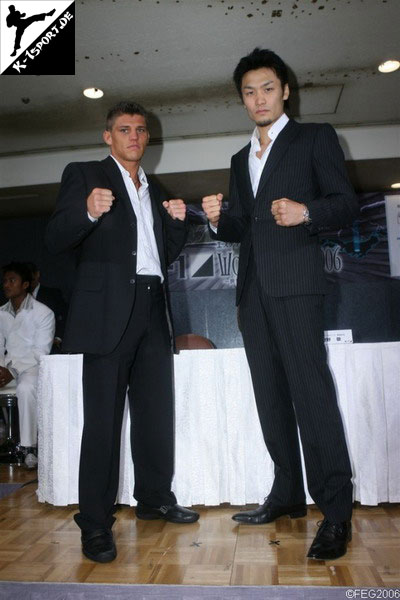 Albert Kraus and Yoshihiro Sato
Yoshihiro Sato Japan will meet the very first K-1 World Max Champion, Dutchman Albert Kraus.
Said Sato: "I will not be a burning heart in the ring, I will be calm and strong, like the blue fire."
Kraus, speaking in Japanese, said simply that he would do his best.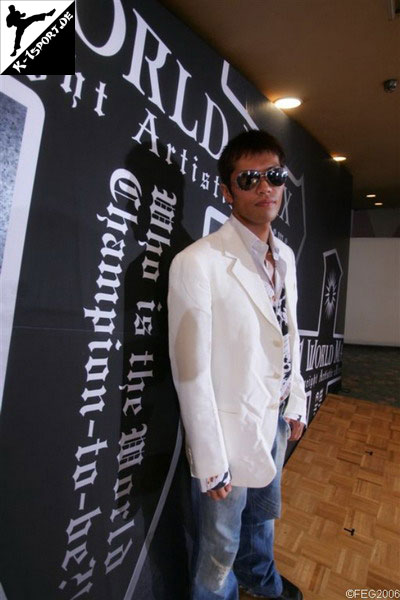 Takayuki Kohiruimaki
In undercard bouts it will be Shinobu Tsogto Amara of Mongolia vs Jordan Tai; New Zealand and Japanese fighters Satoruvashicoba and Taka Osamitsu.
All bouts will be contested under K-1 Rules (3Min. x 3R w/ Ext.1R).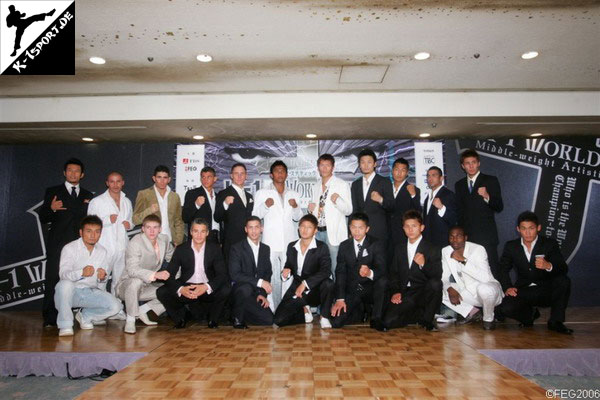 All Fighters
The event starts at 18h00 on Monday September 4 at the Ariake Coliseum and will be broadcast live on the TBS Network in Japan. For time-delay broadcast information elsewhere please contact local broadcasters.