written by Monty DiPietro
TOKYO, February 22, 2009 -- K-1 World Max's irresistible fusion of speed and technique has captivated fightsport fans round the world for eight years now. Tomorrow at the Yoyogi Olympic Stadium, Japan's best under-70kg/154lbs will clash in this season's first K-1 World Max event -- the Japan Tournament -- fighting for the right to represent the Land of the Rising Sun in the World Max 2009 Final.
This will be a classic eight-man elimination tournament -- a quartet of first-tier bouts sending four fighters to semifinals, the winners there meeting in the final. Thus, the man who would be World Max Japan Champ will have to win three fights tomorrow. On the eve of the challenge, participating fighters met the media today at the TBS Television studios in central Tokyo.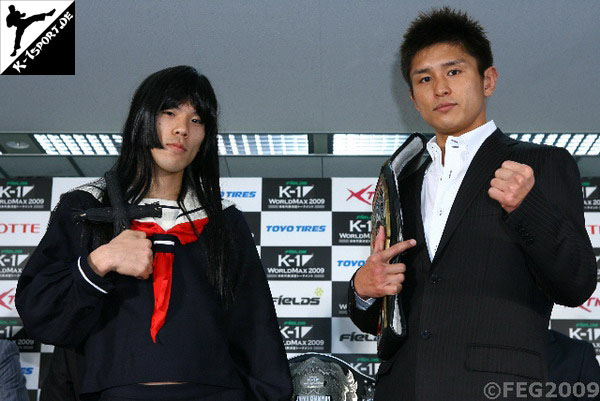 Yuichiro Nagashima and Hayato
First up in the tournament quarterfinals will be Yuichiro "Jienotsu" Nagashima and Hayato. The NJKF Super Welterweight Champion, Nagashima made a splash by showing up for the press conference dressed in a wig and schoolgirl uniform, clutching a crucifix. The 24 year-old fighter gave no particular reason for his costume -- he's an animation and manga obsessive, and cosplay (costume play) is what such "otaku" do.
Hayato did not seem impressed, and said he would "show my opponent that cosplay and K-1 are very different."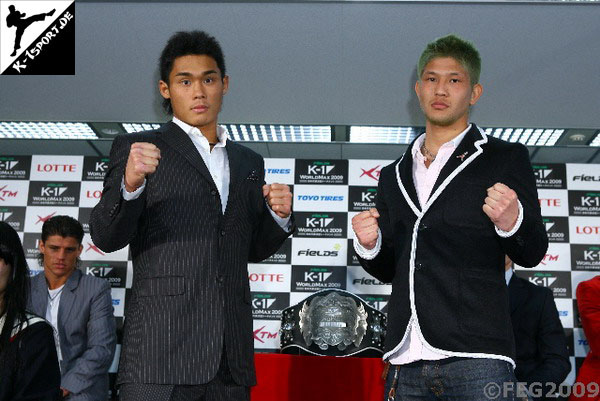 Tatsuji and Yuya Yamamoto
In the second quarterfinal, boxer Tatsuji will step in against Yuya Yamamoto. Said Tatsuji: "I've waited for a year for this, and the day has come and I am ready and I will win." Yamamoto meanwhile was brief: "I only want to say that I will win."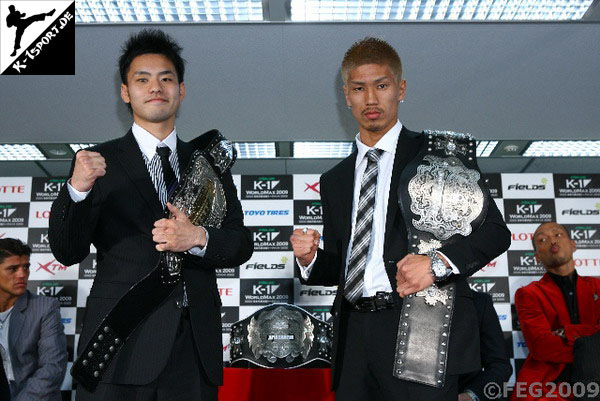 Hinata and Yasuhiro Kido
Next up it will be 22 year-old kickboxer Hinata and Yasuhiro Kido. Hinata proclaimed himself the "new wind" in World Max; while Kido assured the assembled that he had "trained hard and will make a great fight."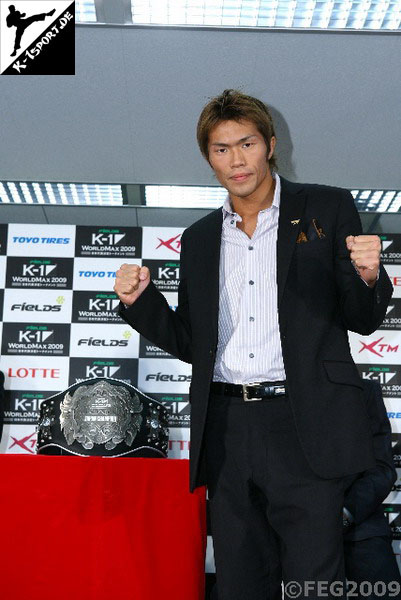 Taishin Kohiruimaki
The last of the first-tier matchups features veteran Taishin Kohiruimaki and Andy Ologun. 'Kohi' did not have a lot to say, pledging to "make a statement in the ring tomorrow." Ologun did not appear at the press conference because he was busy trying to shed a couple of kilograms to make weight. If the sweating doesn't work, and the Nigerian-Japanese kickboxer fails to get down to 70kg, he will start his fights tomorrow down a point on all cards.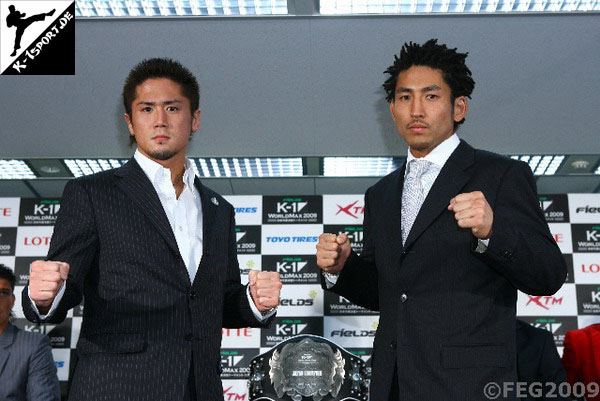 Keiji Ozaki and Yasuhito Shirasu
In the Tournament Reserve it will be Keiji Ozaki vs Yasuhito Shirasu.
There are three Superfights on the card.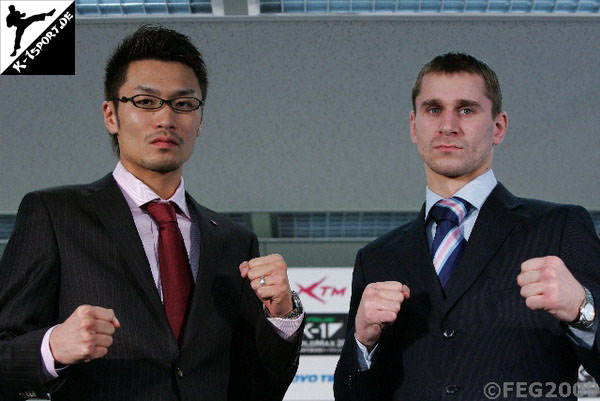 Yoshihiro Sato and Sergey Golyaev
Yoshihiro Sato of Japan will take on Russian boxer Sergey Golyaev. Standing 185cm/6'1", the two-time World Max Japan Champ Sato has fought many shorter opponents, but in Golyaev will meet a man his own height.
Said Sato, "I will win, I can fight at the top international level, and this year I will prove that." Replied a relaxed Golyaev, "I'm just happy to be here, and I will show a great fight tomorrow."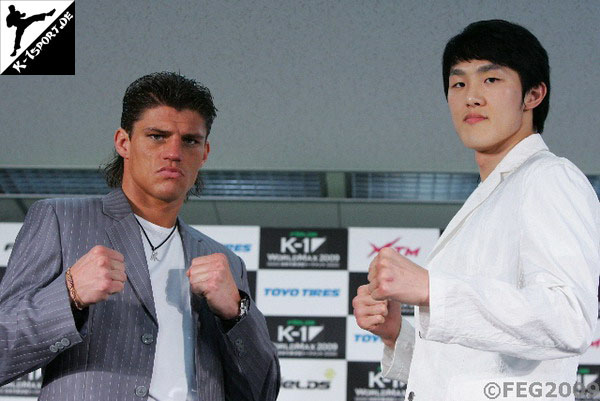 Albert Kraus and Su Hwan Lee
The inaugural World Max Champion, in 2002, hard-punching Albert Kraus of Holland will step in against Korean kickboxer Su Hwan Lee. Said Kraus: "I know my opponent is a good fighter, so tomorrow will be a great fight!" Replied Lee, "I am 100% and I believe in myself for the victory!"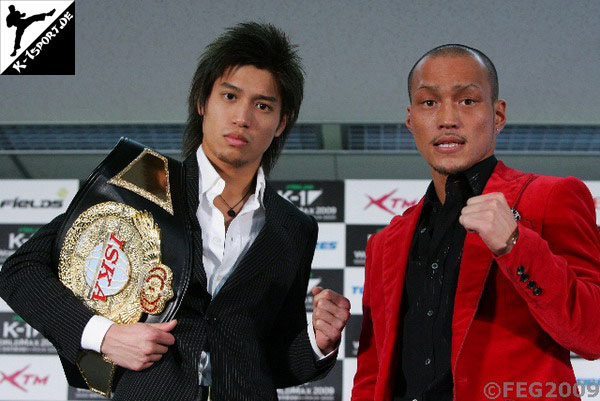 Daisuke Uematsu and Kazuhisa Watanabe
In another Superfight, Japanese fighters Daisuke Uematsu and Kazuhisa Watanabe will tango; while in a K-1 World Youth Rules 62kg bout, it will be K-1 Koshien 2008 Champion Hiroya and Kizaemon Saiga. Shingo Garyu will meet Hiroyuki Owatari in an undercard bout.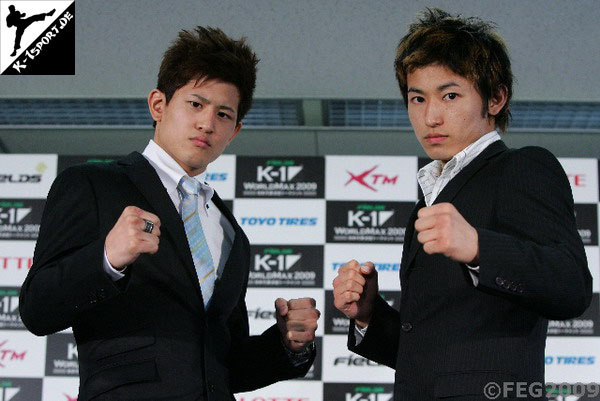 Hiroya and Kizaemon Saiga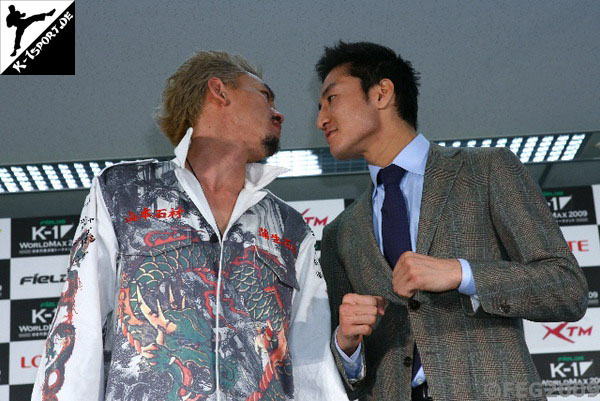 Shingo Garyu and Hiroyuki Owatari
All fights will be conducted under K-1 Official Rules, 3Min. x 3R, with a possible tiebreaker round and two possible tiebreakers in the tournament final.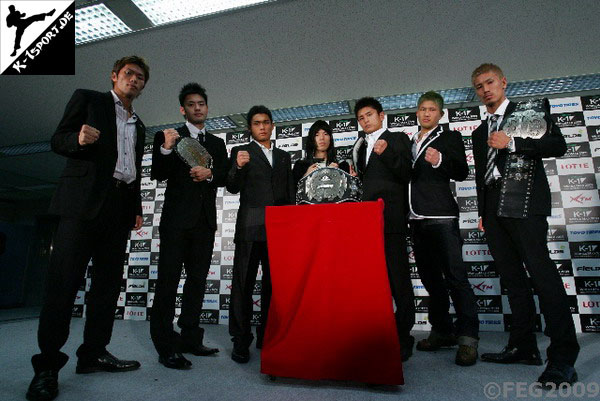 Japan Tournament Fighters
The K-1 World Max Japan Tournament kicks off at 5 p.m. on Monday February 23 at the Yoyogi Olympic Stadium in central Tokyo. It will be broadcast live across Japan on the TBS network, and delay-broadcast internationally on Eurosport, HD Net, CJ Media, GloboSat, ViaSat, Al Jazeera Sport and Saran Media. Contact local providers for broadcast times.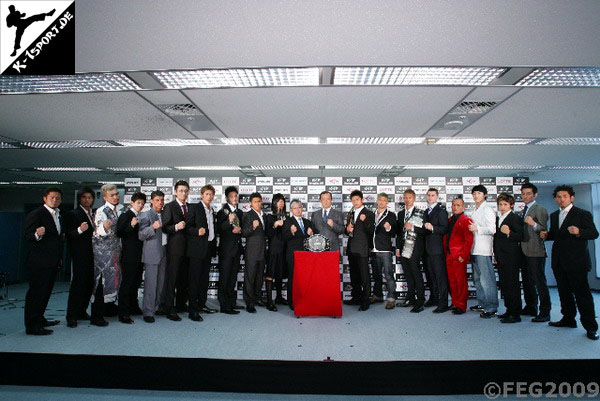 All Fighters
For official results and comprehensive coverage of this and all other FEG productions, see the K-1 Official Website (www.k-1.co.jp/k-1gp).