written by Jens Habermann
A young, ambitious Brazilian makes his way to conquer the K-1 arenas. In his homeland he won the K-1 Grand Prix this October and next year he will be in Japan once again. We got the opportunity to check him out a bit more.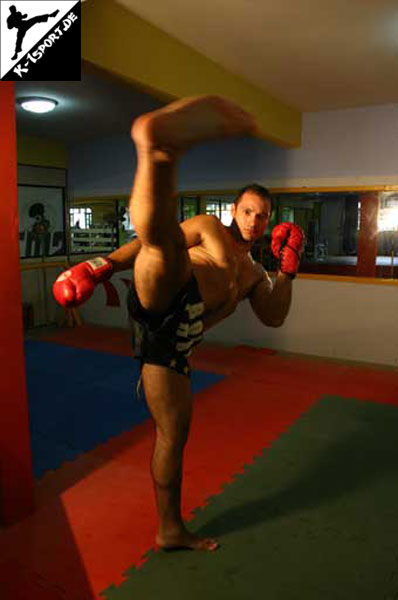 Vitor Miranda
A few weeks ago you won the K-1 Heavyweight Factory Brazil Tournament. How do you feel about that and what does it mean to you personally?
That was really a great feeling; a happiness that I never felt before after a fight. The title means much to me and is an important step toward K-1.
You won all 3 fights by way of knockout! In our database you have a Knockout rate of 83.3%...that's huge! What's your secret weapon?
I concentrate on fighting flexible and versatile as much as I can to prepare optimal for my opponents style of fighting. Every opponent has a weak point. The "secret" is to recognize it.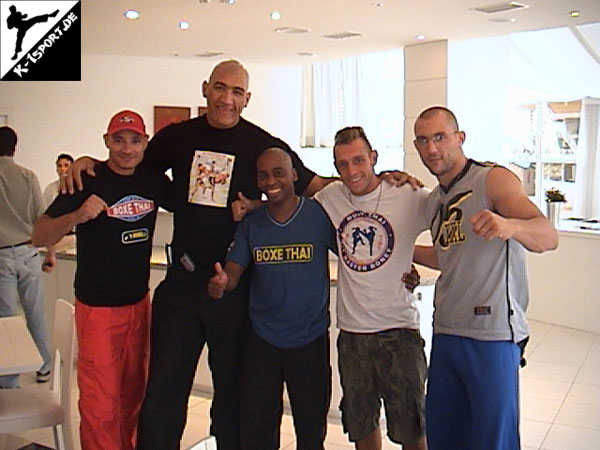 Vitor Miranda, Montanha Silva and Marfio Canoletti
What was your hardest fight? And how was the fight against Asmir Burgic from Germany in the tournament final?
My hardest fight was in 2004 at the K-1 BRASIL Final against Eduardo Maiorino. I fought with a heavy femoral injury but I was able to stick it out until the end. The fight against Asmir Burgic was a big enrichment for me. Asmir is an experienced fighter. His styles differs a lot from that of Brazilian fighters. I integrated a few elements of it into my training. I would like to fight again against him.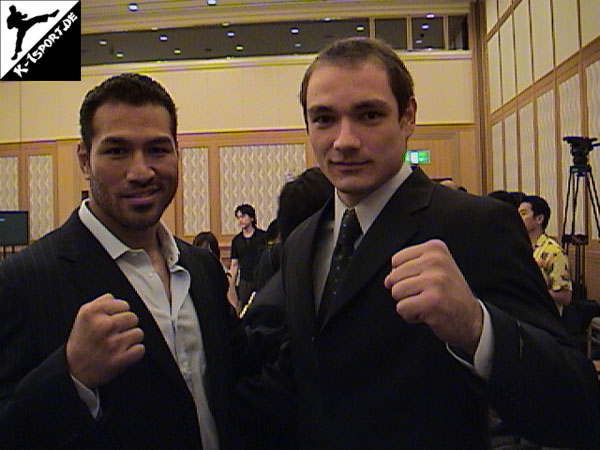 Ray Sefo and Vitor Miranda
Last year you had the chance to fight in Japan at the K-1 Beast 2004 in Shizuoka. How was it?
The fight in Japan surely was the most important so far; an important and worthwhile experience.
When did you start fighting in your life? How did you become a fighter?
Martial Arts always fascinated me but in my boyhood I never bothered myself with visiting a course. About five years ago a friend of mine invited me to a Muay Thai lesson. It suited me at first go ... so it all began.
Are you all professional or do you have a job and fight in your free time? What do you plan for your fighting career?
After three years of training I canceled my job as a branch manager of an american video chain store to intense my training to full time. For two years now I'm a professional fighter. In the long run I want to establish myself as a top K-1 fighter.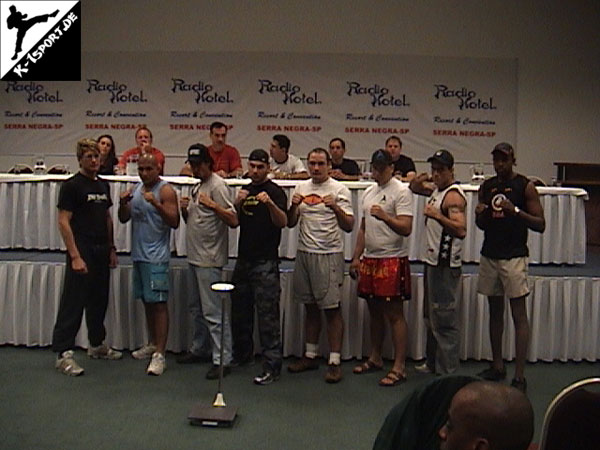 Vitor Miranda beim K-1 Heavyweight Factory Brazil
Can you tell us something about your training? What is your timetable before a fight?
My daily training consists of three parts: stamina, muscle and fight training with a major in fight training before tournaments.
Do you ever have had any serious injuries?
Yes! In February 2003 I suffered a twofold mandibular fracture from a knee attack!
What does your family think about your fighting career?
My family has a big part in my success. She supported and raised me from the beginnings.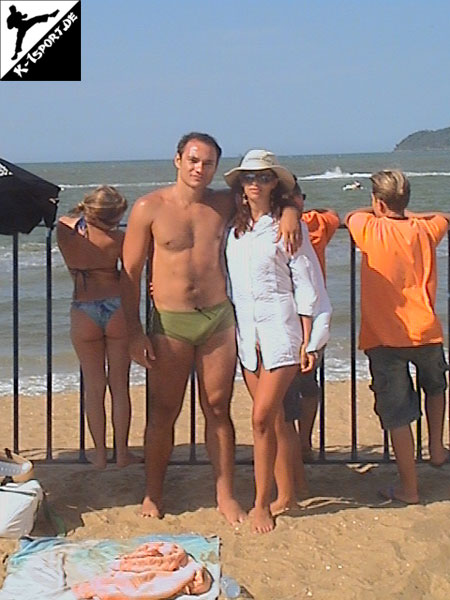 Vitor Miranda with his fiancee
Where does your nickname come from?
Vitinho is a "belittlement" of Vitor. In Brazil this is done a lot like e.g. Marcelinho (Marcello) or Ronaldinho (Ronaldo).
What do you do when you're not fighting or training? What are your hobbies?
I like to be at home, spending a lot of time in front of the computer, playing video games or watching a film with my fiancee. Also I like to go by motorcycle.
When do you fight next?
If everything works out like planned I will fight in Japan again at the beginning of next year.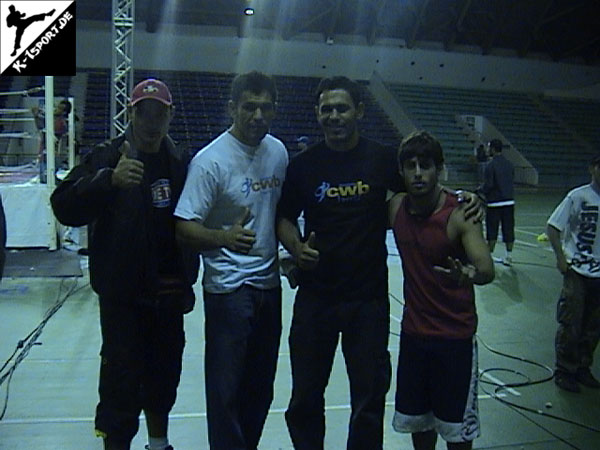 Vitor and the Nogueira brothers
Do you want to tell us or our readers anything else?
At first I want to thank you for the possibility that was given to me here to tell about my career as a fighter. Second I hope to be able to fight at an event in Germany. I also want to mention that I'm looking for a promoter in Germany or rather Europe.

OBRIGADO. (=Thank you)
Thanks for the interview and all the best for the future! We are looking forward to see you fighting in Germany.