書かれた Monty DiPietro
Both fighters talk about their bout, their plans for 2009 and a broken foot.
Minowaman (Winner)
How was the fight?
Minowaman: I've been able to come to Dynamite for several years now, but it's been three years since I've been able to bring home a win on New Year's. I'm happy to finally have a Happy New Year's and I'd like to thank everyone who's stuck with me over these tough few years, especially the fans.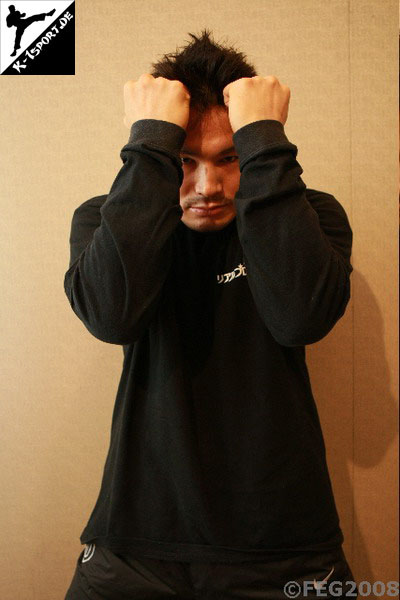 Minowaman
And what do you think of your opponent?
Well he's a scary guy and I have to admit that I've never been this nervous coming to a fight. He's a top-level kicker and I felt the force of every attack. It was a learning experience.
What's your goal for the new year?
I want to reinvent myself and show the world a new Minowaman with greater self-control.
What do you mean by self control?
There are several aspects that I have yet to discover about myself. Physically and mentally. I want to have a more complete control of all the facets that make up Minowaman.
Errol Zimmerman
How was the match?
Errol Zimmerman: I did my best. It was my first time doing MMA. I was able to give him a good punch to the head. He was close to being KO'ed. I only trained one week for this match, but I'll try harder next time for more MMA matches.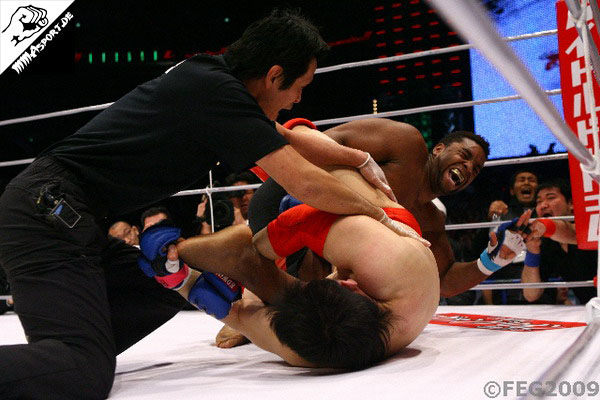 Minowaman vs. Errol Zimmerman, Dynamite 2008
How was your first "ground and pound"?
The hit I gave him to the head felt good. I know he felt it since he was dazed. In my defense I broke my foot in April in Amsterdam and that's why I tapped out. I'd like to fight MMA again, though. Minowaman is a good MMA fighter and I learned a lot from this fight. I'll study with Alistair [Overeem] and learn more about MMA and come back for a rematch.
Minowaman mentioned that your "glare" scared the hell out of him.
Yeah, that's just my game face. I scare people.