written by Steffen Ehlert
Could Buakaws K-1 career come to an end soon?
A few days ago K-1 superstar Buakaw Pro.Pramuk flew rom Thailand to China -- into the province of Henan to be more precise. He had been invited to take a look at a local fight event. He also told the Thai media that he might be fighting in China in the near future.
At the moment Buakaw is in the semi finals of the MAX GP where on Octobre 26th he will try to become the first three time champ in K-1 MAX history. His opponent in the semis will be the also two time champ Andy Souwer who already had to overcome a tough opponent in the quarter finals in Arthur Kyhsenko.
Should Buakaw be able to defeat Souwer he would have to face another K-1 MAX shooting star. May it be the Japanese Yuya Yamamoto or the so far impeccable Italian Giorgio Petrosyan.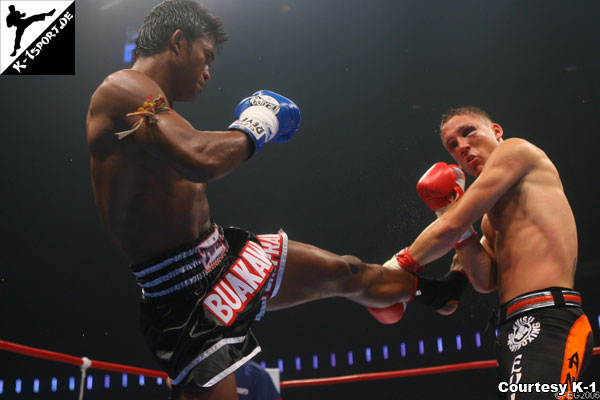 Buakaw winning his second K-1 MAX title against Souwer in 2006
But what will happen should Buakaw win? Of course he would become the most successful K-1 MAX fighter of all time and his fans probably would dance a jig but it could also become the end of his K-1 career.
For quiet some time a rumor is going about that K-1 event producer Sadaharu Tanikawa thinks about cutting Buakaw lose in case he wins the title for a third time. Probably to obligate his fellow countryman Yodsaenklai Fairtex to fight for K-1.
The rumor grows as Buakaws trainer Banluesak Cheanyim recently said: "Buakaws contract will end after this tournament and he'll probably fight in Europe afterwards."
At the age of 27 for Thai standards Buakaw is an old fighter as he is already competing for 19 years now. Though taking the statements of his trainer about fights in Europe and China into consideration he doesn't seem to end fighting any time soon.
But what if Buakaw shouldn't win? In all likelihood the result may stay the same. So one might ask if Buakaws K-1 career is an already done deal? For my part I pretty much hope not.
On the other hand there is no doubt that Buakaw already thought about what he wants to do after his career as a martial artist has come to an end. By all appearances he's trying to get into the movie business. He already made his debut as an actor in the Thai action movie: Yamada - The Samurai of Ayothaya.
He also regrets not to have gotten through the casting of the historical TV show "The Legend of King Naresuan". So he said: "It would have been the biggest honor for me and my family if I could have been part of this film. Unfortunately they didn't pick me although I was confident to be able to deliver a good performance."