written by Michael Afromowitz
29. Dezember 2005 -- The father of mixed martial arts talks about his upcoming, New Years Eve matchup, his influence on the sport, his future, and Mike Tyson.
When K-1 added the likes of Royce Gracie to its all-star roster a year and a half ago, an ideal match was made as the world's most heralded martial arts fight promotion would become a marketing vehicle for the most dignified athlete in the sport's history. For K-1, it was also the single greatest means of making a splash and becoming a major player in the world of mixed martial arts.
A dozen years after he opened millions of eyes to his family's highly effective methods of combat, the Gracie Jiu-Jitsu black belt is primed for his second consecutive start in an event that appears to be headed towards becoming a fixture in its own right: the New Year's Eve K-1 "Dynamite."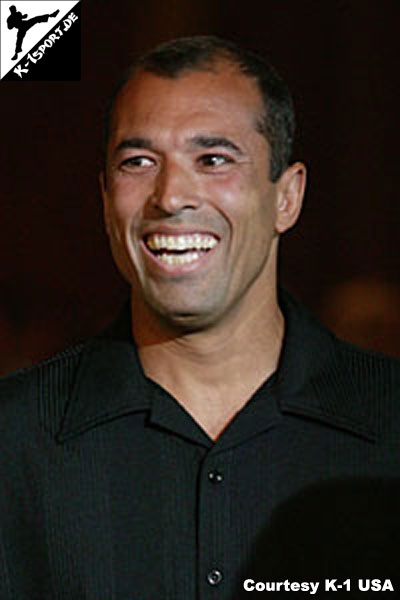 Royce Gracie
Last year, Gracie forced 480 plus pound, sumo wresting legend, Chad "Akebono" Rowand, into submission with ease. This time around, he will be tested by 28-year-old contender Hideo Tokoro at Osaka, Japan's Osaka Dome.
Q: How has your training been for this fight and where did you hold training camp?
A: My training menu has always been the same - running, weight training, striking and grappling. (For this fight), I trained early morning to get used to the Japan time and avoid suffering the jet lag. I was 100% ready for my scheduled opponent (Yoshihiro) Akiyama, but it has been changed to Tokoro.
Q: What do you know about Tokoro and what is your opinion of his skill level?
A: I had a chance to see Tokoro's fight as live. He is fast and good at submission technique. He is young, but very skillful.
Q: You are universally regarded as the single greatest force behind the explosive growth of Brazilian Jiu-Jitsu in The United States in the '90s. If you had never entered the UFC or any other mixed martial arts competition, how strong do you feel the Brazilian Jiu-Jitsu and grappling movements would have been within the martial arts community here?
A: It's the same as if Little Red Riding Hood (had) never met the wolf - there wouldn't be a tail! Gracie Jiu-Jitsu would eventually be known all over the world because it is the most simple and complete style of grappling and self-defense.
Q: Since its early years, the sport of mixed martial arts has seen a drastic change in the overall skill level of its competitors. Where do you feel you rank amongst today's fighters and why?
A: My goal was to prove the Gracie Jiu-Jitsu is the best style of martial arts and I did. About my ranking, you have to ask the other fighters. But, I know what I did.
Q: Some have actually criticized the current state of sport, expressing their preference for the days when a fighter like you dominated the competition using his mastery of one particular discipline like Gracie Jiu-Jitsu. These critics claim the sport has been somewhat watered down by fighters who are skilled martial artists and well-versed in both stand-up combat and some form of grappling, but who are not dominant in any one particular discipline. What is your stance on this issue?
A: Very beginning, it was style against style and I proved that Gracie Jiu-Jitsu is the best! Today, every one has cross training so it is not a style against style any more. It is athlete against athlete whoever is better prepared will usually win.
Q: For many years, there has been an ongoing debate amongst fight fans about who would be the victor of a fight between you and Mike Tyson. The K-1 organization has been courting Mike Tyson for the last two years, attempting to get him to commit to fight under its promotion. Mike's management has repeatedly stated that their fighter is not interested in competing under mixed martial arts rules. Assuming Mike had a change of heart and agreed to fight you, how do you think the matchup would unfold?
A: It would be most exciting fight ever in the fighting history. But, I really doubt that Mike will agree to fight with non-boxing rules. Anyway, I believe that Gracie Jiu-Jitsu is the best martial arts and, if we can fight under MMA rules, I can show you that which is stronger.
Q: How differently do you think the matchup between you and Mike would be if you were both 10 years younger?
A: It doesn't matter 10 years ago or now. The result would be the same.
Q: You're 39 years old now. How much longer would you like to remain in the sport of mixed martial arts?
A: It depends. As long as I feel good and believe (in) myself, I will continue to fight.
Q: What kinds of post-retirement plans do you have in mind?
A: Teaching and traveling and spending a lot of time with my family.
Q: How important is it for you to remain active in the martial arts world after your retirement and what would your ideal role be in martial arts after you retire?
A: Martial arts - I have devoted myself for many years and it is part of my life. Even after I retire, I cannot see me leaving the world of martial arts. I will continue to have the connection to it as teaching at seminars and coaching young fighters.
Q: Is there anything else you would like to say to the readers?
A: Thanks for your support. I will do my best on 31st. Believe yourself and keep challenging to have your better life.